Samsung's Galaxy S III ads crank anti-Apple snark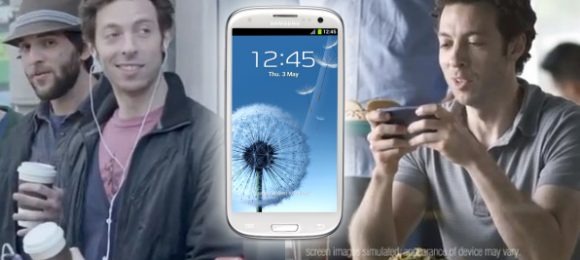 Samsung's Galaxy S III resisted Apple's best attempts to block it from sale in the US; now the Korean company is biting back with new adverts playing up the Android handset's powers of conversion. The phone's "Designed For Humans" tagline hasn't exactly proved convincing, but the newest series of promos play more on the Galaxy S III's abilities than they do dodgy marketing speech. More interesting, however, CNET spotted that Samsung has seemingly recycled one of the actors from its Galaxy S II campaign, implying that the new flagship phone is enough to coax even "creative" types away from their Apple phone.
If you've a suitably keen memory, you might notice that the same new Galaxy S III owner demonstrating Pop Up Play – Samsung's picture-in-picture system that can float video playback over other apps – was actually last seen queueing outside the Apple store back in the 2011 ads.
Samsung Galaxy S III – Pop Up Play:
The other advert around pulls back on the direct snark and replaces it with, well, a decidedly Apple-style showcase of some of the TouchWiz enhancements on top of Android 4.0 Ice Cream Sandwich:
Samsung Galaxy S III – The Next Big Thing Is Here:
We can't blame Samsung for wanting to shout about the Galaxy S III. We loved the European version and had similarly warm, fuzzy feelings about the AT&T and T-Mobile USA models last week; the phone addresses most of our lingering criticisms around its predecessor, ratcheting up screen resolution and overall performance.
Still, even with all those core skills at its heart, Samsung's Galaxy S III adverts could still be interpreted as taking shots at its primary rival. So, a simple case of calling up an existing actor on the books, or a sly dig at Apple and an Easter Egg of sorts for those who have been paying attention? Let us know what you think – and whether you're convinced by Samsung's campaign – in the comments.