Samsung's Displays Get Video Demo: Dual-AMOLED MID, Flexible Screens & Transparent Notebooks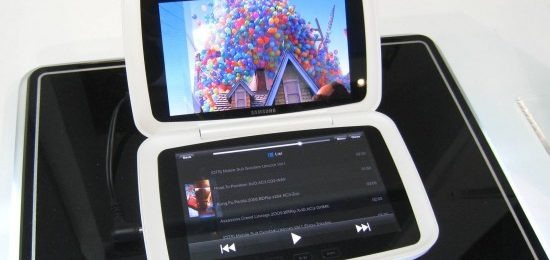 Samsung's new displays have been all over the place today, with 7-inch Super AMOLED panels for the next-gen Galaxy Tab, and a 10.1-inch skinny screen for a tablet teaser. It turns out they were only the start of it: NetbookNews spotted a dual-screen 4.5-inch PenTile AMOLED MID prototype, various flexible displays – including one being folded in half – and a transparent 14-inch AMOLED shown in a notebook mockup.
Video demo after the cut
The clamshell MID is particularly interesting, offering 300 cd/m2 brightness and a 100,000:1 contrast ratio. It's apparently running at 1024 x 600 resolution, too, just like the 7-inch Super AMOLED. The foldable displays, meanwhile, came in 5.3- and 4.3-inch sizes and ran at 960 x 800 resolution.
The transparent screen managed a mere 960 x 540, which is on the low side in comparison; we're guessing it makes for impressive demos but not especially usable notebooks. Still, an AMOLED window or mirror capable of showing computer graphics without obscuring the whole view would be impressive. Finally, the 10.1-inch tablet mock-up looks actually to be less a teaser for the larger Galaxy Tab and more just a frame for a super-rugged panel, using a resin substrate rather than glass. More details in the video below.