Samsung's 10.1N Apple-sidestep slate gets German fondle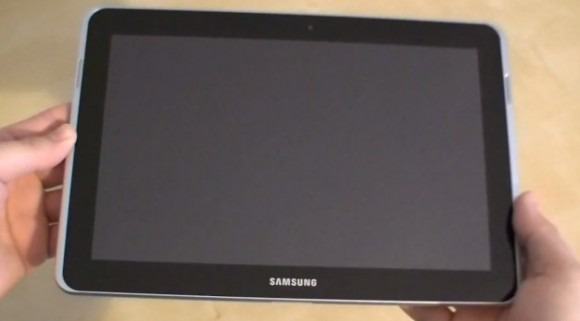 Samsung's tablet workaround in Germany has made it into stores and into reviewers' hands, with the Galaxy Tab 10.1N bearing a new bezel design to bypass Apple's injunction. German would-be tableteers hoping for a slice of Samsung's original Galaxy Tab 10.1 had been frustrated, after Apple managed to secure a preliminary sales injunction based on claimed design similarities between it and the iPad. Now the new variant has gone on sale.
German site NewGadgets wasted no time in picking up the workaround tablet and highlighting the differences in a video review (which you can see below). The big difference is the bezel: Apple claimed that part of the iPad's distinctive appearance was the edge-to-edge glass and minimal metal seen around it. Samsung has thickened the metal section on two of the edges, as well as pivot the stereo speakers around to face more forward than sideways.
The end result is arguably more attractive than the original, and probably sounds better too. Samsung also took the opportunity to slot Bluetooth 3.0 inside, too, though how much of a difference that will make to most users remains to be seen, and moved its own logo front-and-center underneath the touchscreen. Apple is yet to comment on the redesign.