Samsung Windows 8 dev slates hit eBay for a premium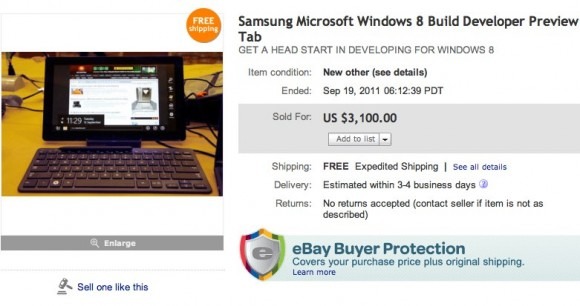 Samsung Windows 8 developer tablets are showing up on eBay, and if you can judge a platform by how much people are willing to pay for early access to hardware then the signs look reasonably positive for Microsoft's new OS. Handed out to the 5,000 BUILD attendees last week, it was only a matter of time until the Samsung slates went up for sale, with the average selling price so far being $2,460.
That's despite it being possible to load the Windows 8 Developer Preview onto an existing tablet you might already have. Samsung's hardware isn't particularly special: it's the same Series 7 tablet we played with at IFA 2011, only there running Windows 7. Inside is a Core i5 processor, 4GB of RAM and a 64GB SDD, while Microsoft bundled the accompanying dock, Bluetooth keyboard, stylus, carry-case and a 12 month AT&T SIM with 2GB of mobile data each month (though not every seller is including the SIM).
We got our own chance to play with the Samsung Windows 8 tablet in the run-up to BUILD, and found both it and the OS to be surprisingly good. Most of the common criticisms of Windows on touchscreen hardware have been addressed, and the Metro UI carried over from Windows Phone 7 makes a lot of sense, even stretched across a bigger display.
If you can't quite bring yourself to splash out $2,500 or thereabouts, never fear. The Samsung Series 7 Slate is expected to go on sale in October, priced at $1,099.
Samsung Windows 8 tablet developer unit:
[vms e194413056248a00ce00]
[via GottaBeMobile]