Microsoft Blesses 5,000 conference attendees with free Windows 8 Slate PC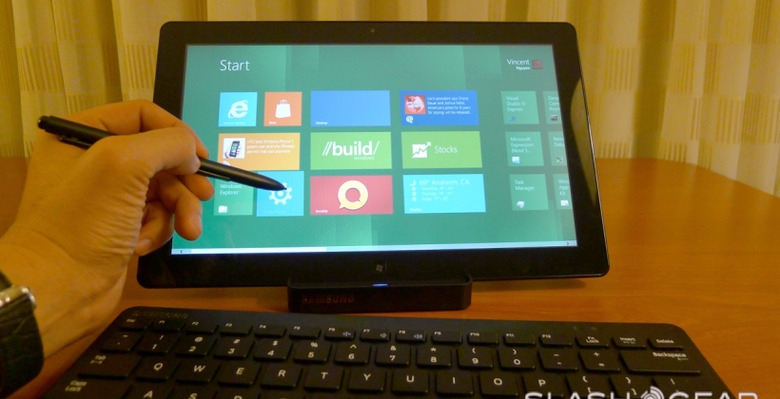 If there's one thing that makes the majority of these developer-based conferences (this week's being Microsoft's BUILD conference) its the pre-release hardware that you often get to take home for free. This week at BUILD, Microsoft is giving out a Samsung Windows Developer Preview PC, one coming complete with what Microsoft calls a Tablet + Development Platform. This slate PC (though they're purposefully not calling it that) consists of a 2nd Generation Intel Core i5 processor, a Samsung Super PLS 1366 x 768 display, and one full year of 2GB/mo AT&T 3G included for free. Developers have only to pick up their box this week, one for each of the 5,000 BUILD attendees.
This tablet features software that will allow them to both "use" and "develop" on the same platform, and the entire release is called "Developer Preview Software" with "Developer Preview Hardware." What we can gather from all the information is that this will certainly not be a mass release design in basically any sense other than the tablet and the software, once developed to its final state, will then be sent to retailers. Each unit is Imaged with Developer Preview applications, tools, and a recovery environment.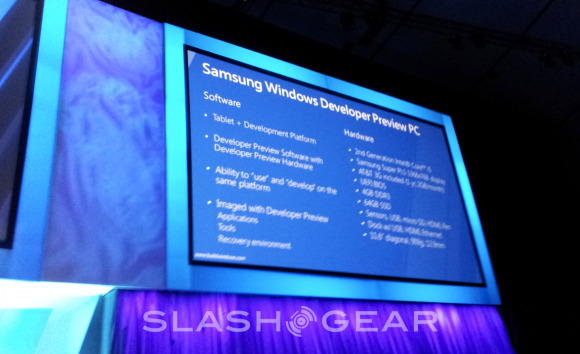 Additional hardware featured in the keyboardless PC includes UEFI BIOS, 4GB DDR3, 64GB solid state drive, and a whole bag of connections. You'll find sensors of many kinds (not listed at the moment), full sized USB port, microSD, HDMI, and pen (stylus). With the package you'll get a dock that's got ports for USB, HDMI, and ethernet. The unit itself measures 11.6-inches diagonally, is 12.9mm thick, and weighs in at 909g. And it's full of the most magical Microsoft OS yet made, Windows 8.
Sound like something you'd like to work with?
You'll have to check out our Windows 8 Tablet hands-on photos and video, our Microsoft Windows 8 Complete Guide, and your humble narrator's on time analysis of the situation in Windows 8, Microsoft's Great Touch-based Hope. The video from Vince's hands-on look at the tablet can also be seen here, and note once again that this may vary slightly from what you're going to see in the developer's version:
[vms e194413056248a00ce00]