Windows 8, Microsoft's Great Touch-based Hope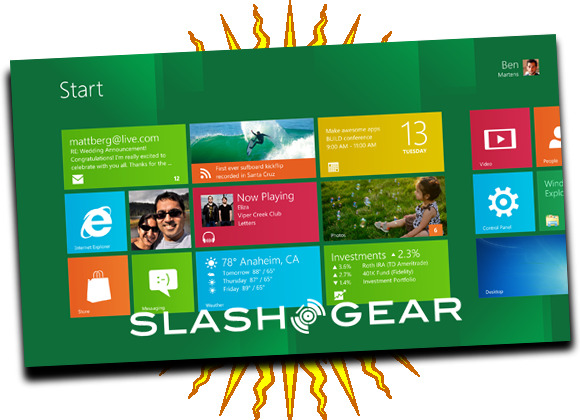 This week we've been introduced by Microsoft to their next hero operating system Windows 8. This OS is optimized to work on every machine starting at the smallness of a tablet form factor reaching up servers hosting processors galore. Its versatile, just as versatile as any previous version of Windows has been and more, it's made to work with both touch-based gestures and/or keyboard and mouse-based actions. Applications here in Windows 8 are optimized for teamwork between themselves, connections, syncing, and the ability of Windows 8 software to run any app from Windows 7 makes this a value proposition that may well be right up the alleys of a vast population in both the USA and abroad.
What you're going to notice about Windows 8 the first time you use it is its willingness to work with whatever you throw at it. Applications are able to communicate with one another for activities like, for example, sharing, in a way that certainly hasn't yet been perfected in any other system, a few mobile operating systems coming in close seconds. Creating an operating system that works with every bit of software your previous software was able to work with; that's just smart business.
Right out of the box you'll be able to work with pen styluses, keyboards, and mice without trouble, this of course referring then specifically to the tablet-based implementation of the software. Of course it's time and time again that it must be reminded that Windows 8 does not have different versions for Tablet and PC, instead its running on what's essentially the exact same user interface wherever you've got it running. One UI to rule them all should Microsoft be saying, now it's got us wondering if Windows Phone 8 (only on 7.5 at the moment) will be the great connector of systems, mobile and non-mobile, as Microsoft does very much appear to be pointing towards this week at their developer conference BUILD 2011.
Moving, adjustable, and customizable panels make up your screens, each of them able to be made from a smaller bit of the other or made to represent an app that's large and in charge. For example, you can make a panel that only connects to a single webpage, and if that webpage has an RSS feed, your panel will have a pretty good chance of showing you the feed as its updated on your Start Screen where it sits. Its pretty wild, to say the least.
This entire Reimagining of Windows will be positive for Microsoft. Windows has been an operating system that's had no significant changes made to it that the public made any sort of recognizable ruckus about for too many years now – it's time for a change, and it's exciting to see that this is it. While there's always room for requests on improvements and real improvements as the system progresses, remember the following factoid: as of this week, 1,502 product changes have been made to Windows XP since Microsoft released it to manufacturing. This number comes from Microsoft tracking said number with its update service showing the wild, wild truth.
We can expect what appears to be quite a hearty effort coming from Microsoft here, along with some rather large hints that integration changes will continue to occur until Microsoft is a singularity.
NOTE: We've got a Microsoft Windows 8 Complete Guide up for you as well as a Windows 8 Tablet Hands-on which you can see the video of here:
Windows 8 Tablet hands-on:
[vms e194413056248a00ce00]