Samsung tips Windows 8 PCs in 2012

This week Uhm Kyu Ho, head of sales and marketing for Samsung's PC business noted that there certainly will be Windows PC computers from the manufacturer inside 2012, touchscreen PCs, and they'd likely take on a shape similar to the Series 7 line. This talk happened inside Seoul where Ho also noted that the computer line would have touchscreens and wireless keyboards, Windows 8 coming standard. While the Series 7 line was and is targeted at business users, Windows 8 may well open a whole new door for the existing line as well.
In the same instance, Nam Seong Woo, head of the PC business for Samsung noted that Windows 7 is able to run applications for personal computers, and that it's made to also appeal to users on devices as portable as the iPad and the whole Android array of mobile products. What Windows 8 will do, then, is offer up a new door to users of the Series 7 set of PCs as Samsung plans on giving user the option of updating to the new OS when it becomes available — this OS is made with touch interaction in mind, and the update date has not yet been verified by Samsung.
Check out some Series 7 CHONOS pcs hands-on here as well as some Windows 8 tablet hands-on time as well.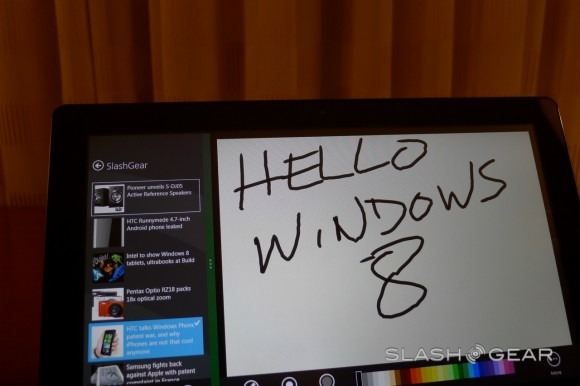 Samsung notes that it aims to raise laptop computer sales by 80 percent to 18 million units sold around the globe inside 2011, this factoid spoken this past February by president of Samsung's information-technology solutions business Kevin Lee. We've yet to see how close they've come to this goal, but given the company's current standing in the smartphone sector, we must assume that they're still doing quite well. Samsung took the top spot in smartphone sales last quarter pushing Apple into second place after shipments of mobile devices more than tripled in that period, this information coming from market research company IDC earlier this month.
What do you think – will Windows 8 tempt you to own a Samsung tablet? How about a Samsung PC then as well? This is how Microsoft attempts to take the mobile market, by creating an OS that appears to cover the entirety of computing. Samsung will certainly take a role in the playing out of this project, one way or another.
[via Bloomberg]