Samsung TecTiles hands-on with Galaxy S III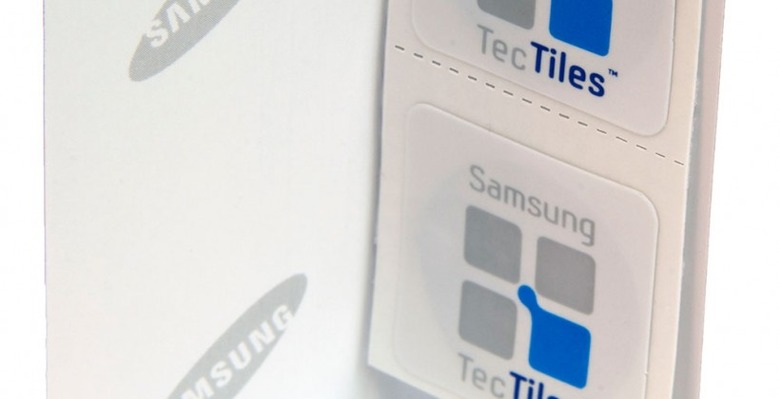 This week before Samsung and their many mobile network partners release the Galaxy S III to the masses, they've revealed a brand new addition to the NFC-laden smartphone family: Samsung TecTiles. These lovely little Programmable NFC Tags will allow you to activate apps, share contact information, change your phone's settings, and more, all of this programmed from a customizable interface you work with from your Galaxy S III smartphone. Each tag can be assigned an action, then when your Galaxy S III is tapped against each tag, its assigned action is performed.
Each tag can be programmed to tell your Samsung Galaxy S III to do an action. These actions range from checking in on Facebook to connecting to your Wi-fi network. We tried TecTiles out with the international version of the Samsung Galaxy S III but they'll work just as well with the USA-bound iterations of the device as well as they've all got the same NFC abilities. Check out our Samsung Galaxy S III international edition full review and stay tuned for the USA editions soon.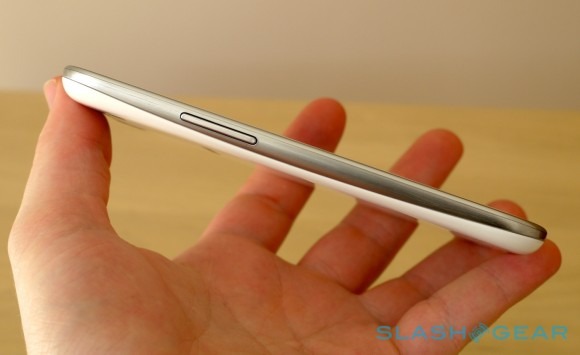 Also though we were given a chance to try Samsung's TecTiles out, neither video nor photos were allowed – stay tuned for that update. Once a TecTile is programmed, any Samsung Galaxy S III will understand what it's been programmed to do and will immediately do the action once it's tapped up against it.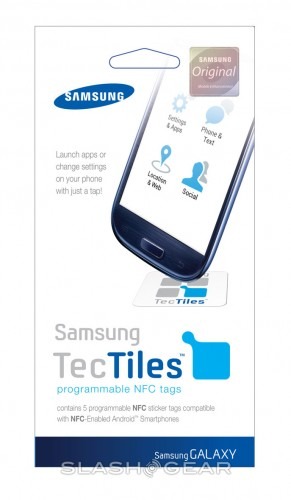 Devices that are also able to get in on this action due to their Samsung branded NFC innards are the Nexus S, the Samsung Galaxy S II on T-Mobile, the Galaxy Nexus, and the Galaxy S Blaze 4G. The abilities you're able to program each TecTile to tell your NFC-laden Samsung device to perform include the following:
Settings & Applications

• Change phone settings (Bluetooth, Wi-Fi, ringer/media volume, screen brightness, etc.)

• Launch an application

• Join a Wi-Fi Network

• Show a message

Communication

• Make a call

• Send a text message

• Start a Google Talk conversation

• Share a contact or business card

Location & Web

• Show an address on a map

• Open a web page

• Foursquare or Facebook check-in

Social

• Automatic Facebook "Like"

• Update Facebook status

• Post a tweet or follow a contact on Twitter

• Connect on LinkedIn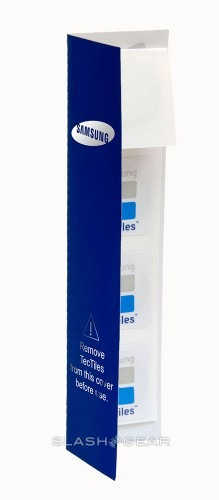 Each pack of these Samsung TecTiles will cost you $14.99 and you'll get five to a pack. The TecTiles app will be available for download from the Google Play store immediately if not soon, and TecTiles packs will be available for purchase online or in-store at any of the top four mobile carriers in the country.
Check the timeline below for more hands-on action with the Samsung Galaxy S III and stay tuned as we get a look at Samsung's newest hero phone as it hits the USA soon!