Samsung NX500 Review - The TARDIS Of Cameras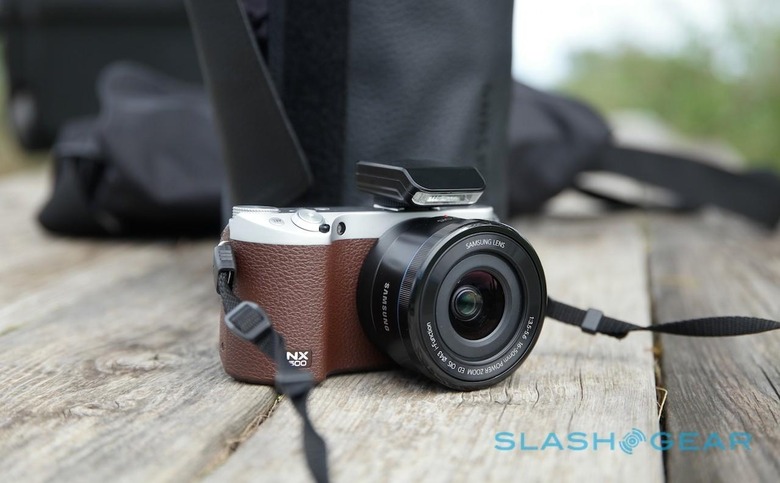 Is a bigger camera necessarily better? Or, put a different way, does a big sensor need to have a big body wrapped around it? Samsung would argue no, and the NX500 is its evidence. Distilling much of the NX1 into a form-factor only slightly larger than a point-and-shoot, it's 28.2-megapixels of interchangeable lens camera with a 4K video recording bonus. Samsung can't work miracles, mind, especially for $799 with a lens thrown in, and so there are some compromises to consider along the way.
It's hard to believe the best of the Samsung NX1 is squeezed inside when you first pick the NX500 up. It feels smaller in the hand than it looks in photos, too, partly because the kit lens – a 16-50mm Power Zoom with i-Function – is smaller than you expect.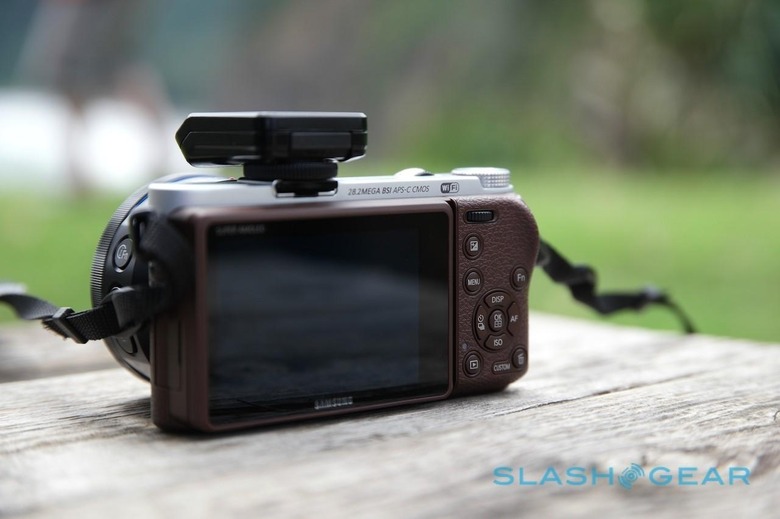 Offered in black, white, or brown, the body measures in at 4.7 x 2.5 x 1.7 inches and 10.1 ounces with battery but without a lens attached. The top section is metal, and feels great, though the rest of the camera is plastic: sturdy, but not quite as premium as the trim. Unlike the NX1, it's not weather-sealed, though Samsung offers some waterproof case options.
The most obvious external sacrifices from the NX1 are the absence of a viewfinder and no integrated flash. Instead, the rear of the NX500 is dominated by the titling 3-inch Super AMOLED touchscreen, and there's a hot shoe on top for a removable flash.
No snap-on EVF, however, though it was only in direct sunlight that the display washed out to the point where I struggled to use it. If you're a selfie fan then you'll like the NX500, since the screen flips completely up so you can frame yourself, as well as automatically switching the camera into Auto Self Shot mode with either a two second countdown or wink/smile triggering.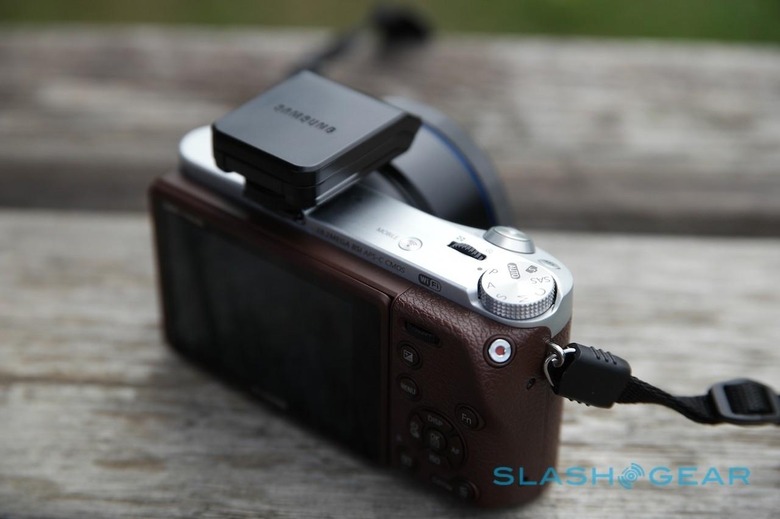 Alongside the touchscreen there are dedicated navigation and shortcut keys, while on the top there's a mode wheel that's easily twisted with a thumb, a navigation/zoom wheel, stereo microphones, and the shutter release with an easily-nudged power switch. For the most part the ergonomics are sound, particularly when you consider what little space Samsung had to work with, but I've struggled with the placement of the video record button which is perched on the corner and awkward for both thumb and forefinger.
Connectivity includes USB 2.0 and HDMI (no USB 3.0, unlike the NX1) and there's an SD card slot alongside the battery on the underside. Personally, I prefer side-loading memory card slots; if you have the NX500 on a tripod, it can often block the battery bay door and make quickly switching SD cards a pain. Samsung rates the battery as good for up to 370 shots.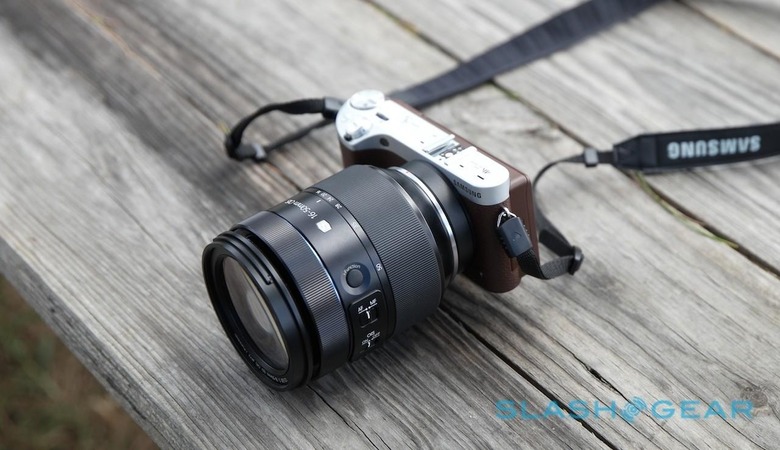 Of course, what's really interesting – just as with the Doctor's physics-twisting time machine – is what's going on inside. Carried over from the NX1 is the well-esteemed 28.2-megapixel APS-C backside illuminated CMOS sensor, though for the NX500 it's paired with a less powerful DRIMe Vs processor, the main sacrifice being a drop in burst-mode speed.
ISO 100-25,600 with an extended mode of 51,200 is supported, and there's the NX1's NX AF System III autofocus which is a sizable step up from the NX300. It covers around 90-percent of the sensor, mixing 202 phase-detect pixels (153 being cross-type) and 209 contrast-detect zones.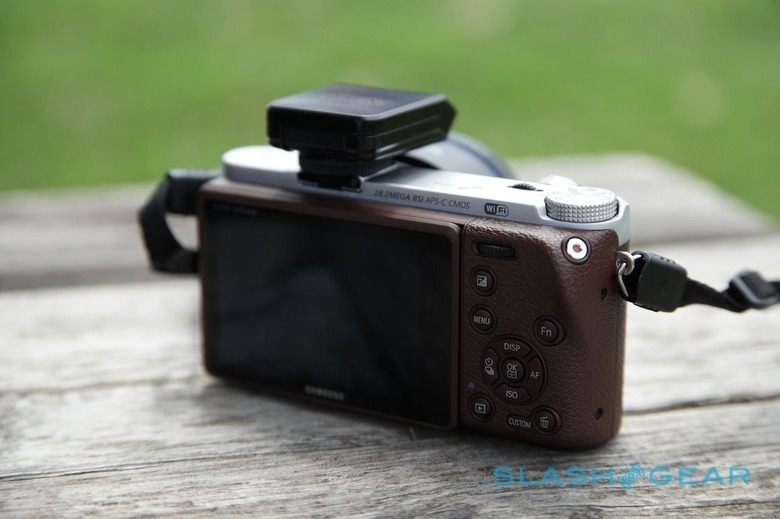 Unfortunately, the NX1's clever patterned AF illuminator couldn't be fitted in, and so the NX500 makes do with a more regular AF assist lamp to the left of the lens. Nonetheless, I had no real complaints with autofocus time or accuracy, and being able to tap the display to refocus is conveniently instant. It's also possible to set a separate exposure point by dragging a second box around the preview, which can be useful.
I tested the NX500 with both the kit lens and a couple of Samsung's other options: the 16-50mm f/2-2.8 and the 50-150mm f/2.8. All three have in-lens optical image stabilization, since the NX500 doesn't have it in-body. The larger zooms are certainly a step up from the 16-50mm Samsung bundles in the kit, priced at $1,299 and $1,599 respectively, not to mention each heavier than the NX500 itself.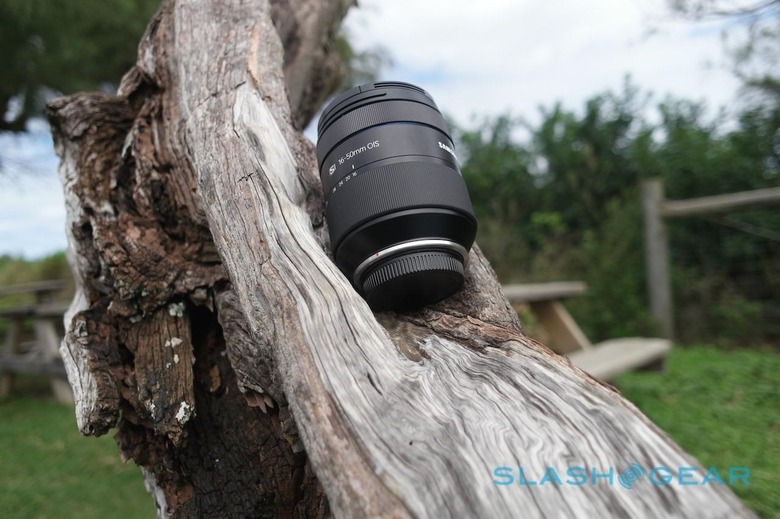 All three make good foils for the camera's abilities, however: make no mistake, the NX500 is capable of some excellent photos (note: Samsung invited me out to Hawaii to put the camera through its paces). You're basically getting the NX1's abilities, which means near-instant autofocus even in low light and then pleasingly noise-free shots anywhere up to 1600 or 3200 ISO.
The NX500 proves quite aggressive with noise reduction, though you can of course use shoot in RAW instead/as well. Sharpness is a little on the soft side at times, at least by default, but you can tweak that either by digging through the in-camera settings or in your pick of post-processing apps.
Colors are accurate and not over-saturated by default, though there's a vivid setting if you'd like little more punch. I was impressed by some of Samsung's custom modes, too: there's HDR with three different levels, a trigger mode which fires the shot when an object – like a runner – hits a certain point in the frame, and a fantastic waterfall mode that, as long as the camera is stably-placed, makes the flow of water into a dreamy blur.
Like, I'd wager, a fair amount of Samsung's target audience with the NX500, I can be a pretty lazy photographer. Sure, with most cameras you can tweak and massage something fantastic, but what I found appealing about the NX500 is how just in Aperture mode I could get great results without having to worry too much about technique.
It's video mode where the compromises made in "shrinking" an NX1 into the NX500 really show themselves. No deal-breakers, certainly, but a few factors to consider.
The NX500 records at 4k/24p for up to 15 minutes at a time, saving video in H.265 HEVC Codec 40Mbps format. That's great for keeping clip size down, but it's still relatively rare and you'll most likely need special software to convert it (which Samsung provides as a free download for Windows users, though Mac users will have to turn to trusty Handbrake).
The dual on-body microphones record stereo audio, but there's no microphone jack and no headphone socket, which could be deal-breakers for more advanced videographers. The HDMI port will only output 1080p not 4k, too, though you can stream in Full HD for monitoring while actually capturing in 4k.
I also noticed an annoying lag after hitting the record button but before recording actually started; only a second or so, but enough that on a few occasions I missed an impromptu moment.
Biggest compromise is how the 4k is cropped from the sensor, however. Samsung basically takes the central 60-percent of the sensor, which has a significant impact on the focal length of the lens.
Basically, it's like you've zoomed in on the scene, which can affect your framing since you only see the cropped view either when recording starts or if you've remembered to toggle on Movie Standby mode.
Get past that, and video quality is almost as impressive as picture quality. Detail levels are high, and the colors are bright but not unnatural. There's tap-to-focus support while recording, though I found the power zoom of the kit lens to be sluggish albeit quiet enough not to impact too greatly on video clips.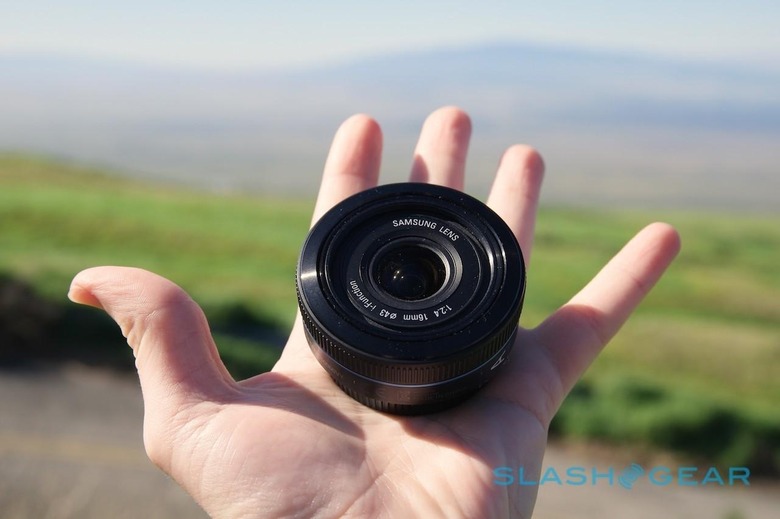 Since this is Samsung we're talking about, there are two notable links with the company's mobile division. The first is the mobile app, or more accurately mobile apps since Samsung offers them for both Android and iPhone. They each allow for remotely-browsing the camera's memory and controlling it from afar.
As you might expect, the Android app is a little more polished. The NX500 has NFC built-in, which can be used for one-tap pairing with a compatible Android phone. After that point, the camera can use either WiFi or Bluetooth to connect, the latter being more power-efficient though having less range.
For iPhone, it's a little more convoluted and requires connecting your iOS device to a WiFi network hosted by the NX500 itself. Once I'd done the initial setup, however, it proved straightforward, helped by Samsung placing a dedicated "Mobile" shortcut button on the top of the camera.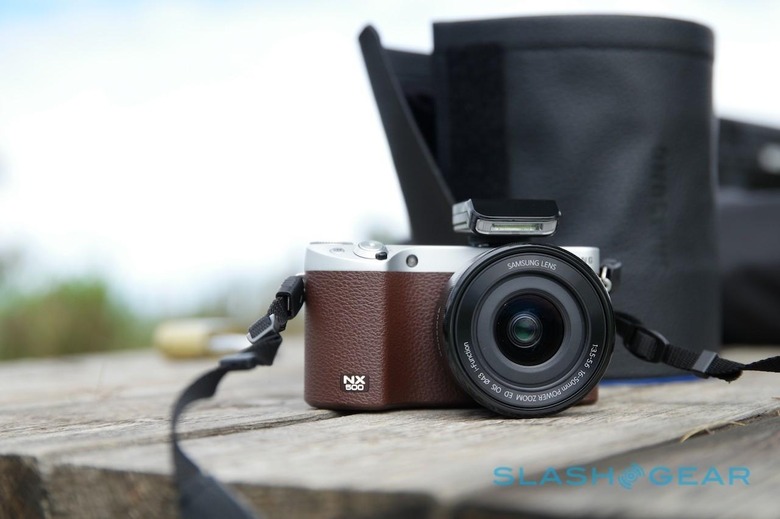 The other mobile-influenced aspect to the NX500 is the software. Traditionally, digital camera updates have been relatively rare affairs, but Samsung's camera team is taking a leaf out of its smartphone siblings' book, and pushing out updates and tweaks at a much faster rate. The NX500 isn't a so-called "smart camera" on which you can run your own apps, mind.
[amazon B00SYKXMKS] For most, though, that won't be an issue: simply being able to quickly offload photos from the camera to my phone (and then push them to Instagram or Facebook) was sufficient for me.
It's hard not to be wowed by what Samsung has achieved with the NX500, and in such a small footprint. While its sacrifices in video mode may make videographers pause, those who want excellent image capture but without lugging a DSLR or even one of the larger interchangeable-lens cameras around will find much to love about Samsung's compact flagship.