Samsung NX100 leaks ahead of Photokina reveal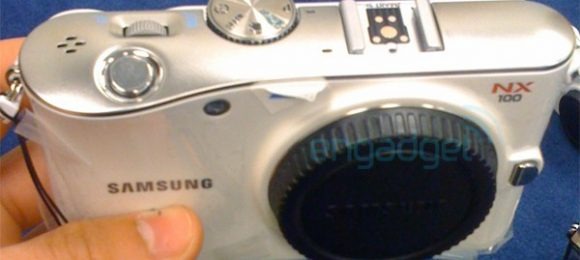 Having been spotted in leaky press shot form yesterday, Samsung's upcoming NX100 digital camera has now emerged in some in-the-wild pictures.  Engadget's tipster sent them some feedback on the Micro Four Thirds shooter, suggesting that video performance is strong and tweaking settings is as straightforward as on a DSLR.
Unfortunately, the still image quality doesn't live up to the DSLR the camera apes, though that's probably not going to stop potential buyers who don't want the extra bulk of a "proper" camera.  In contrast, the NX100 is expected to measure in at 4.74 x 2.8 x 1.36 inches and weigh a mere 9.95 oz, though you don't get an integrated viewfinder and instead have to make do with the 921k resolution AMOLED.
Samsung are expected to offer an external, 201k resolution EVF for those suitably desperate, together with an external GPS attachment for geotagging shots.  The NX100's official unveil is expected to take place at Photokina later this month.