Samsung tease Photokina NX camera reveal: NX100 ahoy?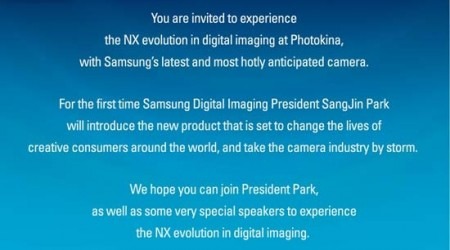 It's not just the Galaxy Tab that Samsung are teasing us about for next week; the company's photography division has been sending out invites to a Photokina 2010 event where they'll be demonstrating their next-generation NX digital camera.  According to the invite, "the NX evolution" will be "Samsung's latest and most hotly anticipated camera"; they don't spare the hyperbole, either, claiming the new model will "change the lives of creative consumers around the world, and take the camera industry by storm."
The best guess so far is that Samsung are making the rumored NX100 official, their newest Micro Four Thirds model which was spotted in a promotional video earlier this month.  Actual specifications for the NX100 are unknown, though the compact snapper was pictured next to various unannounced lenses which would presumably debut with it.