Samsung NC20 with VIA Nano gets official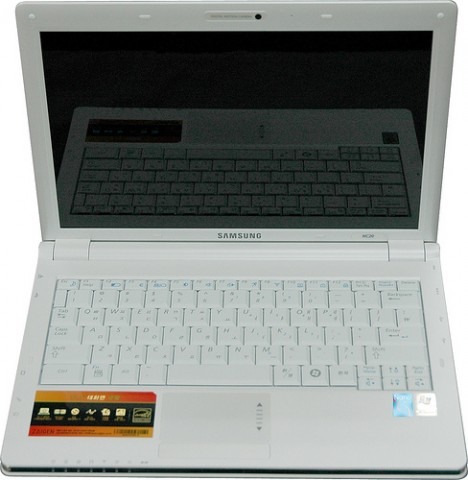 In one of those moments where you forget exactly what's official news and what's simply been confirmed in a roundabout way, VIA have gleefully announced that the Samsung NC20 12.1-inch netbook uses their VIA Nano platform.  While we knew this all the way back in December 2008, and then again in previews and in pre-orders, we'll forgive Samsung and VIA simply because the NC20 looks such a promising machine.
Full confirmed Samsung NC20 specs after the cut
VIA have helpfully confirmed the final, shipping specifications of the NC20, and it's adding up to a decent "mini-notebook".  The Samsung NC20 will  run the VIA Nano ULV U2250 processor at 1.3GHz (800MHz FSB) with 1GB DDR2 memory, a 160GB hard-drive, and a 12.1-inch LED-backlit WXGA 1280 x 800 display.  There's also the VIA VX800 Unified Digital Media IGP chipset and VIA Chrome9 graphics with hardware video acceleration, a 1.3-megapixel webcam and WiFi b/g.
Other connectivity includes Bluetooth 2.0+EDR, three USB 2.0 ports, 10/100 ethernet and a 3-in-1 memory card reader.  The Samsung NC20 measure 292.4 x 217 x 30.7mm, weighs 1.52kg, and promises 6.5hrs runtime from its 6-cell standard battery, a figure early testing has suggested it's more than capable of meeting.
In fact the only thing the VIA press release doesn't tell us is the final retail pricing for the Samsung NC20, which going by the UK pre-order figures will be sub-$565.
Press Release:
Samsung Adopts VIA Nano Processor for the Samsung NC20 12.1" Mini-Notebook

VIA Nano processor platform enables the Samsung NC20 to deliver superior performance and battery life in a sleek 12.1" mini-notebook form factor

Taipei, Taiwan, 27 February 2009 – VIA Technologies, Inc, a leading innovator of power efficient x86 processor platforms, today announced that Samsung has adopted the VIA Nano processor in the new Samsung NC20 mini-notebook.

Combining the power efficient 1.3+GHz VIA Nano™ processor with the highly-integrated VIA VX800 system media processor, the Samsung NC20 also features a stunning 1280x800 12.1" display, ensuring an outstanding video experience and enabling a full-size 12" notebook keyboard with optimized 18.5mm key spacing and larger touchpad in a highly portable device that weighs just 1.52kg.

Mobility is enhanced by 802.11b/g and Bluetooth wireless connectivity, and a six-cell battery that provides up to 6.5 hours of use independent of any power supply, while storage options include either a solid state disk or a SATA hard disk drive. Other features include an integrated 1.3 mega pixel digital motion camera, 3-in-1 memory card reader and three built-in USB ports.

"We are delighted that Samsung has adopted the VIA Nano processor for the Samsung NC20," said Richard Brown, Vice President of Marketing, VIA Technologies, Inc. "This is a truly ground-breaking product that sets the new industry standard for consumer mini-notes and clearly demonstrates the advanced performance of our VIA Nano processor platform."

Samsung NC20 Mini-Notebook Specifications

Screen: 12.1" LED WXGA (1280 x 800)

CPU: VIA Nano™ ULV Processor U2250 (1.3+GHz, 800MHz)

Chipset: VIA VX800 Unified Digital Media IGP Chipset

Graphics: Integrated VIA Chrome9™ with DirectX 9.0 3D graphics support and hardware video acceleration

OS: Microsoft○R Windows○R XP Home Edition

Memory: 1GB DDR2 (1*SODMM)

Storage: 160GB HDD (9.5mmH 2.5"HDD, SATA)

Webcam: 1.3 Mega pixels web camera

LAN: 10/100Mbps LAN

Wireless: Atheros 802.11 b/g

Bluetooth: 2.0+EDR (Enhanced Data Rate)

I/O Ports: USB2.0 x 3, Ethernet LAN, 3-in-1 card reader

Battery: 6 cells Li-ion Battery Standard

Dimensions: 292.4mm x 217mm x 30.7mm

Weight: 1.52kg

Special

Features: 6.5 hours battery life

Colours: White

About the VIA Nano Processor Platform

The first 64-bit, superscalar processors in VIA's x86 platform portfolio, VIA Nano processors have been specifically designed to revitalize traditional desktop and notebook PC markets, delivering truly optimized performance and security for the most demanding computing, entertainment and connectivity applications. The VIA Nano processor is coupled with the VIA VX800 system media processor with support for full Microsoft® DirectX® 9.0 3D graphics, high definition video and audio playback, and up to 4GB of DDR2 system memory.

The VIA Nano processor family leverages advanced 65 nanometer process technology for enhanced power efficiency, and augments that with aggressive power and thermal management features within the compact 21mm x 21mm nanoBGA2 package for an idle power as low as 100mW (0.1W), extending the reach of power efficient green and silent PCs, thin and light notebooks and mini-notes around the world. For further information on the VIA Nano processor family, please visit the VIA website at:

About VIA Technologies, Inc.

VIA Technologies, Inc is the foremost fabless supplier of power efficient x86 processor platforms that are driving system innovation in the PC, client, ultra mobile and embedded markets. Combining energy-saving processors with digital media chipsets and advanced connectivity, multimedia and networking silicon enables a broad spectrum of computing and communication platforms, including its widely acclaimed ultra compact mainboards. Headquartered in Taipei, Taiwan, VIA's global network links the high tech centers of the US, Europe and Asia, and its customer base includes the world's top OEMs and system integrators. www.via.com.tw