Samsung NC20 and 3G NC10 go up for UK pre-order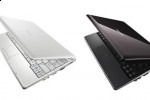 The Samsung NC20 has gone up for pre-order in the UK, with delivery of the 12.1-inch netbook expected later this month for the white version and in March for the black model.  Both have VIA's 1.3GHz Nano U2250 processor, 1GB of memory and run Windows XP Home, and come with the 6-cell battery pack.  Also on offer is the Samsung NC10 with integrated 3G HSDPA, which will apparently begin shipping imminently.
In fact the white Samsung NC20 is apparently due in 5-7 days, while the black NC20 will take 1-2 weeks.  Both are priced at £390.98 (inc VAT; $565) and have Bluetooth 2.0+EDR, WiFi, 160GB hard-drives (no SSD option as yet) and a 1.3-megapixel webcam.  According to the previews we've seen, the VIA processor in the NC20 is HD capable, while the 6-cell battery is good for in excess of six hours runtime.
The 3G NC10, meanwhile, is expected in both "1-2 days" and "Mar 09", and features a 10.2-inch display, Intel Atom N270 1.6GHz processor, 1GB of RAM and a 160GB hard-drive.  As well as HSDPA it has WiFi and Bluetooth, together with a 6-cell battery, and retails – presumably contract-free – for £416.63 (inc VAT; $602).
[via Engadget]