Samsung NC20 previewed: HD capable, over 6hrs runtime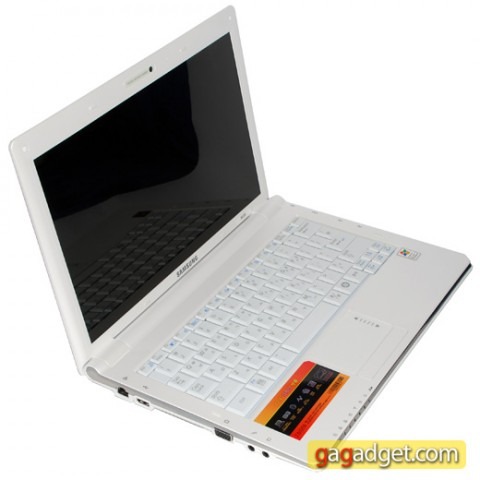 Samsung made a great first-impression with its debut to the netbook sector: the NC10 won praise both for its excellent keyboard and lengthy battery life.  So there's plenty for its sequel, the Samsung NC20, to live up to.  Ukrainian site gagadget have managed to acquire an NC20 of their own, and have been testing out how the switch to VIA's Nano U225 processor and Chrome9 HC3 integrated graphics impact on performance.
Despite the jump in display size – the NC10 had an 10-inch screen, the NC20 uses a 12.1-inch panel –  battery life is still impressive.  The 5,200mAh battery manages to deliver over 6hrs, apparently, though it should do being around twice the size of the standard NC10 pack.  The keyboard is also bigger, with 18.5mm between the center-point of each key; that's almost the 19mm of a standard "full sized" notebook laptop.  At 1280 x 800 the display is pleasingly high resolution for anyone used to netbooks, while it's reportedly good for watching movies even at the lowest brightness setting. 
So it's good to hear that the VIA CPU and graphics can keep up with high-definition content.  720p video pushed CPU load to between 30 and 50-percent, while during 1080p playback the CPU peaked at just 80-percent.  That's enough to make an Atom netbook owner jealous. 
Just as the NC10 changed the netbook playing field – showing that runtime and usability didn't have to suffer just because the price was low – it looks like the NC20 could do the same again, this time for media performance.  The combination of a deep-pocketed battery and HD-capable chipset makes for a tempting prospect; if the roughly $500 price predictions are true, Samsung could have another winner on their hands.
[via Small-Laptops]