Samsung NC20 netbook user manual released [Updated with pricing]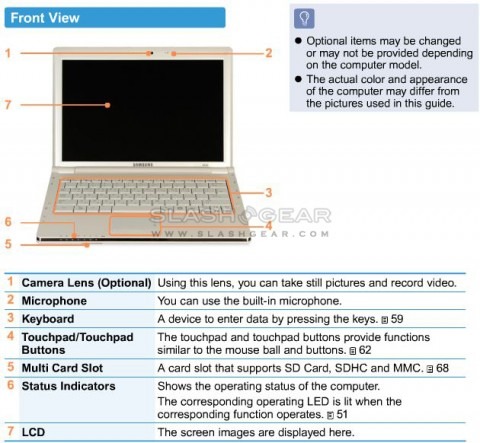 Samsung have published the user manual for their upcoming netbook, the NC20, which is expected to launch next month.  The NC20 has a 12-inch display running at 1280 x 800, 1.3GHz VIA Nano processor and a choice of HDD or SSD storage.  There are also various tweaks to port positioning from the Samsung NC10, and what looks to be improved access to components via a larger panel in the base of the netbook.
The USB, VGA output and audio in/out ports have all been shifted, and the SD slot has been moved to the front of the netbook.  According to the specifications sheet (which you can see in the gallery below) both WiFi and Bluetooth are considered options; however it seems likely that the eventual release model will include both as standard fit.
No word on pricing for the NC20 as yet, and nor do we have battery estimates.  VIA's Nano processor is believed to be more efficient than the Intel Atom CPU, and that – coupled with the standard 6-cell battery pack – should mean impressive runtime.Update: According to Netbook3G, the NC20 will be priced from €425.06 in Europe and £411.98 in the UK.  That suggests, tax aside, a roughly $500 tag in the US.
[via Sammy Netbook - Thanks Riccardo!]