Samsung MBP200 pico-projector/PMP hybrid hits Europe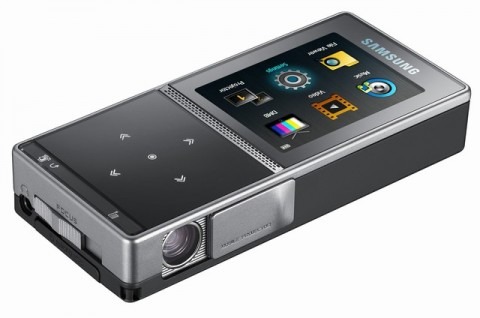 Samsung's MBP200 pico-projector has gone on sale in Germany, coupling a compact DLP projector with an onboard PMP.  First announced back at CES, the MBP200 goes a step or two ahead of pico-projectors we've tested such as the BeamBox or AAXA by virtue of its integrated 2.2-inch display, meaning the PMP functionality does not necessarily require the projector be active.
In fact you can happily listen to audio and watch video on the MBP200 itself, but you'll be missing out.  The 110 x 49 x 19mm box is capable of projecting up to a 50-inch 480 x 320 image, and in addition to pictures and videos can show MS Office documents such as PowerPoint presentations.
In addition to its onboard storage there's a microSD slot content with up to 16GB cards, plus a 3.5mm stereo output for audio and an input for external video sources.  The controls are touch-sensitive and the whole thing weighs around 140g.
The Samsung MBP200 is on sale in Germany now, with an MRSP of €499 ($695).  Live photos of the projector here.
[via PicoProjector-info]