CES 2009: Samsung MBP200 & Anycall Show Pico-Projectors with TI DLP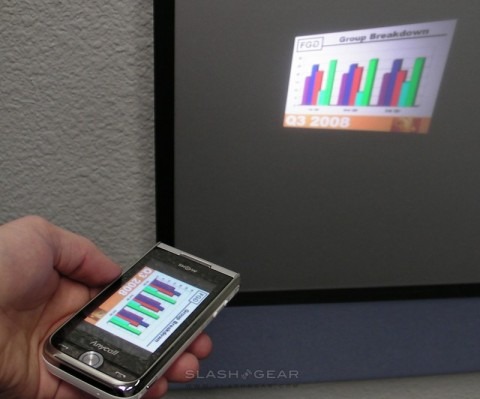 Pico-projection looks to be a burgeoning niche, and inside many of the compact devices lurks Texas Instruments' chipset. SlashGear caught up with the company at CES this week, and took a look at two of the new devices from Samsung using the DLP technology. Unlike existing pico-projectors on the market, Samsung have taken the TI chipset and integrated it into standalone products that don't necessarily require an external video source. In fact their MBP200 PMP and Anycall Show both offer the portable mini-cinema experience all on their own.
Both models are headed to the Korean market but with plans on North America. One is a PMP – complete with internal 2.2-inch LCD display, DMB TV tuner, video and MP3 playback – and the other a touchscreen smartphone. The former, the MBP200, can project a 480 x 320, 50-inch image such as a video (DivX, Xvid, WMV9 Simple Profile, MPEG-2 or MPEG-4) or presentation file (pdf, ppt, doc, xls or txt), and supports up to 16GB of storage using microSD cards. It has both a 3.5mm headphone jack and a small built-in speaker, together with a video input socket.
Meanwhile the smartphone, the Anycall Show, takes the same projector technology and integrates it into a touchscreen handset with 3G, GPS and Samsung's TouchWiz GUI. Firing up the projector is as straightforward as choosing "Projector" from the main menu and then selecting a source; that can be either video or still images (where PowerPoint and other Office files are seemingly categorized too). The camera button on the lower right-hand side doubles as a rotation control, flipping the picture to full-screen, and swipe gestures move between slides or pictures.
In use, the picture quality is surprisingly good.  The demo room was brightly lit, but colors were still relatively rich and, despite the only moderate resolution, showed plenty of detail.   While you're unlikely to be watching a two-hour movie, it's certainly a quick and easy way to show a new YouTube clip, impromptu slideshow or TV episode without weighing down your pockets.  The MBP200 is seemingly more likely to make it to market in the US and elsewhere outside of South Korea; the Anycall Show less so.  However TI tentatively told us that they're working with a number of people to produce pico-enabled devices, so hopefully we'll be able to get our hands on something similar very soon.