BeamBox Evolution R1 Pico-Projector Review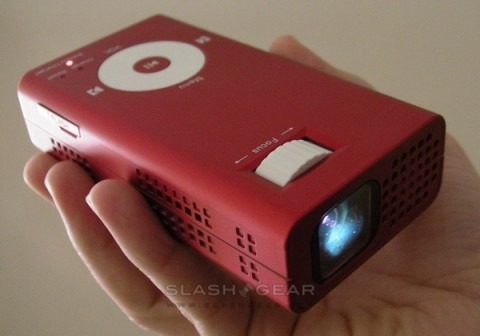 After unboxing the BeamBox Evolution R1 pico-projector late last week, the SlashGear team has been having great fun projecting all manner of content onto anything that will stand still long enough.  Gimmick or legitimate A/V accessory?  Read on to find out.
The R1 offers a choice of two modes.  At its simplest, the pico-projector works as a basic A/V display, taking composite video and stereo audio input.  This will work with pretty much any standard source, whether a portable DVD player, camcorder or even a laptop with a suitable adapter.  More interestingly, the R1 also has an onboard media player, turning it into a standalone system rather than one tethered to an external source.
Holding down the play/pause button boots up the media app, which offers a choice of Music, Video, Photo, eBook, Explorer and Settings.  The GUI is basic but reasonably attractive, and hides a fair degree of functionality.  Audio tracks can be organized by artist, album or genre, together with all tracks and playlists (the latter of which can be copied over to the R1, but not created on-device), with an on-screen equalizer animation, bitrate and ID3 details.  Controls include play/pause, track skip and fast-forward/rewind, together with volume.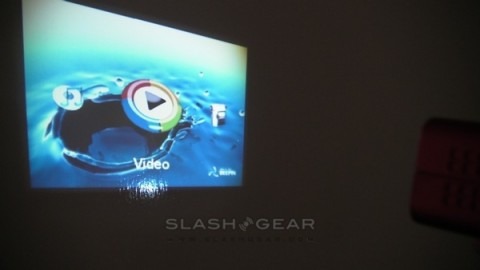 In the video player, it's a similar arrangement.  Files are selected from an explorer browser, and support fast-forward and rewind.  The photo viewer is basic, with manual scrolling or an automatic slideshow of JPEG, BMP and GIF files, and the eBook viewer works in a similar way, taking text files and allowing you to scroll through them.  Navigation takes a little getting used to: with the exception of the main menu, which runs horizontally, all the file explorer dialogs scroll vertically, but are still controlled by the left and right buttons.  Pressing and holding the down button allows you to tweak the volume with the same navigation keys.
It won't rival the GUI of an iPod, then, but there's a reasonable choice of codec support on offer.  Audio files can include MP3, WMA, WAV, APE, FLAC, AAC/AAC+ and MPEG1/2/2.5, while video choices cover AVI, MPEG1/2/4, 3GP, WMV9/VC1, ASF, RM/RMVB and FLV, with a maximum resolution of 640 x 480.  The R1 can't deal with DRM files, not through the onboard player anyway, though if you plug in an external source that can handle them there's no problem using the pico-projector to display.  Onboard storage is 1GB – though the media player occupies around 30MB of that – and the microSD slot will take up to 4GB  cards; we had to format our 2GB test card before the R1 would recognize it.  The R1's mini-USB port lets it act as a mass storage device – mounting as two separate drives, one internal and one for the microSD – but there's no support for video over USB.
Image quality is a balance between picture size and resolution.  According to BeamBox, the Evolution R1 is good for a 40-inch (diagonal) image at 1.5m; it'll scale up to 100-inches if you have more distance, though you'll need a darker room for the 30 Lumens LED to cast enough light.  No matter the size, the resolution is always 640 x 480 VGA, and while this may sound relatively low it's a decent portable compromise.  Surroundings have much more of an impact on viewing quality than the R1's own abilities – BeamBox quote a 200:1 contrast ratio – and while the pico-projector is capable of pushing out a visible image in a daylight room, you need to be less than a meter from your projection surface in order to see any detail.
Step into a darker room, though, and the R1 gets a whole lot more interesting.  Projecting onto the ceiling, or the back of a door, is great for impromptu videos, with the stiff focus wheel showing a broad range of granular adjustment despite its limited travel.  Colors are surprisingly vibrant while blacks are, although not inky, better than you'd expect from a pico-projector.   The 1W mono speaker, meanwhile, is good enough for sharing brief video clips though lacks strength in anything below the mid-range; happily there's a 3.5mm socket for plugging in headphones or powered speakers.  It's loud enough, though, to drown out the otherwise mildly intrusive fan noise, which is high-pitched and makes no adjustments no matter the temperature.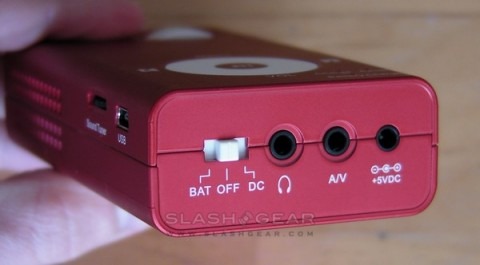 We tested battery life by fully charging the Evolution R1 and then playing a looping 30fps MPEG1 video, with the sound muted, until the pico-projector refused to play any more.  The clip was loaded into the R1's onboard storage and played through the integrated media app, and the projector lasted 1 hour 13 minutes.  That's 17 minutes less than BeamBox's promised 90 minutes of playback from a single charge, and while not enough for a full-length movie is certainly sufficient for a couple of TV episodes and a few YouTube clips.  You also have the choice of running the R1 from the PSU rather than off the battery, though with the cable at only 42-inches you'll need to be pretty near a power point.
An obvious improvement would be to the supplied cables.  BeamBox provide a simple A/V input cord, but considering the number of iPod users there are around, we'd like to have seen a straightforward way to hook up an Apple PMP.   We'd also like to be able to hook up a laptop via the mini-USB port; BeamBox suggest a VGA to component video adapter, but this is where DisplayLink's USB external display technology would come in very handy.  Finally, a PowerPoint viewer could have been a draw to mobile professionals; as it is, the R1 doesn't recognize the files.
Still, it's tough to fault the BeamBox Evolution R1.  As a pico-projector it offers some of the best image quality specifications we've seen, which translate into decent real-world performance with strong colors and reasonable audio.  The absence of an iPod cable in the box is offset by the very useful integrated mediaplayer, which while uninspiring from a usability perspective nonetheless makes the R1 a realistic standalone PMP.  That the codec support is so broad is icing on the cake, and even the battery life – while not quite as promised – is reasonable.  £260 or $360 isn't exactly pocket-change, but compared to rival pico-projectors that lack the onboard media functionality, the Evolution R1 is better value for money.
[vms 3619e98159e9b6febf55]