BeamBox R1 Pico-Projector: Unboxing Video & First Impressions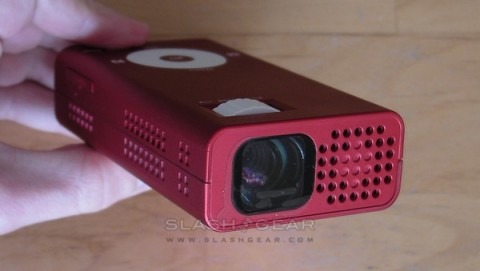 BeamBox's 30-lumen Evolution R1 pico-projector doesn't officially begin shipping until the start of April, but SlashGear managed to acquire one ahead of the launch.  Measuring a short, sturdy 108 x 59 x 28mm and tipping the scales at 175g, the R1's party trick is not only projecting external AV sources up to 100-inches at 640 x 480 resolution, but content from its own onboard media player.
Unboxing video and first-impressions after the cut
For that, the Evolution R1 has 1GB of onboard storage and a microSD slot content with up to 4GB cards.  File format support is broad, too, including flash-video, various MPEG formats and WMV files, together with audio and image files too (full list here).  The AV input takes standard audio L/R and video component signals, and the rechargeable battery is apparently good for up to 90 minutes runtime.
First impressions are good, with the metallic-red finish R1 feeling weighty but not overwhelming the in hand.  The buttons are loud when pressed but the layout is decent, and the focus control requires a sturdy grip as it's particularly stiff to turn.  Still, a little practice and it allows for pretty granular adjustments.
So far we've unboxed it (the video is below), loaded a couple of video files and checked out the basic projection abilities.  Despite the 30 lumens brightness you'll still need a relatively dark room if you want to make out detail, but that's par for the course with a pico-projector.  Sound quality is surprisingly good, though, considering the size of the 1W speaker, and the picture very watchable with fair color saturation at the preset settings.
We'll be putting the BeamBox Evolution R1 though its paces over the weekend, and checking out the battery claims too – is this really something you could watch a whole movie with?  More details on the R1 itself at BeamBox's site.
[vms 3619e98159e9b6febf55]