Samsung Kidrobot artist team appears at MWC 2014: Tilt, The London Police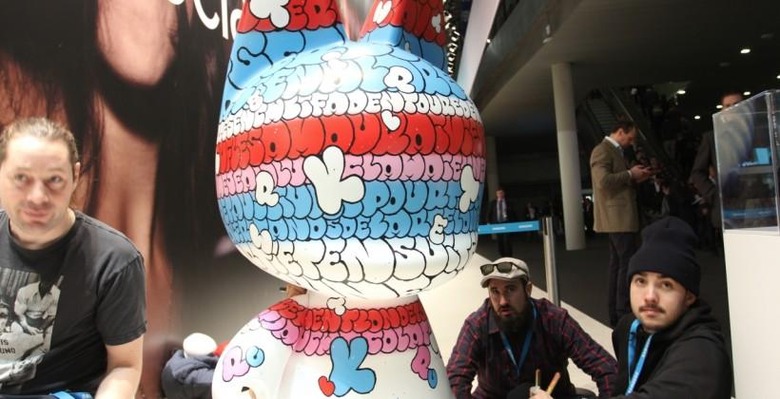 Just as it was at CES 2014, so too did Samsung team up with Kidrobot to deliver artistic expression to the masses with artists Tilt and The London Police. The collaboration between Samsung and Kidrobot includes a set of custom cases and devices – the Galaxy Note 3 continues to be a centerpiece here even as the Samsung Galaxy S5 is introduced on a global scale – while customized vinyl toys sit right alongside. Samsung also provided Barcelona with some fantastic (decidedly non-technologically advanced) eye food with live painting by the artists just as they did earlier this year.
We once again got to get up close and personal with the artists – two of them anyway – as they took to the larger versions of the newest set of Kidorobot toys. The series of toys here goes by the name "MiWe", a set made with creative expression at its heart, coming off several successful (extremely similar) sets of toys made with similar intent.
"Rising from the timeless streets of Europe, MiWi (Bloak) embodies the contrasting nature of life in the city. With crisp, clean lines and bold black and white treatments, MiWi (Bloak) captures the gritty and energetic essence of urban work and play." – The London Police, Artist
Above and below you'll see the basic descriptions of the creations The London Police and Tilt have made. While "MiWi" (Meaningful Innovation, Wow Experience) is the name of the series of toys, the names inside parenthesis represent the unique names made by each artist.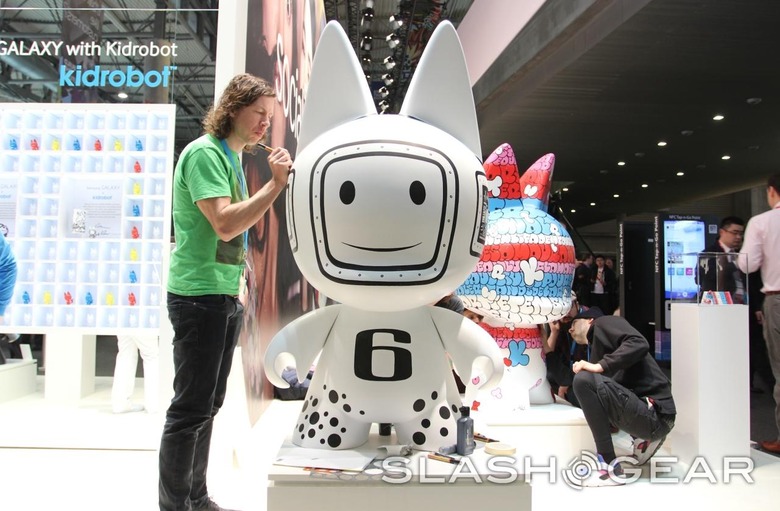 These little guys are coming in different forms as well – one is a tiny, pocketable size MiWi that will come in a limited edition, the other (the larger, live painted version), will be a one-off.
"MiWi (Tilty) is bold, beautiful and colorful. The intriguing forms and color blocking pay homage to the brilliant avenues of smart Toulouse and vibrant Paris. Transformation from brilliant white to expressive color is what MiWi (Tilty) brings to the world." – Tilt, Artist
Again from our chat it seems that either Kidrobot or Samsung will take possession of the massive MiWi sculptures and either set them up for display in stores or – cross your fingers – auction them off in the future. For now we're glad to have been given the opportunity to see these artists customize the pallets made by Kidrobot and Samsung.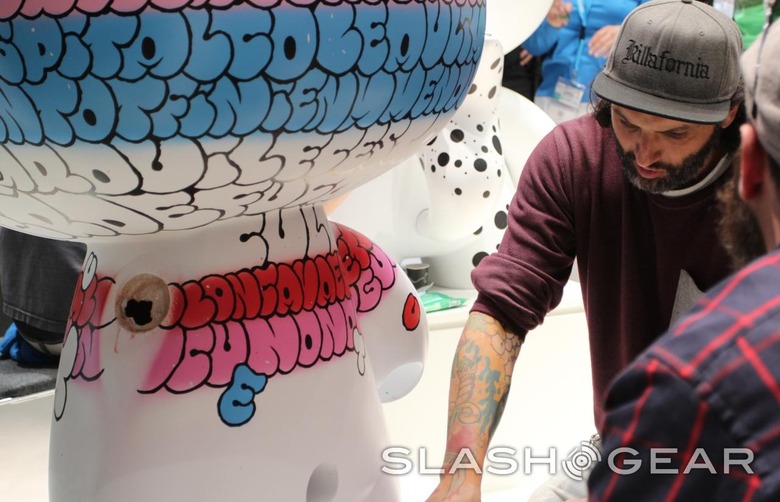 Both Tilt and The London Police add to a list of artists and personalities Samsung has worked with over the past year to promote creativity with their products. This includes a concert and meet-up last year with Kanye West and artist Futura 2000 as well as live painting with Buff Monster, Angry Woebots (Woes), and Scribe at CES 2014. We'll expect to see more in the future as well!
Above you're seeing some customized MiWi and Samsung Galaxy Note 3 cases by the artists. Below you're seeing more of these five foot tall MiWi made for massive events just such as these.