Samsung Jay-Z deal is real: showtime set for NBA finals Sunday [UPDATE]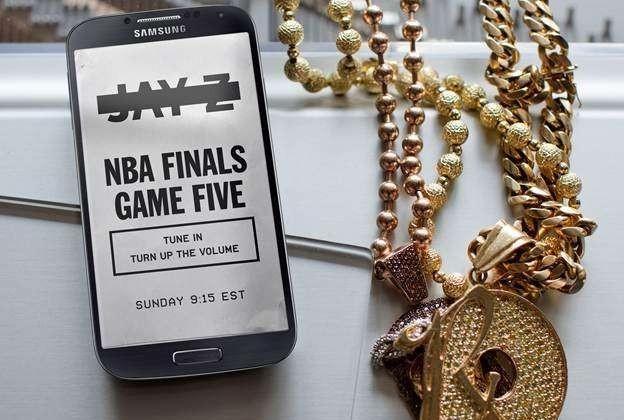 An invitation to tune in to the NBA Finals game five on Sunday has landed on the digital desks of the press this afternoon, suggesting that the Samsung Galaxy S 4 and the artist known as Jay-Z will come together for some great showing. This lends itself well to the idea that the artist signed a deal with Samsung, this information coming across as rumor earlier this month. This streaming music deal, as it's been suggested to be, may put Jay-Z's own Roc Nation up on an exclusive tip with the Samsung Galaxy family of smartphones and tablets. UPDATE: It's an album!
What you're seeing in the image is a pair of necklaces and chains that'd normally rest around the artist's neck. Therein lies the Rock-a-fella records chain up front and a couple more in back.* The device to the left is, again, the Samsung Galaxy S 4 and the words "Tune In / Turn up the volume" suggest that music is, indeed, in order.
*NOTE: We're making with the investigation on this one because we've got some discord sent in from the peanut gallery – emails and whatnot. The chains you're seeing are thus: The Rock-a-fella Records chain (defunct record label, effectively re-formed into RocNation, run by Jay-Z here in the present) held up by cuban links of gold. There's a chain in there not attached to anything, then a third chain with a Jesus pendant on it.
The Jesus piece is one of a long line of similar designs worn by Jay-Z and rappers such as – perhaps most famously – the Notorious B.I.G.: "So I just speak my piece, (c'mon) keep my peace / Cubans with the Jesus piece (thank you God), with my peeps."
These chains likely have very, very little to do with the actual event beyond the idea that there'll be music involved and that Jay-Z hopes that either the performance or the business deal – or both – will be blessed for success. And that's stretching it.
UPDATE 2: Jay-Z himself wrote about this promotional photo with the words "the chain remains" on his official inspiration collective Life and Times. This lends to the idea that the artist will bring a bit of a resurgence to the still-powerful brand name Rock-a-fella. We shall see!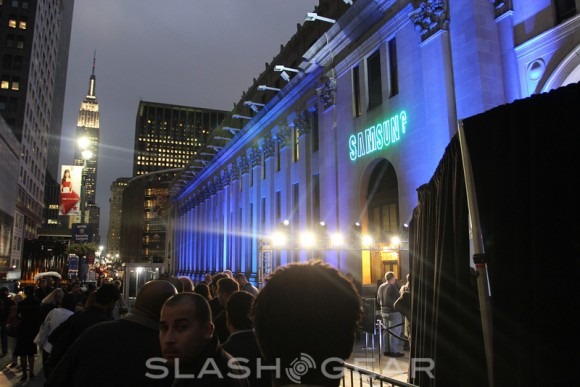 What this could be is as little (so to speak) as the artist doing a performance on a stage sponsored by Samsung. It wasn't that long ago that Samsung brought in Kanye West to perform at a party introducing the Samsung Galaxy Note II to the USA. That performance also tied up with several other artists available at the time including Futura 2000, an originator of the NYC graffiti scene.
In this case, with an artist as large as Jay-Z, it's sure to be a bit more of a massive undertaking. Jay-Z's presence has the ability to take brands to a different level – especially when they're tied to music and his attachment to the NBA like we're seeing here. Tune in – just as we will – to see what's going on here on Sunday.