Samsung HomeSync Android TV box appearing this month, Jelly Bean in tow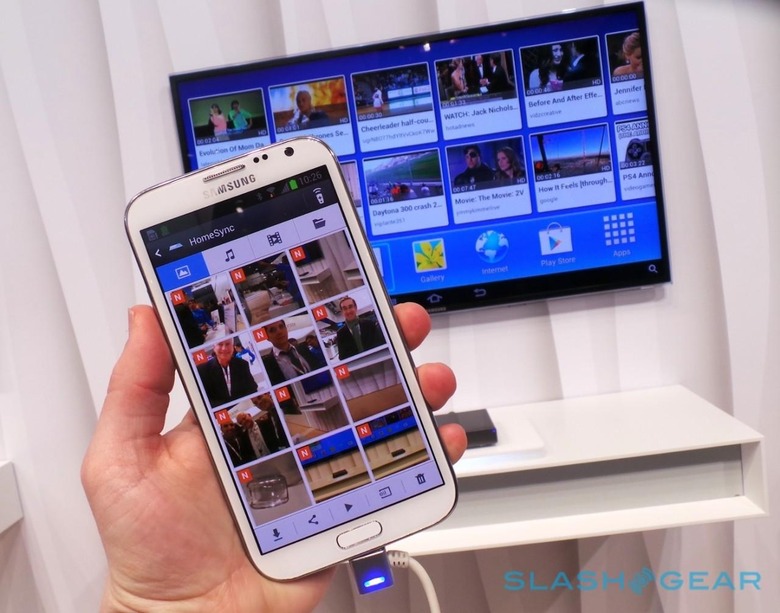 Earlier this year at the international technology conference known as Mobile World Congress, we got our first chance to have a hands-on look at the Samsung HomeSync Android TV box. Tossing aside the idea that a Google-friendly TV box should run none other than Google TV itself, Samsung decided here that the system should take on the likes of their own Samsung Link system. Appearing October 6th, the Samsung HomeSync device will be working with the Samsung Galaxy S 4, Galaxy Note 3, and a collection of other recent Samsung smartphone and tablet releases.
HomeSync will be appearing with a massive 1TB build-in drive for storing photos, videos, and any other media content you may want to blast forth from your TV set. HomeSync allows 6 devices to be registered to it at any one time, allowing you and your whole immediate family to connect their smartphone and/or tablet to control and access the content on the box at once. Once inside, the HomeSync device acts as a hub as well as a TV set box.
You'll be able to control what's happening on the box as you continue to browse the web on your smartphone, using the smartphone as a remote control. You can also use HomeSync as a mirroring device, showing the content of your smartphone or tablet on the big screen HomeSync is connected to. HomeSync connects to your TV with HDMI, allowing you to see full 1080p picture for your media collection.
The HomeSync system will be compatible with the Samsung Galaxy S 4, Galaxy Note 3, Galaxy S III, Galaxy Note II, Galaxy Note 8.0, Galaxy Note 10.1 2014 Edition, Galaxy Camera, and any other Samsung device that works with Samsung Link. There's even a possibility (though this is not confirmed) that the Samsung Galaxy Gear might work with HomeSync too – we'll see soon!
As you'll see above, HomeSync was already kicking out the high-powered content earlier this year. At $299 USD, this device will be appearing in a variety of retailers well before the holiday season begins, and it's appearing with some "Galaxy Perks" as well. Once registered, a HomeSync system will allow you an extra $50 to spend through the Samsung Media Hub, there containing TV shows and movies both old and new.