Samsung Google Android event set for October 19 in Hong Kong [Official]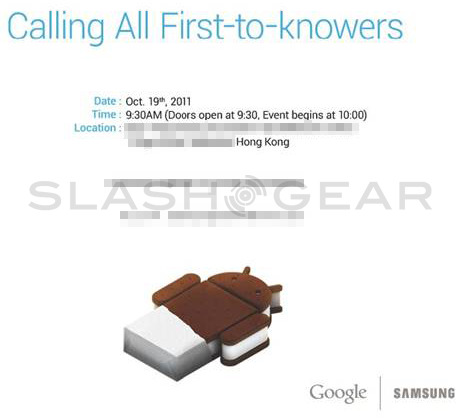 Invites have been sent out to those considered worthy of attending what may well be the biggest event in the shared history of Samsung and Google, one taking place LIVE from Hong Kong, China. This event will almost certainly be showing off the newest Android operating system Ice Cream Sandwich working on a Samsung device either called the Nexus Prime or the Galaxy Nexus. One way or another, the 19th of October, Hong Kong (and the 18th of October, USA, for those that understand time zones,) will be the date of the big Samsung Unpacked event that was cancelled last week. Can you even contain your excitement at a time like this?!
Samsung and Google have never really done an event that takes place on the other side of the sea and livecast at the same time like this before, the event certainly a gesture of how far reaching this new Android platform will be. Google has only officially revealed a few key points on Ice Cream Sandwich, but rumors on the subject have been running rampant for months now.
"Samsung/Google media event has been rescheduled to take place on October 19 in Hong Kong, China. ... The event livestream will be available at YouTube.com/Android at 10 p.m. EST on October 18 for U.S. media who cannot attend the event. " – via the email invite sent out today
Have a look at some posts that should wrap your mind around the operating system:
Samsung teases handset for upcoming eventICS launch confirmed on YouTubeNexus Prime detailed for Verizon LTENexus Prime name and release leaked by Samsung UKNexus Prime pictured clear as dayGoogle Nexus phone details roundup mid-SeptemberGalaxy Nexus specs avalancheGoogle Nexus Prime renderings appear accurateSamsung Galaxy Nexus hands-on video leaks
Then start flipping out about the Samsung device we're about to see. Recently we've gotten some rather obviously real and true looks at the device which we're still debating the name of, Nexus Prime or Galaxy Nexus – or perhaps it will just be called "The One," certainly the road to this moment has implied as much. Google, Samsung, will you bring the fire with Ice Cream Sandwich on the greatest device on the planet? We shall see, as we'll be there LIVE to cover the event – next week!