Samsung Gear VR, Galaxy S6, Edge in-store near-hands-on at Best Buy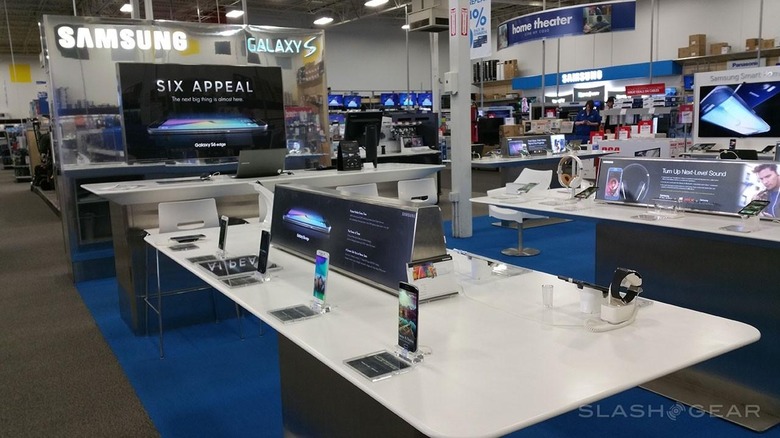 Here's what'll happen when you walk into a Best Buy this weekend – supposing you're in one of the locations that has The Samsung Gear VR Experience inside. You'll immediately be greeted by a couple of "SIX APPEAL" pylons covering the metal detectors that don every front entrance to Best Buy locations. From there, you'll see several massive Samsung Galaxy S6 and Galaxy S6 Edge posters and metal-framed information boards. If you didn't already know before walking in, you'll know before you pass the front gate: the Galaxy S6 family is clearly in the house.
Is the HTC One M8 here too? Yes, maybe. Under the counter in the back somewhere, perhaps. How about the LG G3 or the G Flex 2? You'd have to search to find either. This is Samsung's show, and they've payed for it.
The Samsung mini-store is as massive as Apple's. The booth Apple has inside Best Buy sits just across the aisle and shows off laptops, desktops, and all manner of mobile devices: iPhones, iPads, and iPod touches, as well as headphones. Samsung's presentation is far more mobile-focused – the laptops are off to the side.
Samsung has chosen to line the front of their newest display with Galaxy S6 and Galaxy S6 Edge devices even though they're not quite ready for sale – it's pre-order time right this minute. Shipments and in-store availability begin on April 10th.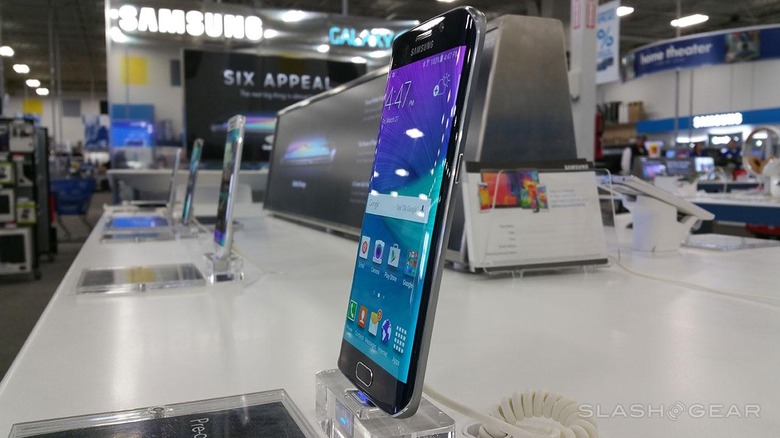 See more of our Samsung Galaxy S6 and Galaxy S6 Edge hands-on impressions now, and stay tuned as we bring you a full review soon!
Not one whole heck of a lot of people were at this particular location browsing devices – not especially strange since it was noon on a Friday in Fargo, North Dakota. As such, it wasn't especially surprising to have more than one Samsung employee approach to ask if I needed help finding anything.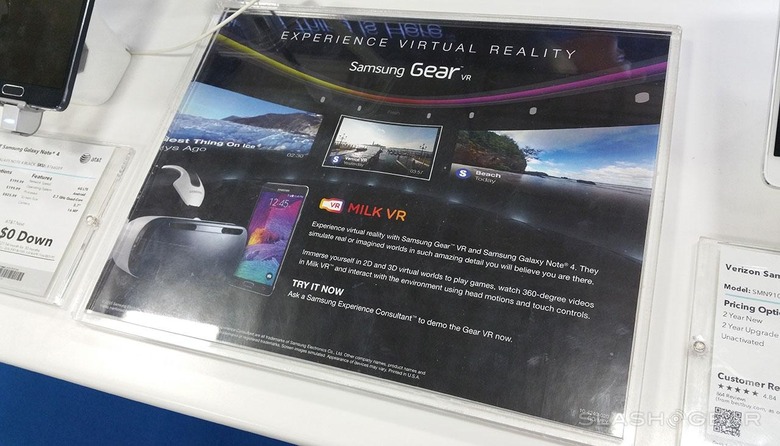 And there it was!
The Samsung Gear VR!
Not an actual physical unit, mind you – but an informational display. Down between two Samsung Galaxy smartphones rested a one-sheet explaining how I, a normal citizen, could get a demonstration of the Gear VR if I did so wish it.
Upon asking for said demo, I was turned down.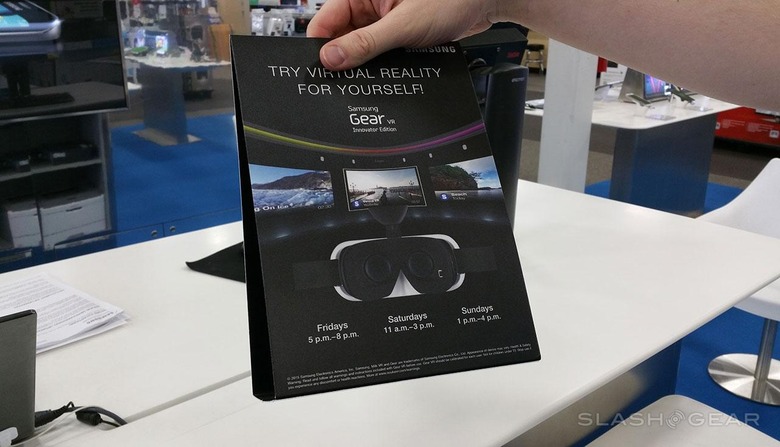 Not because this Samsung employee didn't want to give me a demo, but because demos are only given by certain Samsung specialists at special times of the day. Weekdays, these demos are given in the evening, and weekends the times are expanded a bit.
So we'll be coming back. Samsung suggests that this location specifically would be getting actual for-sale units of the Gear VR "probably in the next week or so." Until then, we'll only be able to get demonstrations of the headset.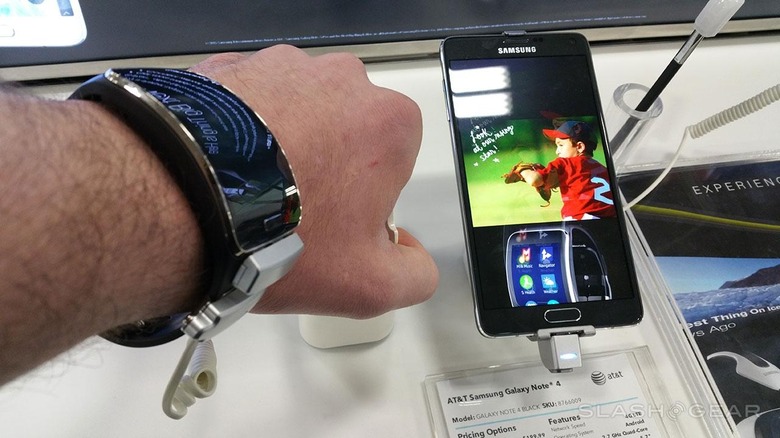 BONUS: Just in case you were wondering, yes, you can try on Samsung's smartwatches whenever you want. You don't need an appointment, and you don't need an employee to help you suggest which colors or cost-points you should approach.
It's all on you.
Also if you'd like to get deeper than up-close and personal with the Samsung Gear VR Innovator Edition, you can have a peek at our Gear VR mini-teardown right now!