Samsung Galaxy S6 and S6 edge release details and first-impressions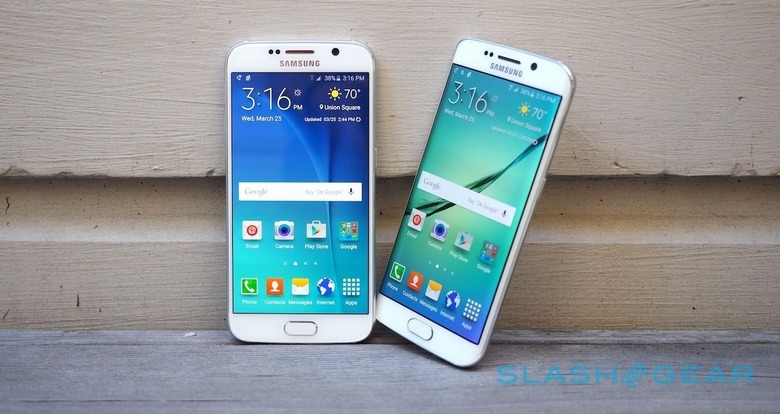 Samsung has announced US availability for its flagship Galaxy S6 and Galaxy S6 edge smartphones, and what better way to celebrate them landing on the SlashGear review bench than an impromptu photo-shoot. Announced back at Mobile World Congress earlier this month, the metal- and glass-bodied Android smartphones mark the beginning of a new – and welcome – design direction for Samsung, swapping the plastic of their forebears for a far more premium feel. The S6 edge, meanwhile, raises the stakes with a double-curved AMOLED display. Consider the gauntlet thrown down well and truly to the iPhone 6 and HTC One M9; read on for our first-impressions.
Specifications for both devices are broadly the same. Each has a 5.1-inch Quad HD Super AMOLED touchscreen – flat on the S6, "dual edge" on the S6 edge – and runs Samsung's own Octa-core Exynos processor with 3GB of RAM and Android 5.0 Lollipop.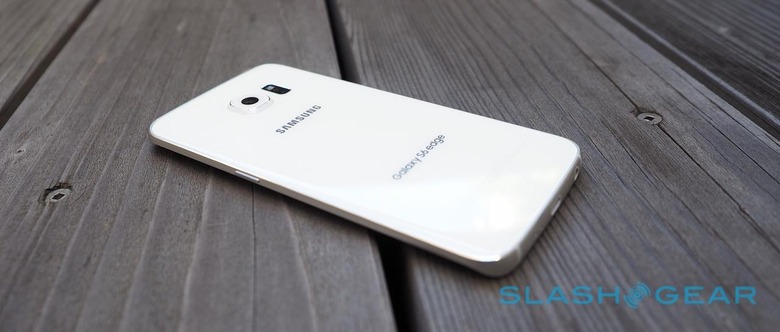 There's a 16-megapixel camera on the back and, unlike the One M9 or iPhone 6, Samsung has managed to accommodate optical image stabilization (OIS) in there too. It's capable of 4K video recording and is matched to an f/1.9 lens.
Connectivity includes LTE Cat.6 (theoretically capable of up to 300 Mbps downloads and 50 Mbps uploads, if the networks themselves could manage that), WiFi a/b/g/n/ac, Bluetooth 4.1, NFC, and USB 2.0, along with an IR blaster.

Samsung has sensibly included both Qi wireless charging and PMA wireless charging, with no clunky cases or adapters required, and no extra bulk. Sadly there's no wireless charger in the box, but at last Samsung doesn't demand you buy a fast-charger to take advantage of the S6 and S6 edge's speed recharging facility, unlike HTC and the One M9.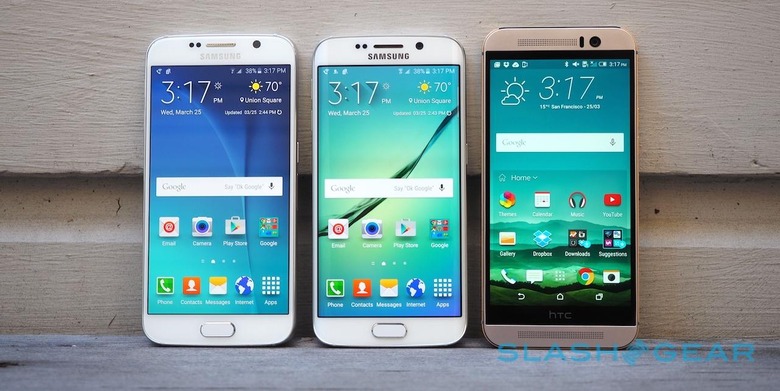 My time with the Galaxy S6 and S6 edge has been too brief to come to any firm conclusions – smartphones as important as these deserve more than a few days assessment, we think – but already it's clear that they're a marked improvement over the outgoing Galaxy S5.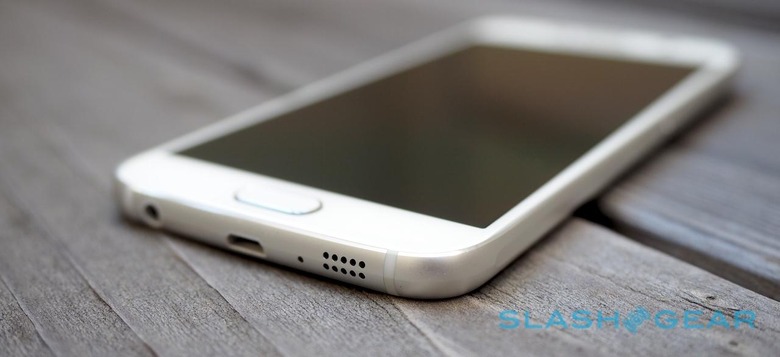 For a start, build quality has taken a noticeable step up. Out goes the plastic, Samsung having apparently tired of defending its choice of materials and conceding that a flagship phone deserves a metal body.
It's not entirely metal, however. In fact, you get a smooth, polished bezel running the edge of each phone, into which slivers of raised metal act as controls for power and volume. Sandwiching that is two sheets of Corning's Gorilla Glass 4, toughened to help make the Galaxy pair both scratch and impact resistant.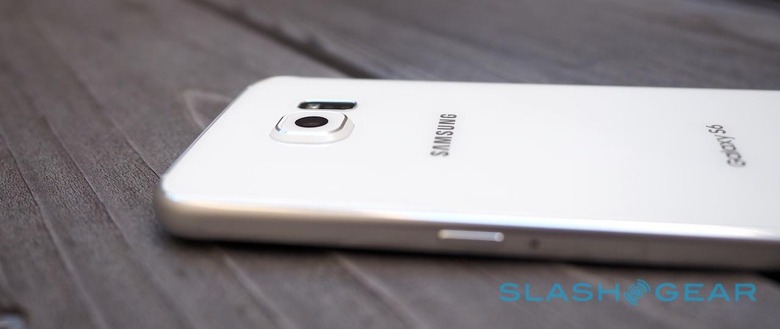 Some of the detailing, it has to be noted, feels a little familiar. Both the iPhone 6 and One M9 use an antenna embedded into the metal frame, but the Galaxy S6's array of drilled speaker holes, power socket (in this case microUSB 2.0), and headphone jack across the bottom edge are strongly reminiscent of Apple's smartphone.
I can't quite bring myself to be too upset, however, mainly because the Galaxy S6 and – particularly – the S6 edge feel so darn good. The sides of the regular S6 have a slightly flattened curve to them, a little like Sony has used on previous Xperia phones, which makes it easy to grip but without the sharpness of the One M9 against your fingers or palm.
Meanwhile, unlike with Samsung's own Galaxy Note Edge, the curved side-displays of the S6 edge don't seem to attract accidental touches. Using the bigger phablet, I find either my fingertips or the base of my thumb constantly ends up accidentally dragging across the curved screen.
Perhaps it's because the S6 edge is physically smaller, so not such a stretch to use one-handed, but those touches don't seem to be happening as often. I'm still not, it has to be said, 100-percent convinced that the "dual edge" screen actually has a practical, legitimate use-case, mind.
Samsung Galaxy S6 and S6 edge vs. HTC One M9
Something I'm already convinced by, however, is the new fingerprint sensor. It's still built into the home button, as on the Galaxy S5, but it now no longer demands a swipe, only that you press your fingertip against it.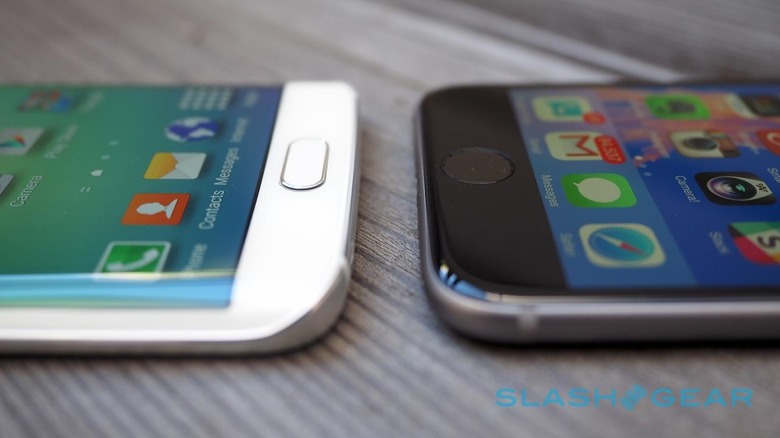 Setting it up is one of the initial steps when you first turn the S6 or S6 edge on, and – as per Apple's Touch ID – requires tapping your finger repeatedly and at various angles. It's far, far easier to use single-handed than the old system, which required so much in the way of finger gymnastics that it was easier to turn the biometrics off and resort to a PIN code instead.
Samsung Galaxy S6 and S6 edge vs. iPhone 6
Later in the year, Samsung will enable Samsung Pay, its take on the mobile wallet. It may be later to the game than Apple or Google, but Samsung is counting on its ability to mimic magnetic strip cards – and thus work with millions of legacy registers that aren't NFC-equipped – to give it a lion's share of stores from the outset.
As for that camera, again, it's too early to say anything conclusive but already I'm feeling positive about the quality of the shots it's capable of. There are a few unedited images in the gallery below, and of course I'll have more for the full review.
Samsung Galaxy S6 sample photos
The Samsung Galaxy S6 and Galaxy S6 edge will go up for pre-order in the US tomorrow, March 27, on AT&T, Verizon, T-Mobile USA, US Cellular, and Sprint; they'll also be available in Best Buy, Amazon, Costco, Sam's Club, Target, and Walmart stores. As for Boost Mobile, Cricket, and MetroPCS, they'll each offer the Galaxy S6 only.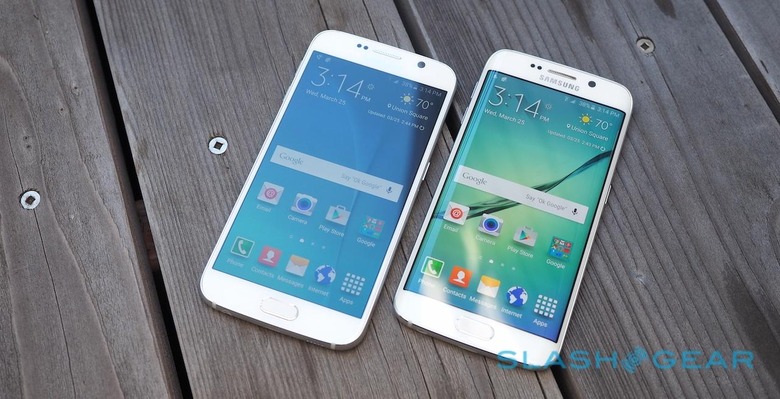 Pricing will depend on carrier and retailer, but Samsung says US shipments will begin on April 10, 2015. We'll have a full review of both phones very soon, but until then check out our extended hands-on from Mobile World Congress.