Samsung Galaxy Tab pre-registration opens ahead of Nov 1 release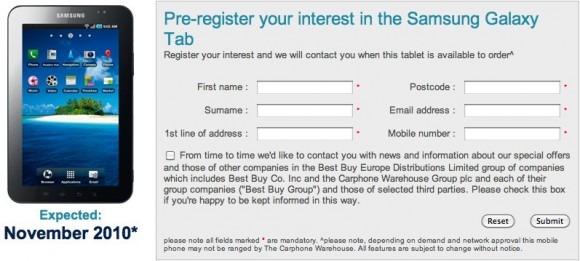 We don't know how much it will be nor which carriers will offer it (and, indeed, what sort of voice/data contracts, agreement lengths and subsidies they'll be doing), but that isn't stopping The Carphone Warehouse from asking us to pre-register interest for the Samsung Galaxy Tab.  After Samsung announced earlier today that the 7-inch Froyo slate would be dropping in the UK from November 1st 2010, listing the retailer as a key sales partner, there's now a pre-registration page for more information.
Hopefully that information will include pricing details sooner rather than later, since from the preorder figures we've seen at some online retailers, the Galaxy Tab isn't going to be a cheap alternative to the iPad.  Amazon UK is listing it for £600 and correctly predicted the November 1st release date well in advance of Samsung's official announcement.
We're in two minds about the Galaxy Tab; from our various hands-on with the slate it's certainly usable and a slick package, and Samsung has obviously done more than the bare minimum putting Android 2.2 on the tablet.  Still, plenty will hinge on price, and – with budget tablets arriving on the UK market at under £200 – Samsung will have to work hard to educate would-be buyers as to what their money gets them.
[vms 99fe63f3e0041f02638a]