Disgo Tablet 6000 Is Another Cheap Android 2.1 Slate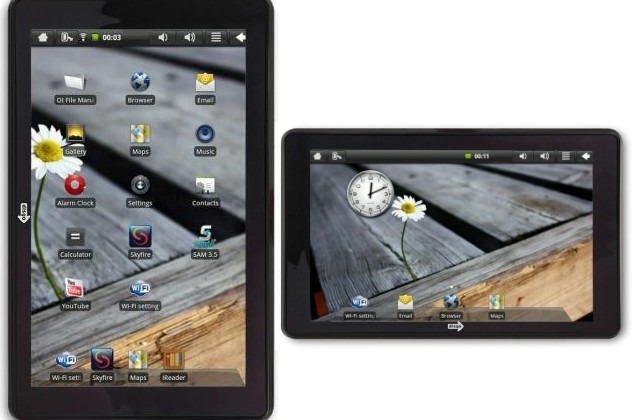 It's obviously the week for cheap Android tablets, with Next's £180 slate being followed closely by the disgo Tablet 6000.  Based around a 7-inch WVGA touchscreen and Android 2.1, the Tablet 6000 packs WiFi b/g/n, a miniHDMI port, two miniUSB ports and 2GB of storage in the box.
There's also 256MB of RAM, a microSD card slot and a 2.5mm headphones socket, and an pair of 0.5W speakers.  No word on what processor is inside, though disgo say there's a separate 2D/3D graphics accelerator, and nor is there any indication of runtimes from the 1,500mAh battery.
Unfortunately, as you might have guessed there's also no Android Market access, with disgo preloading the SlideMe Market instead; they've also put a YouTube viewer, Skyfire browser and the wowBook eReader app on there.  The whole thing measures 14.6mm thick and will be priced at £179.99 ($285) when it launches sometime this month.
Press Release:
disgo unveils the Android powered Tablet 6000

7" of Flexible Multimedia – On the Go

LONDON, 1st October 2010: disgo, the developer of consumer technology products for today's gadget hungry consumer, has today announced the launch of the disgo Tablet 6000, an android based multimedia device. This 7" touch-screen multimedia tablet offers affordable access to videos, music and games on the move, as well as access to the Internet wherever there is a wireless connection.

Available from October 2010, the disgo Tablet 6000 runs the Android 2.1 operating system. The Android OS allows access to 1000's of free apps, adding to the device's capability to check e-mails and use social networks. The device comes pre-loaded with a number of applications such as YouTube, the SlideMe Market apps downloader, wowBook eReader and Skyfire Internet browser. The disgo Tablet 6000 uses simple touch screen technology for smooth navigation, making the overall experience fun and flexible for all ages and technical ability.

Content can be stored on the disgo Tablet 6000's 2GB Micro SD card included with the product or user can choose to upgrade to a bigger card (up to 32GB). It is compatible with the majority of file formats including Flash, allowing viewers to enjoy content via the 7" high responsive TFT touch screen with 800 x 480 display.

Luke Noonan, Purchasing Director of disgo commented, "Tablets have been one of the big consumer technology stories of 2010, and we're delighted to get our offering onto the shelves before most other companies. We're exceptionally proud of the disgo Tablet 6000, and feel that it makes the Tablet more universal – offering fun and affordability, without compromising on performance. We believe that the Android OS gives the disgo tablet 6000 the flexibility needed to tailor every unit to the users' own distinct interests."

Pricing and availability

The disgo Tablet 6000 is priced at £179.99 and will be available from October 2010 from Amazon.co.uk, Play.com and HMV.

Features:

7" TFT – Wide screen display (800 x 480 pixels)

Ultra thin 14.6mm body

Android 2.1 Operating System (open system)

256MB Ram

Built in 2 x 0.5W speakers

1500mAh rechargeable polymer battery

2D/3D Graphic Accelerator

Flash user interface

Support for audio, video and image files (MP3,WAV, WMA and AAC for music, Jpeg, Gif, Png, Bmp for Images, and HD supported MP4 SP, AVI and 3G for high definition video)

Processor – iMAPx200, 1GHz, 16KB L2 Cache, 266MHZ operation frequency

Micro SD card slot

Mini USB x 1, OTG x 1

2.5mm earphone jack#

DC jack

HDMI x 1

Full HD capabilities