Samsung Galaxy Tab 7.7 Revealed with Super AMOLED Plus Display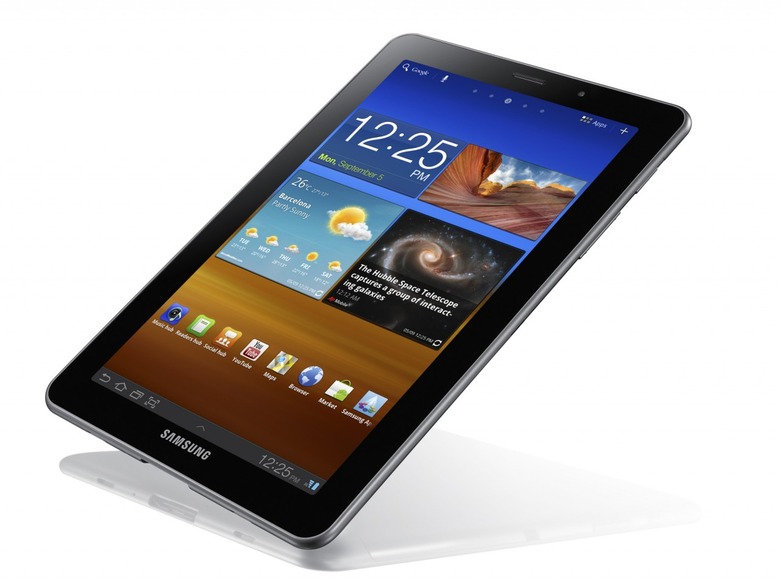 What we've come to understand is the world's first mobile tablet utilizing the ultra-bright and lovely Super AMOLED Plus display from Samsung is the Galaxy Tab 7.7, a 7-inch device made for ultimate viewing quality and portability. It's this week at IFA 2011 in Berlin that we're being shown some of the biggest and brightest Android-based devices Samsung has ever offered up, this 7.7-inch display-having tablet now what's essentially the biggest brightest tablet on earth. This tablet also features a fantastically powerful 1.4GHz dual-core processor as well as an ultra-small chassis at just 7.89 millimeters thin and 335 grams (12 ounces) in weight.
We've previously experienced this most impressive bright and brilliant technology in the Super AMOLED Plus on the recently released Samsung Infuse 4G and as recently as earlier this week on several new models of the Samsung Galaxy S II as revealed in New York City. Compared to essentially any competitor's smartphone or tablet display technology, Samsung's Super AMOLED Plus display ends up being the clear winner as far as clarity and overall abilities in brightness go.
The Samsung Galaxy Tab 7.7 comes in a lovely metal casing with rounded edges for both a high-quality feel and a portability unmatched in the Galaxy Tab lineup thus far (at least as far as Honyecomb tablets go, that is.) This device will be working on your HSPA+ 21 Mbps network carrier for true mobile abilities, you able to access data and internet wherever you go quickly becoming the only way to fly, especially in tablet form. This device is powered by an unnamed 1.4 GHz dual-core processor, it's display's resolution sits at 1280 x 800 (WXGA) on a 7.7-inch screen, and its utterly massive 5,100 mAh battery should keep you chugging along for days on end, no problem. Unlike the Samsung Galaxy Tab 10.1, this newest tablet has a microSD card slot into which you can insert up to a 32GB card for memory expansion galore.
You'll be working with the newest version of Google's Android mobile operating system Android 3.2 Honeycomb with Samsung's newest TouchWiz UX user interface working on top of Android to bring you a true Samsung experience. You've got full 1080p video playback, DivX included multi codec and Universal Remote Control functionality able to work with your TV, Set top box, DVD player, Blu-ray player, AV audio system, and more!
Like all recent Samsung releases, this device has access to Samsung's several "Hub" access points for media including Game Hub, Music Hub, Social Hub, and Readers Hub. The newest of these is the Game Hub, the Galaxy Tab 7.7 being the first Samsung device to come with it out of the box, it containing social games, all the social games your heart could possibly desire. Finally there's Voice and Video support – speak directly to your tablet in a video chat for clear video and voice or set your device for Receiver Mode for a more private talk.
Follow along with us LIVE for the rest of the Samsung Unpacked event at IFA 2011 for total coverage of every Samsung device we'll be marveling over for weeks and months to come!