Samsung Galaxy Tab 3 8.0 leaked again in black as Note 8.0 companion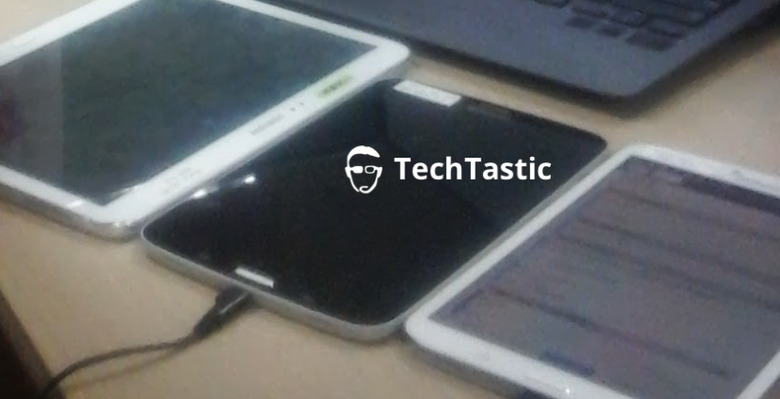 The Samsung Galaxy Tab 3 line has been revealed as popping up in 10.1 and 7.0 iterations – the latter being the first to show up with full specifications and the former being tipped with an Intel Clover Trail+ processor in-tow. The Samsung Galaxy Tab 3 8.0, on the other hand, hasn't seen the light of day in more than a whisper. Today leaked photos have appeared with the device in both black and white.
This machine will be taking on much of the same appearance of the Samsung Galaxy Note 8.0 – without the S-Pen, of course – and the specifications of the Galaxy Tab 7.0. The processor under the hood of this machine is suggested by TechTastic as being dual-core and clocked at 1.5Ghz. The display, meanwhile, will size up at 8-inches with 1280 x 800 pixel resolution.
This same source is noting that, strangely enough, this machine will work with 1.5GB of RAM rather than the standard 1 or 2GB, while LTE, GPS, and Bluetooth 4.0 are all possibilities for the machine's first release (the last two more of a first-iteration lock while the last is an AT&T or Verizon sort of situation). This machine will likely launch with Android 4.2.2 Jelly Bean with a 1.3 megapixel camera up front and a 5 megapixel camera on its back as well.
The Samsung Galaxy Tab 3 lineup will be appearing – almost certainly – at the June 20th event where the company will bring a whole new collection of smart devices to the public via London. Stick around SlashGear while we have our hands-on way with the machines all day long – and let us know if you plan on switching up for some 2013 summer digs here with Jelly Bean and the current generation aesthetics.