Samsung Galaxy S7, LG G5 ditch Android Adoptable Storage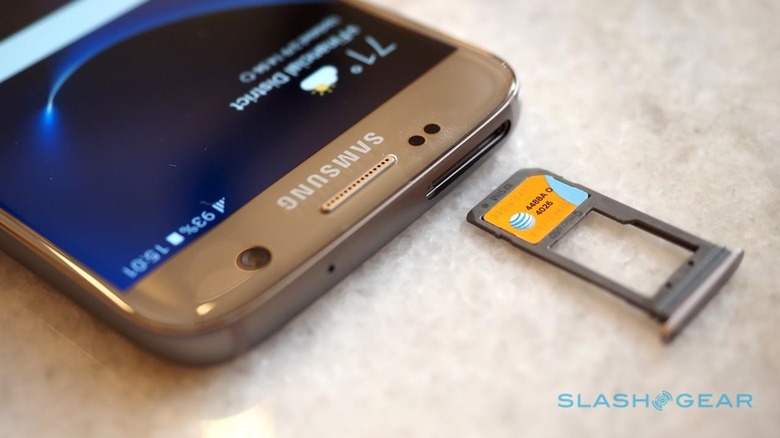 As far as Google was concerned, Android devices shouldn't really have microSD card slots, as seen in all its Nexus smartphones and tablets. But in Android 6.0 Marshmallow, Google accepted a compromise, officially "adopting" external storage into one unified storage. Ironically, now it seems that two of the biggest Android OEMs, who have mostly been sporting such memory expansions, are saying "no" to this feature, with both the Samsung Galaxy S7 and the LG G5 not allowing users to use microSD card slots for internal storage.
While Android of course had support for microSD cards for a long time now, they were treated mostly like external USB drives and not really as an integral part of Android. Google was, and still mostly is, wary of microSD card slots because they are inherently more insecure (they can be removed) and slower (in read/write operations) than internal storage. The Adoptable Storage feature in Android Marshamallow sort of addressed the first problem. Users could reformat and encrypt external storage like microSD cards so that they will be seen as part of whole internal storage. It will still be slower and it can still be physically removed, but they will, at least, be encrypted.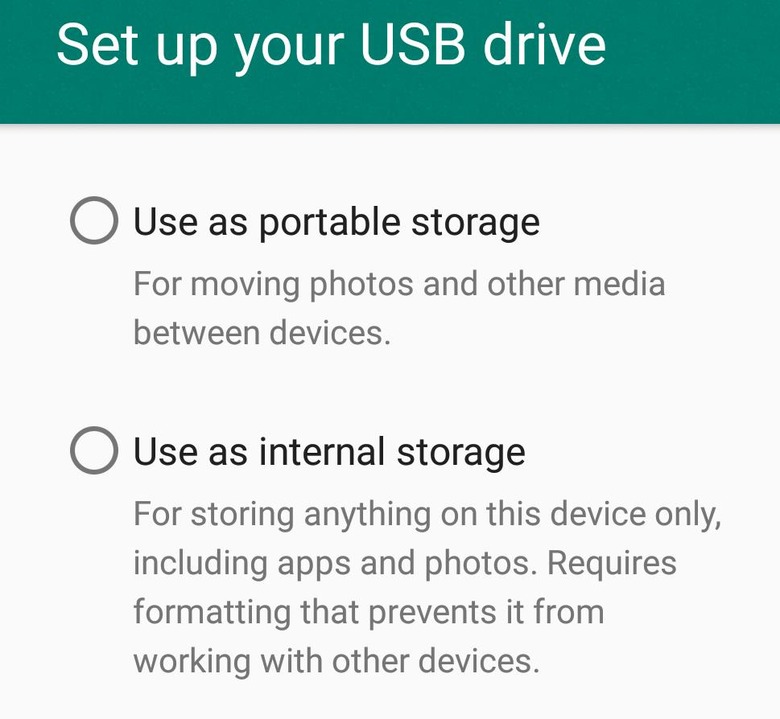 ABOVE: The option to include microSD cards as adoptable storage does not exist on the Galaxy S7 or LG G5 (at the moment, anyway).
Surprisingly, the two newest Android smartphone champions were discovered not to have that feature enabled. It is also almost a bit comical considering Samusng just now returned the microSD card slot after removing it from the Galaxy S6 and the Galaxy Note 5. While LG has so far remained silent on the (mis)feature, Samsung justifies its decision based on how it thinks people use microSD cards on their smartphones.
SEE: LG G5 hands-on
Samsung says that microSD card slots are mostly used to transfer data, mostly camera photos and videos, from the smartphone to another device, like a computer or even a tablet. The way Adoptable Storage is formatted, microSD cards won't be readable by other devices. That might be the case for some but doubtedly all.
Many would also use those microSD cards for multimedia and files they want to keep separate from the main storage directory structure. It's also interesting to note that the way Samsung designed the Galaxy S7's microSD card slot actually makes it tedious to remove the card, as you'll also have to remove the SIM card and, inevitably, restart the smartphone.
Samsung has another reason, just as questionable as the first. It says that Adoptable Storage is really just meant for lower tier devices with 4 or 8 GB of storage, which would definitely be in need of memory expansion.
SEE: Samsung Galaxy S7 (and Edge) hands-on
Again, there's a tinge of truth in that but, until the day 64 GB and 128 GB configurations become the most common option, not to mention affordable, users will still want more storage. And not just for files, mind you. Adoptable Storage allows even apps to be installed on microSD cards without rooting or hacks.
To be fair, it's not hard to see Samsung's justifications, though it's also not hard to disagree with them. Chances are, when these devices have been rooted, someone in the Android Community will have mods available to bring back that feature. For now, however, we're back in pre-2015 Android periods.
VIA: Ars Technica