Samsung Galaxy S7 hands-on with Galaxy S7 edge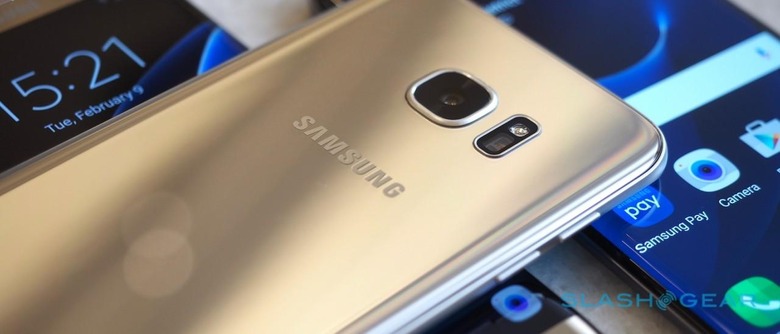 The Samsung Galaxy S7 is the most hotly-anticipated Android smartphone of 2016, so the good news is that it's pretty damn good. Announced today at Samsung's latest Unpacked event in Barcelona, Spain, the S7 – and its Galaxy S7 edge sibling, with a bigger screen and curved edges – pick up the torch from earlier Galaxy flagships and gives them a shove in the direction of the South Korean firm's latest obsessions.
Those obsessions include virtual reality – one of the Galaxy S7's launch accessories is a 360-degree video camera that looks like an oversized golf ball with a lens on either side – but also content creation and consumption in general, reshaping the Galaxy as the hub in a grand wheel of media, software, services, and add-on-gadgets that has worked so well for Apple's iPhone ecosystem.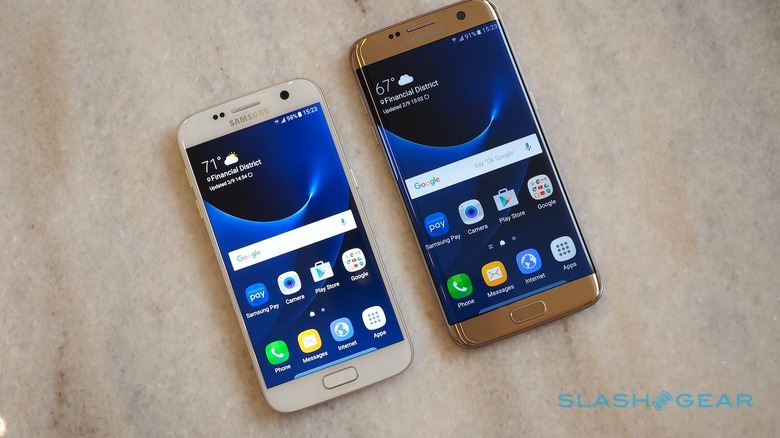 First, though, the two phones themselves.
Samsung has a legacy of amazing AMOLED screens, and neither the Galaxy S7 nor the S7 edge spoil that track-record. On the S7, it's a 5.1-inch 1440 x 2560 panel, while the Galaxy S7 edge packs a 5.5-inch panel of the same resolution.
That's interesting, because it positions the S7 edge somewhere in-between the old S6 edge and the S6 edge+ in size. Those phones – which were 5.1-inch and 5.7-inch respectively – effectively made the S6 range a trio, whereas Samsung has pared things back for 2016 and, if you want the double-curved display, you have to go for a bigger device than the base model to get it.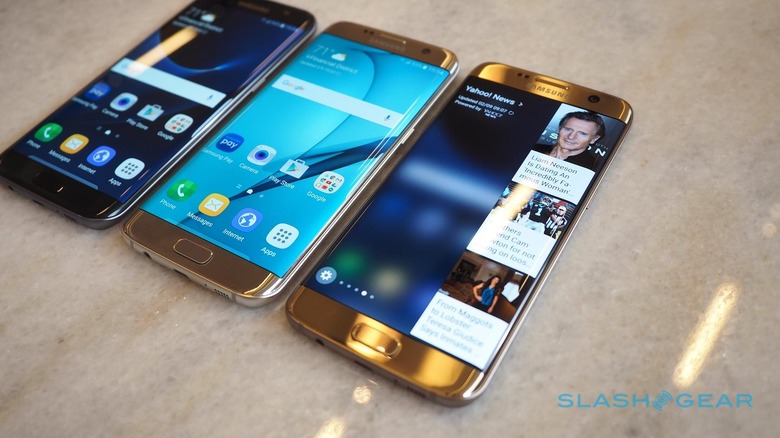 Samsung does make better use of that larger screen, mind. The Edge UX on the Galaxy S7 edge now has more space to play with and its panels are more interactive. There's an app launcher and contact shortcuts as before, but a new Tasks Edge makes summoning your to-do or shopping lists more immediate.
There's also support for third-party Edges, which initially will include sports, news, and stocks. In the News Edge, for instance, a column of Windows 10 tile-esque thumbnails showed recent Yahoo News headlines and images. Samsung also takes into account location: you can instruct the S7 to show different Edge content when you're in different places.
So, your Apps Edge might have email, calendar, and phone when you're at the office, but when the S7 spots you've moved to the gym it could switch to showing Spotify and your favorite exercise tracker. Small details, but they could make the limited number of shortcuts available much more useful.
Both the S7 and the S7 edge also take more advantage of AMOLED's low-power abilities, with a choice of always-on features that stay visible even when the phone is in standby. It's fairly barebones now, mind: you can have a calendar, which shows a grid of dates for the month though no actual indication of what appointments you might have, or basic notifications.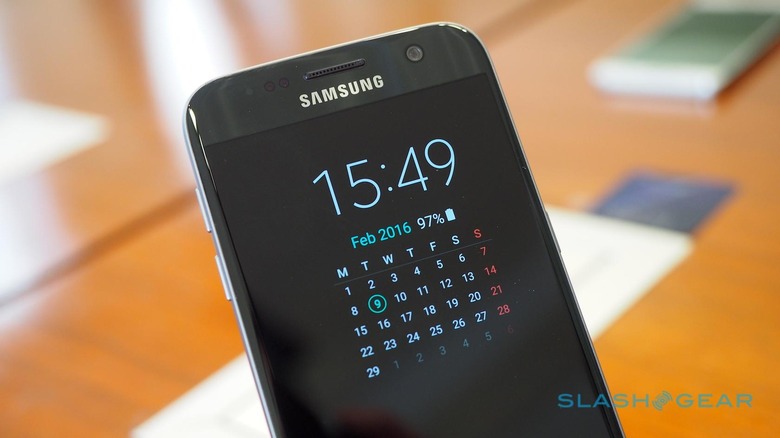 Samsung says it consumes only around 1-percent of battery life to have a section of the screen stay active – that section moves around, too, to avoid burnt pixels – and argues that's more than offset by not having people wake the whole display a hundred times a day just to check whether they've any new messages.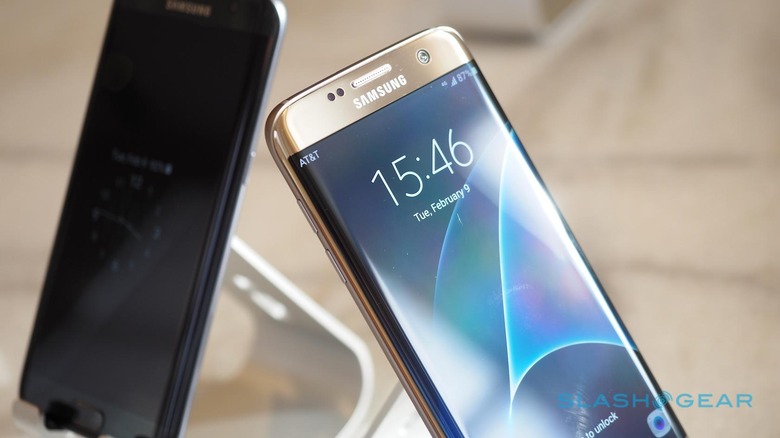 In many ways, the Galaxy S7 feels like Samsung's equivalent of the iPhone's "S" year: a refresh rather than an all-out recreation, as well as an opportunity to address some lingering complaints about last year's model. For the Galaxy S6, those complaints mainly focused on three things.
First off there's waterproofing, which Samsung has brought back from the IP67-rated S5. In fact, the Galaxy S7 is even more water-resistant, with an IP68 rating that means resilience to dust and the ability to withstand immersion in more than 1m of water. It does it without fiddly flaps on the ports, too.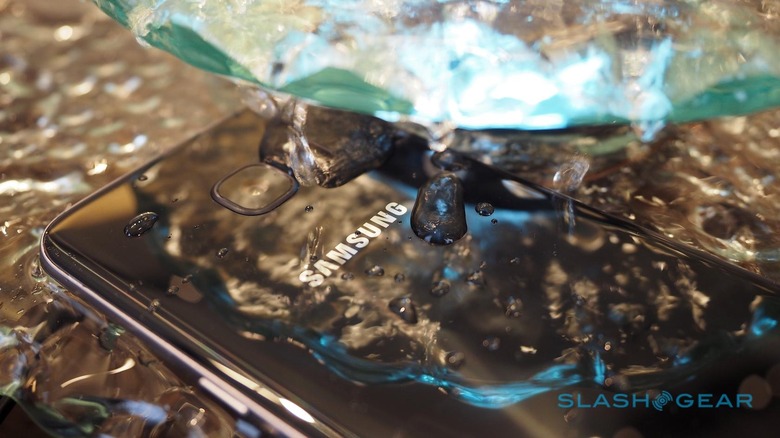 Second, there's expandable storage. Samsung came in for a lot of criticism when it ditched the microSD slot on the Galaxy S6 – rightly so, you could well argue, given how much it had crowed about that feature on previous phones – and so the Galaxy S7 addresses it in a pleasingly ergonomic way.
Rather than add a second slot, the nano SIM tray is now longer: you can fit a second card on dual-SIM versions of the phone, or a SIM and a microSD up to 200GB in size. Base storage is 32GB, Samsung sensibly retiring the 16GB entry-level tier which seldom proves enough for even the humblest of users.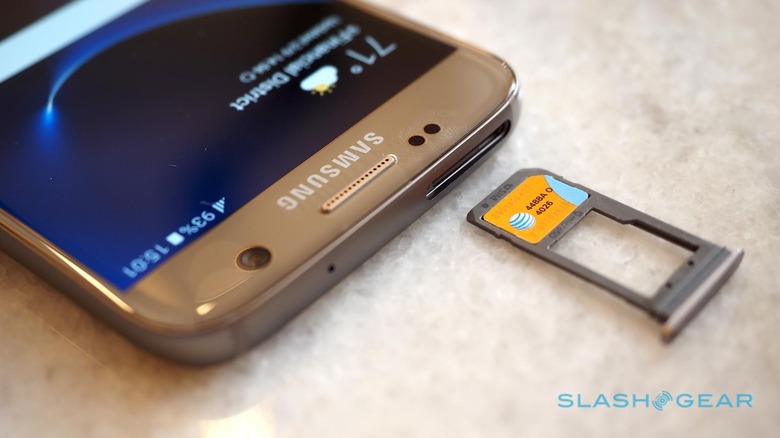 The third big S6 complaint was battery life, particularly as the phone lacked a user-accessible battery. The Galaxy S7 still has fast charging with both wired and wireless chargers, but it also gets a much bigger battery in the first place.
So, the S7 steps up to 3,000 mAh, compared to the 2,550 mAh of the S6 before it, while the Galaxy S7 edge squeezes in 3,600 mAh, a huge increase on the 2,600 mAh inside the S6 edge.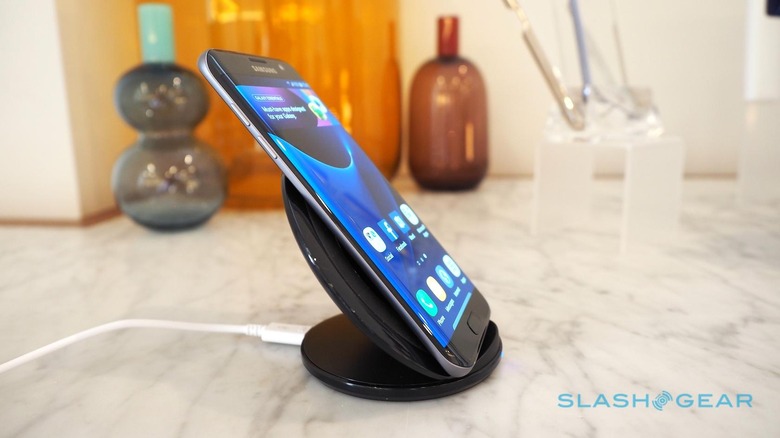 Elsewhere, Samsung has taken lessons from the better-received elements of its other devices. The curved edges on the rear of the Note 5 have been borrowed for the S7 and S7 edge, making it more comfortable to grip not to mention helping it feel even slimmer.
Altogether, the S7 measures in at 142.4 x 69.6 x 7.9 mm and 152 grams, and the S7 edge is 150.9 x 72.6 x 7.7 mm and 157 grams, while the camera bulge on each has been shaved down to under 0.5 mm.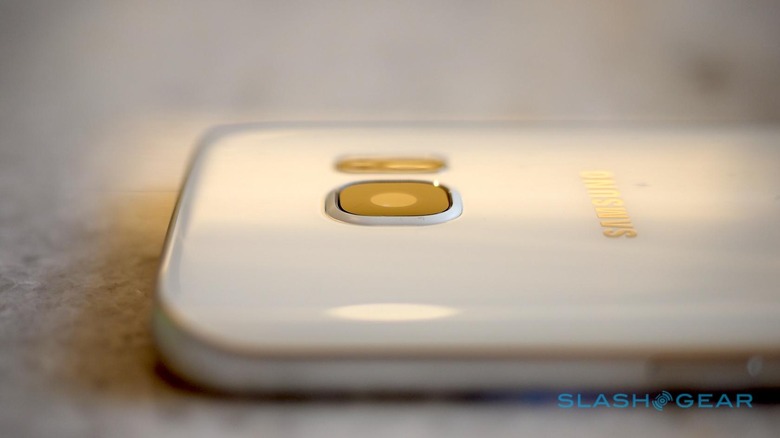 It accommodates an all-new sensor, too, and that might need a little explaining since – on paper at least – it looks like a step backwards. The Galaxy S7 packs 12-megapixels (the S6 had 16-megapixels) along with an LED flash, but it's their size and how all those pixels are used that's important.
For the first time in a smartphone, Samsung is implementing a Dual Pixel sensor. Each pixel has two photodiodes, meaning each pixel can be used for phase-detection autofocus. That's something you'd traditionally only find on high-end DSLR cameras, and it means much faster autofocusing not to mention better continuous autofocus during video recording.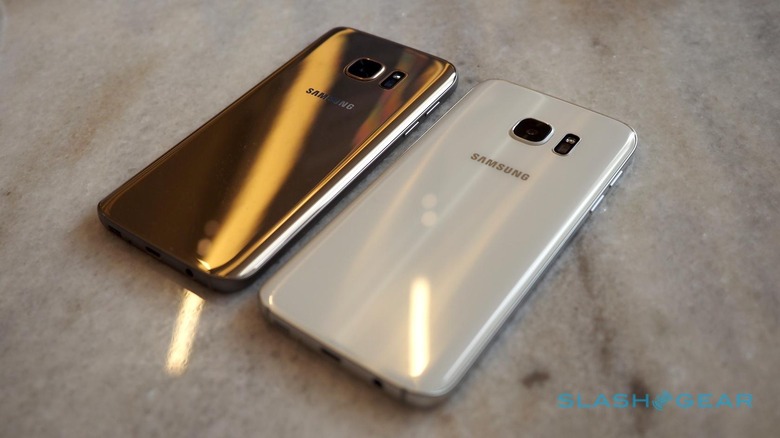 The cut in sheer megapixel number has allowed Samsung to use bigger individual pixels: they're now 1.4 microns, rather than the 1.12 microns of the camera in the S6, for what Samsung claims is a hefty 56x more light getting picked up. The S7's lens, too, is improved: now f/1.7 (the S6 was f/1.9) for a 25-percent increase in light.
That's a lot of numbers, I know, but the key takeaways are these: you should miss fewer shots with the Galaxy S7, because it'll lock focus quicker and it'll perform better in low-light situations. In fact, the latter condition nets a double-benefit, since not only is the detail in darker scenes going to come out clearer, but the S7 will be able to focus on it more swiftly in the first place.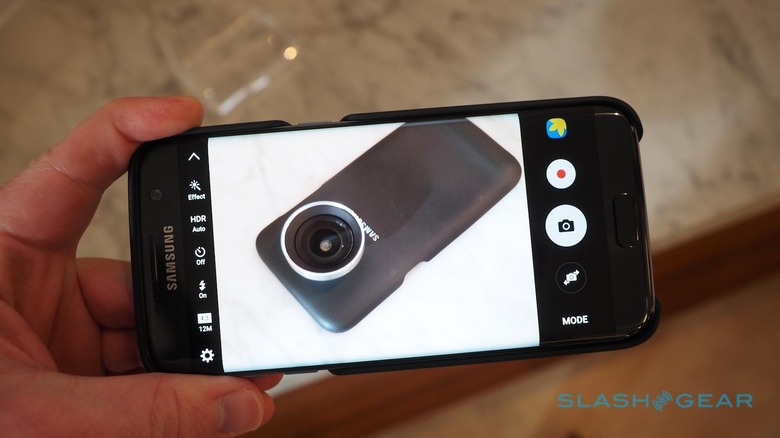 Samsung wouldn't let me take copies of any sample shots from the S7 or the S7 edge – it pointed out that camera software is generally one of the last things to be finessed before a new smartphone is released, with tweaks and improvements made down to the wire, so current image quality wouldn't necessarily be entirely representative – but I saw enough to say that it definitely feels faster in use than both the S6 and the iPhone 6s.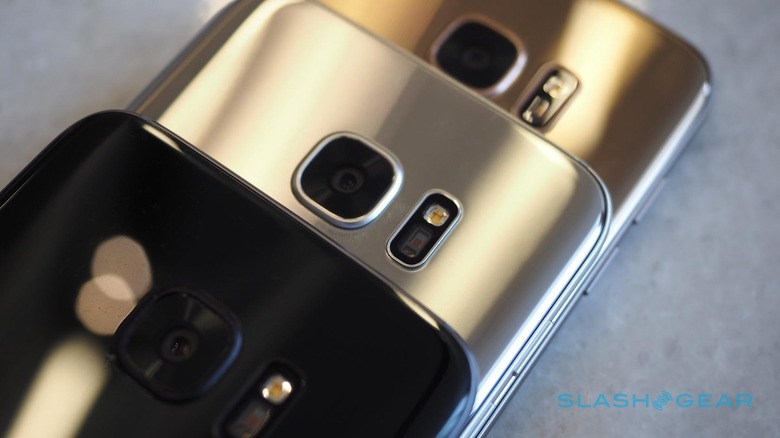 That goes for the experience of using the Galaxy S7 as a whole. Samsung will use different chipsets for different locations – it's playing coy with defining which Qualcomm processor it has on that list, for instance, saying only that it was a new Snapdragon – but promises a 30-percent bump in CPU speed and a 64-percent increase in GPU performance thanks to the quadcore 2.15GHz + 1.6GHz chipset over the old device.
It also packs 4GB of LPDDR4 memory, and is the first Vulkan API compatible smartphone, which opens the door to more flexible use of the graphics chip for compute purposes. We'll have to wait and see how app developers actually use it before we know how important that is, mind.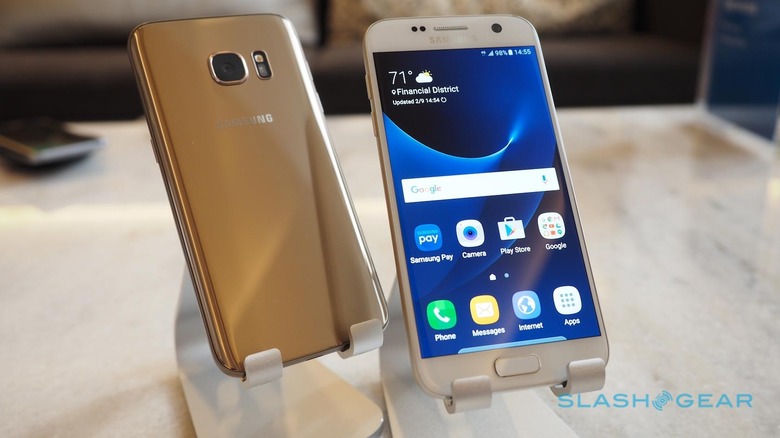 Otherwise, things are much the same as they were in the S6. Samsung opted to stick with microUSB rather than switch to USB-C, something which is almost certain to become one of the key discussion points among Android users in 2016.
The S7 and S7 edge both have fingerprint scanners in their home buttons, support Samsung Pay – with both swipe card emulating MST and NFC – and have KNOX support for more secure business apps. Wireless connectivity includes WiFi a/b/g/n/ac MU-MIMO, Bluetooth 4.1 LE, ANT+, and NFC.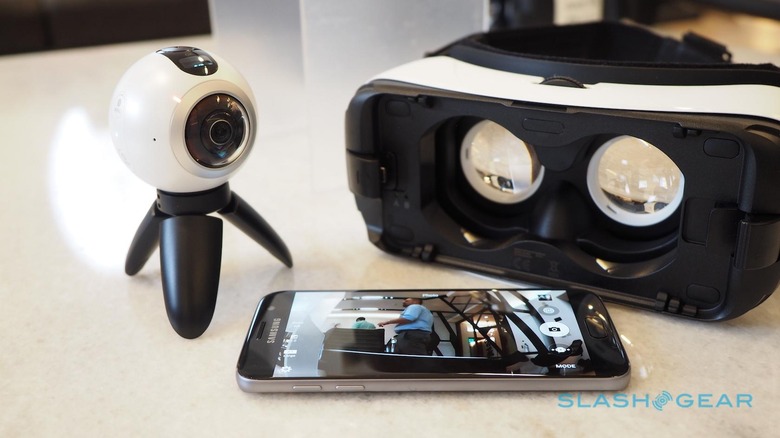 NOW READ: Samsung Gear 360 hands-on
They'll also be part of Samsung's flagship virtual reality package, with the new Gear 360 twin-lens camera – for which the S7 will be able to do on-device VR rendering – and the Gear VR headset. If you already picked up the $99 virtual reality viewer accessory, never fear: Samsung says it cunningly designed it with the S7 in mind, so you won't have any issues slotting it in.
There is, of course, a specter on the horizon. Apple is readying its iPhone 7 for later in 2016, and that's likely to be the Galaxy S7's biggest competition.
Samsung has set its pitch out early, and it'll get the jump on sales, too: the Galaxy S7 and S7 edge will hit stores on March 11, with AT&T, Sprint, T- Mobile, U.S. Cellular, and Verizon Wireless all offering both handsets, and pricing depending on location and carrier. Preordering will begin in just a few days, on February 23: US buyers will be able to choose between Black Onyx and Gold Platinum for the S7, and Black Onyx, Gold Platinum, and Silver Titanium for the S7 edge.
Samsung isn't waiting around for accessory manufacturers to catch up, either, and as well as the usual flip covers and rubber bumpers there'll be cases with attached wide-angle lenses as well as a battery-toting Mophie knock-off.
In all, Galaxy fans have plenty to be heartened about. Samsung clearly heard the key criticisms of the Galaxy S6, and focused on addressing them in the Galaxy S7: the phone is more user-friendly, more durable, and more flexible as a result.
[gallerybanner p="427151"]