Samsung Galaxy S4 specifications tease biggest launch in company history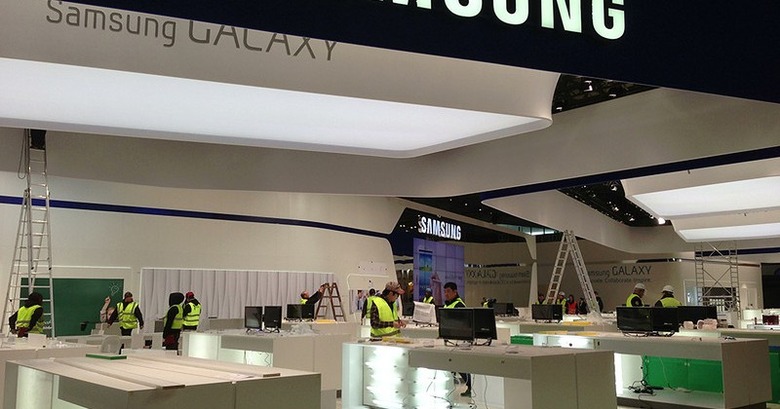 This week we're seeing more specification theories, leaks, and downright confirmations coming for the Samsung Galaxy S IV (or S4 if you prefer) than this device's imminent reveal would suggest. The big Samsung "Be Ready 4 The Next Galaxy" invites have been dropped and note a March 14th, 2013 event to be held in Times Square, New York City – if that's not a massive venue, we don't know what is. We'll certainly be there with bells on, but before we get there, let's have a peek at what we might to see!
With the Samsung Galaxy S4 we're going to see first and foremost a massive 4.99 (or straight up 5) inch display with 1920 x 1080 pixel resolution. That's Full HD, if you were wondering, and a pixels per inch ratio that's on-par with the densest devices on the market today. In contrast you'll find the Samsung Galaxy Note 8.0 revealed last week with 189PPI – not too next-level, but still perfectly nice when you're right up next to it with your face.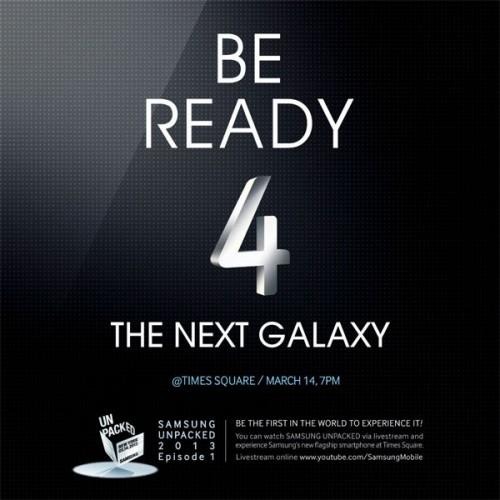 Inside you'll find a real next-level processor in the Exynos 5250. This is Samsung's quad-core processor -but tips have also suggested that the "OCTA" Exynos processor revealed back during CES 2013 could make its debut here as well. Interestingly enough, we've also heard that Qualcomm may be sitting inside. This would follow the trend with the Samsung Galaxy S III working with an Exynos processor outside the USA and Qualcomm taking the reigns inside – here a Qualcomm Snapdragon 600 SoC clocked at 1.7Ghz rolling out inside the states.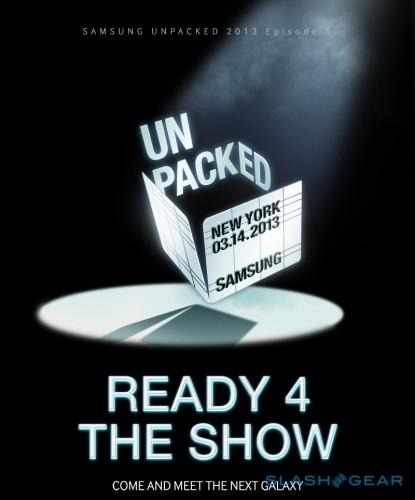 That same processor exists inside the HTC One revealed less than a month ago. Now we've got a real battle on our hands, complete with a 13 megapixel camera on the Galaxy S III to take on the HTC One's UltraPixel camera technology. The Samsung Galaxy S IV is also being foretold to work with a microSD card slot capable of working with up to 64GB cards and that it'll be coming in at least two colors: black and white. Of course there will be multiple internal storage size iterations of this device, at least 16, 32, and 64GB versions depending on which carrier you go with – and whatever they offer.
We'll be having a peek at this device in all its glory soon, and very soon – stick with SlashGear from here until March 14th to see the big bang – and of course afterward when we give it the full once-over in a full review. This device has a lot to live up to, coming after one of the best selling smartphones of all time and continuing the lineup of Samsung's most successful device ever – get pumped!