Samsung Galaxy Note 8.0 Hands-On: Yes, It Is A Phone Too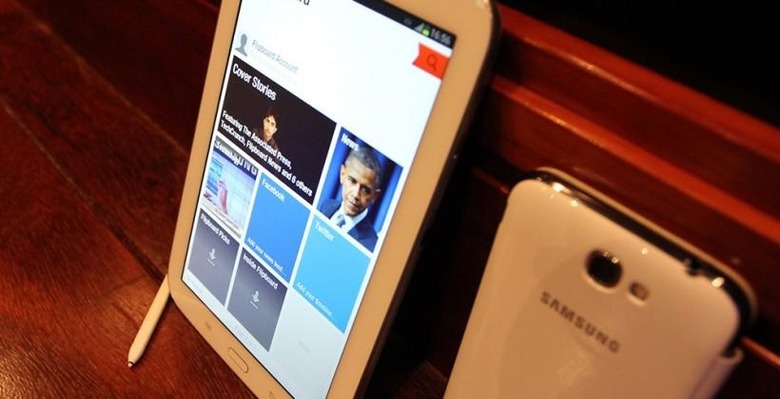 With the Samsung Galaxy Note 8.0, you've got another dare to guess from the manufacturer – is it a tablet, or is it a smartphone? In this case you'll not be able to tell based simply on the device's ability (or inability) to make phone call as, yes, you can indeed do so with the 3G international release. Inside the United States we're not quite going to be so lucky to have such an oddity on our hands as an 8-inch display-toting smartphone, at least not at first: we'll have to settle for the strict tablet iteration.
This device is a Galaxy Note – Samsung's brand for a line of devices that in some cases are closer to smartphones, in some cases much more a tablet. The Galaxy Note 8.0 works with an 8-inch WVGA (1280 x 800 pixel resolution, 189PPI) and working with TFT LCD display technology, mind you. This device has a 1.6GHz quad-core A9 processor for all your next-generation processing action, and you've got a couple of cameras on it as well – 5 megapixels on the back, 1.3 megapixels on the front.
Backing up that processor inside you've got 2GB of RAM, either 16 or 32GB of built-in storage, and a microSD card slot able to work with up to 64GB cards. The 3G version of this device is 210.8 x 135.9mm small with 338g of weight on it – this version also works with A-GPS and GLONASS. You'll also of course be working with wifi, Wi-Fi Direct, BlueTooth 4.0, and AllShareCast. You've also got an IR-Blaster and Smart Remote to control any TV – not just the smart ones!
You'll be working with a couple of new versions of apps, the first being the already popular but soon to be Samsung extra-excellent Awesome Note. There's also a brand new exclusive Flipboard app made specifically for the Galaxy Note 8.0, complete with pop-up previews when you hover over blocks with your S-Pen. You can work with Popup Note, Popup Video, and Air View is active right out of the box as well. Essentially all the best bits of the Samsung Galaxy Note software experience can be found here, with some extra sugar on top.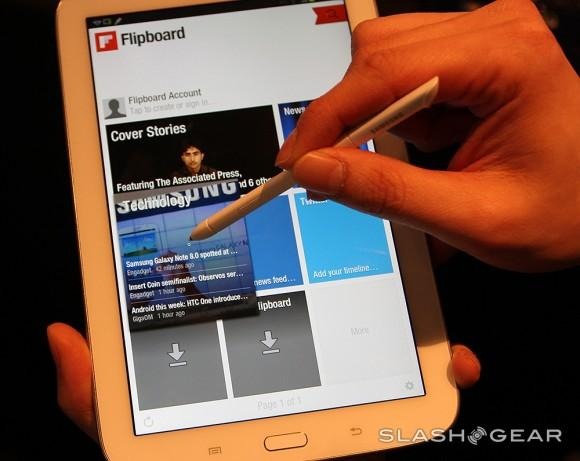 Some of that sugar comes in the form of some new WACOM technology allowing your S-Pen to control not just the elements inside your display, but the Back and Menu buttons below it as well. Just like you've always wanted! This device works with Dual View as well as Reading Mode. This brand new Reading Mode you'll have transformed your Galaxy Note 8.0 into an e-Book with optimized settings for the most well-balanced e-reading experience on any Galaxy Note device yet revealed.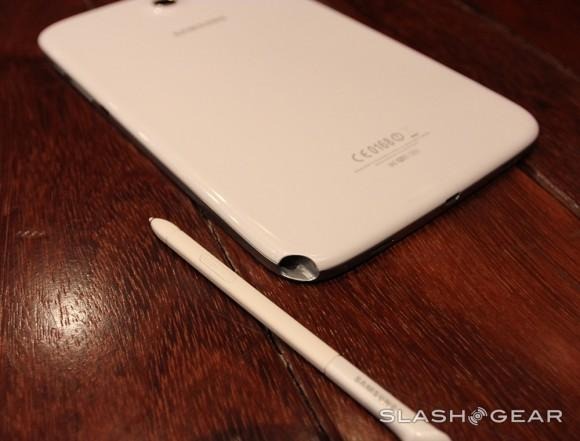 You'll also note that the design language from the Galaxy S III – and the Galaxy Note II, the Galaxy Note 10.1, and so on, continues here with the Galaxy Note 8.0. This device works with the same white back and front, same silver rim, and even a rather similar thinness as the newest handset Note (the Galaxy Note II, as shown here.) This device is as similar to the Galaxy Note II as the Galaxy Note II is to the original Galaxy Note – it's just growing up!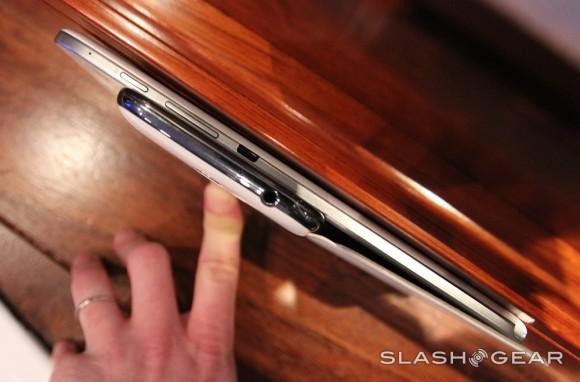 The Samsung Galaxy Note 8.0 will be available in the second quarter of 2013 across the planet – or just in the following places, as it were: EUR, SWA, CHN, SEA, KOR, NA, MEA, LA, TW. The United States-based release will be coming at some other time – neither the precise date nor the price have yet been revealed.
Have a peek at the rest of our Mobile World Congress 2013 coverage right this minute for more hard-hitting gadget action on a global scale!