Samsung Galaxy Note 10.1 gets split-screen multitasking hands-on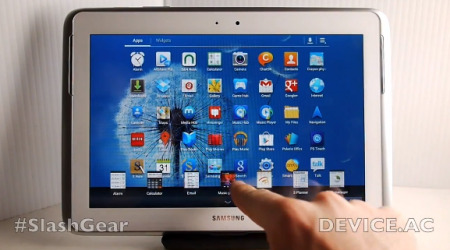 This week we got the opportunity to take a peek at the Samsung Galaxy Note 10.1 and its several multitasking abilities, including the brand new Multiscreen function revealed on this device specifically. This tablet takes on not only multitasking on a new level, but Samsung's own S-Pen functionality and a lovely setup for taking notes and making illustrations as well. Have a hands-on peek with us at several functions of this tablet in one hands-on video from our Samsung Galaxy Note 10.1 full review, up now as well!
Samsung has been busy innovating on the tablet front as well as on the smartphone front with their newest set of devices. If you have a peek at our original Samsung Galaxy S III review, you'll see how you can play a video above the rest of the work you're doing to the side. With the Galaxy Note, you're able to do this same thing, but you're able to do it to the side as well – Multiscreen allows you to watch a video while you chat, for example.
Multiscreen allows several applications to work side-by-side. These applications are limited to your Gallery, Internet (built-in internet for now, only), Polaris Office, S Note, Video Player, and Email (just Email, not Gmail). In the future we expect more applications to work with Samsung to make this dual-screen functionality a reality for their apps as well – here's hoping Samsung continues to include this ability in future devices as well so it can catch on.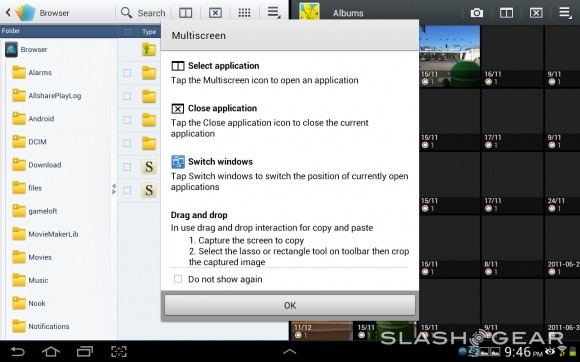 You've also got a dock full of Mini Apps made by Samsung specifically for their Galaxy Tab and Note lineup as well. Here you'll be able to tap in the center of your dock to bring these apps up, each of them able to open on their own as a window above the screen you're currently working on. You can write a note with S Note from whatever application you're in, control your music with a mini controller, see your calendar, and more.
Finally there's the Recent Apps button that many Android devices now have. Samsung has modified this ability slightly in that you'll be viewing the apps a bit more their style, but it's basically the same as with any other Ice Cream Sandwich and later build of Android. Have a peek at the hands-on video above and check out our timeline on this device below to keep up with all the hands-on action you can handle!
NOTE: this device is now out on the market – check out our "unveiled for USA" post for more details!