Samsung Galaxy S20+ specs and video spill the beans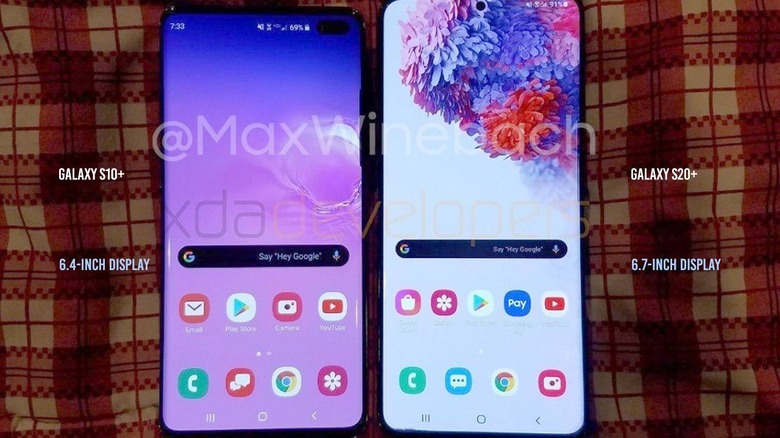 A video of a hands-on experience with the Samsung Galaxy S20+ was leaked today along with clear photos of the device near a Galaxy S10+. We've constructed a near-complete basic specifications sheet for the Samsung Galaxy S20+ as well. That'll give us a basic idea of what the half-way point will be between the least and the most extravagant models of Galaxy S20 when the Samsung event reveals all on February 11th.
Today we've got a whole bunch of new Galaxy S20, S20+, and S20 Ultra leaks, the likes of which are, as XDA writer Max Weinbach suggested, "really weird." First you'll get a look at the Samsung Galaxy S20+ in a brief hands-on video below. This is about as good as it's ever gotten for a leak for a device of this nature this far away from launch – except for that time a Google Pixel was leaked to the extreme – remember that?
Suggested earlier today by Ice Universe, confirmed then by Max Weinbach from XDA, WQHD+ (2K) resolution will not operate at the same time as 120Hz image refresh rate on the Galaxy S20. "If you switch to WQHD+, it automatically switches to 60Hz," wrote Weinbach. To use 120Hz image refresh rate on the Galaxy S20 lineup, you'll be working with FHD+, aka 2400x1080 pixel resolution.
SEE TOO: The Galaxy S20 must fix these three big S10 flaws
Information about the Samsung Galaxy S20+ released in leaks thus far produces the following specs list. Remember that this is all based on anonymous internal sources and rumors, and that we'll only know the full details when the phones are all revealed by Samsung at their big February event.
Samsung Galaxy S20+ unofficial specs*:
• Display: 6.7" Dynamic AMOLED panel 3200x1440 @60Hz, 2400x1080 @120hz
• Processors: Snapdragon 865/Exynos 990
• RAM: 12GB LPDDR5
• Cameras: 12MP + 12MP + 64MP + TOF
• Login: Ultrasonic FP scanner, Face scan, code unlock
• Battery: 4500 mAh battery
• Power: 25W fast charge, reverse wireless charging
• Three storage size versions: 128GB, 256GB, 512GB UFS 3
• No headphone jack
*You'll find sources for individual specs released in rumors over the past couple of weeks in the timeline below. The hands-on video above shows a device that's very much in-line with the specs that've appeared in the last few days.
The Samsung Galaxy S20, Samsung Galaxy S20+, and Samsung Galaxy S20 Ultra will quite likely be revealed in full, officially, by Samsung on February 11, 2020 – but until then, leaks aplenty are all but assured. This is the date of Samsung's next major press event, ahead of Mobile World Congress 2020 which takes place at the tail end of February.