Samsung Galaxy S20 5G leaks just burst into a flood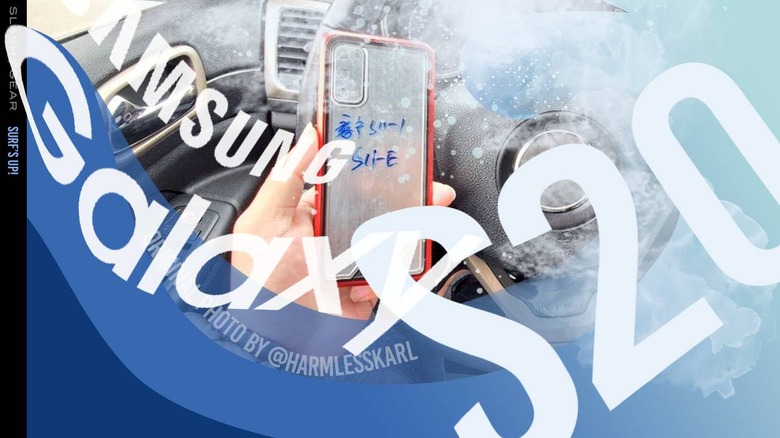 This week the Samsung Galaxy S20 series phones (not Galaxy S11, as previously suspected) were leaked in a big way. The Samsung Galaxy S20 will come in three sizes: 6.2-inch, 6.7-inch, and 6.9-inch. Those will be the S20, the S20+, and the S20 Ultra. The S20 and S20+ are rumored to come in either 4G LTE-only or 5G (including 4G) versions, while the Ultra seems to only be coming with a single vision for the highest-end: 5G only.
Over the past few days we've learned more than a little bit about the three main "Galaxy S" devices coming from Samsung. This is thanks to a series of leaks from insider sources and tipsters who wish to remain anonymous. Several of the original stories where these leaks were first posted individually can be found in a timeline of links at the bottom of this article.
NOTE: The imagery you see above comes from case-maker Harmless Karl. It's a dummy of the Samsung Galaxy S20, and not necessarily 100% accurate re: aesthetics. Instead, it's a good way to see how the phone will fit in a human hand – it'll just look a tiny bit different from that. Below you'll see some Onleaks action from back a few weeks ago – compare these to what you see in the array of photos from Weinback (last in this article).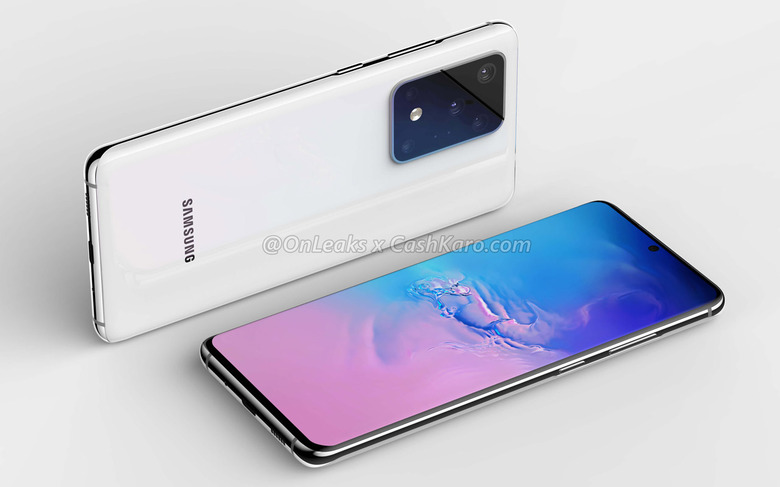 The Ultra model is was rumored today to get a few more camera features than its brethren. The collection of lenses in a back-facing camera array present on the Galaxy S20 Ultra will look similar to that of the Galaxy S20 and S20+, but the lenses, the arrangement, and the abilities therein will be different. Both the S20 and S20+ will have the same camera array, starring a 12MP primary camera with 1.8μm pixel size.
NOTE: Below you'll see a few other images of the Galaxy S20 that were leaked yesterday by an insider source who wished to remain anonymous, speaking with Max Weinbach from XDA Developers.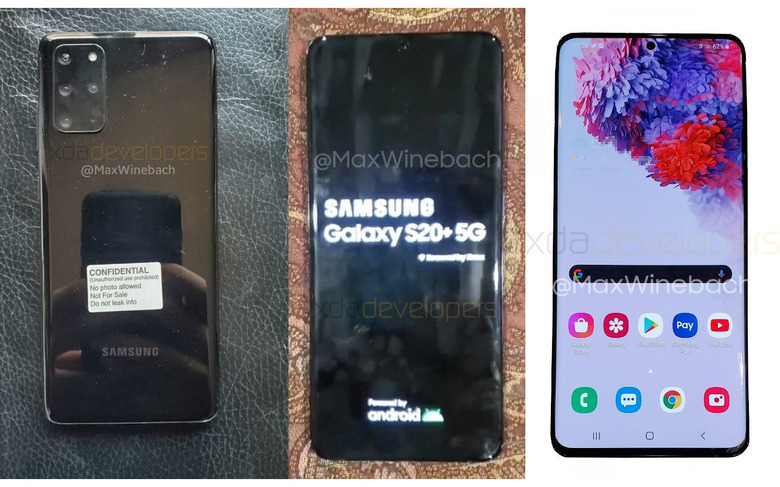 The Samsung Galaxy S20 Ultra will have a larger display, but all three displays will almost certainly have 120Hz image refresh rate. This is very similar to what we saw earlier today with the latest on the OnePlus 8. There we also saw the 120Hz/240Hz combo that's probably pretty likely here on the Galaxy S20 display collection.
All of these devices will likely have resolution switches in Settings. This means you'll be able to switch from 1080p (HD) to UHD (2K) whenever you wish. This should allow users to preserve battery in a BIG way. Preserving battery is going to become an even bigger deal in 2020 than it's been in 2019 due in a BIG way to 120Hz displays and 5G connectivity.
The Samsung Galaxy S20 Ultra (5G) will quite likely include a microSD card slot. There'll likely be two versions re: RAM – 12GB and 16GB, and three internal storage options. Those will be 128GB/256GB/512GB, and there'll potentially be a 1TB option... eventually.
The Ultra will likely have a 5000mAh battery with 45W fast charging abilities. This would allow the device to charge fully in less than two hours. Here's hoping we've got the battery issues handled in 2020.
Based on the collection of rumors and insider reports you'll find in the timeline of links below, there's an extremely good chance we'll see sub-6 5G connectivity in at least one version of the S20, S20+, and S20 Ultra.
Because carriers like Verizon hold such sway here in the United States, we'll likely also see mmWave 5G enabled for the Ultra, if not all three models. This would allow Samsung to stay caught up with Apple, in any case. Do you think you'll switch?