Galaxy S11+ camera layout confirmed to be not so insane after all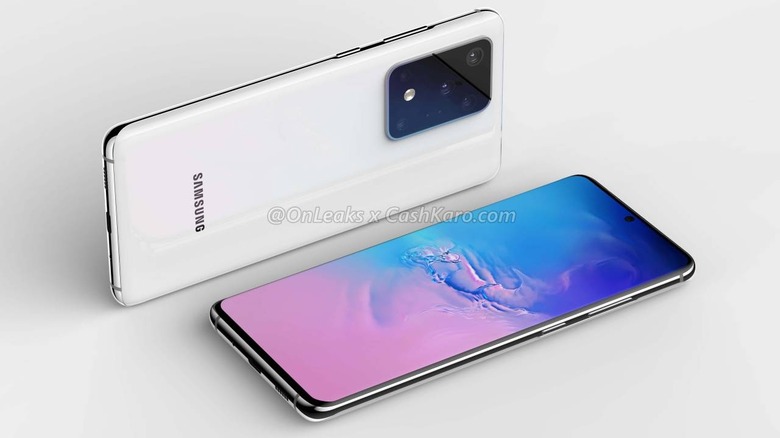 Given the unofficial nature of leaks, it's not unusual that we'd see conflicting information every now and then. Such discrepancies, however, take an interesting turn when high-profile leak sources are the ones that disagree with each other. That was the case with the five Galaxy S11+ cameras, which were initially suggested to have a rather unconventional design, to put it mildly. With just a month or so left before its official announcement, the Internet's leaksters now seem to agree that, no, the Galaxy S11+ will be pretty normal, as far as a Galaxy S11 phone goes at least.
Just last month, OnLeaks, a.k.a. Steve H. McFly, made the usual collaboration with CashKaro to reveal renders of the Galaxy S11+. While it bore the debated camera bump, it was quickly pointed out that the cameras in there were arranged in an almost random layout that vaguely formed an "X" (if you ignored the LED flash). Suffice it to say, it struck a nerve with some users.
@Ice universe disputed that design and said that, based on his own sources, the Galaxy S11+ would follow the exact same straight layout as the Galaxy S11. He even later posted his own leak, proving that at least one side of the camera bump has all the lenses lining up neatly.
This is the real Galaxy S11+ camera. On the left is the ultra-wide-angle, main camera, and periscope zoom lens. I don't know the exact distribution on the right. It is expected to include flash and ToF. pic.twitter.com/98exPMSqgf

— Ice universe (@UniverseIce) December 16, 2019
Now @OnLeaks has provided an updated render confirming the saner design and an explanation for his earlier error. According to him, the earlier renders were based on a prototype that played around with the camera arrangement before settling in for the final design. This time, his render does line up, pun totally intended, with Ice universe'.
Next up, the #GalaxyS11Plus...😏
It appears the renders I shared one month ago were based upon a first stage prototype which had different rear camera layout.
Here an updated render based upon the latest prototype I got and which depict what I assume is the final configuration... pic.twitter.com/IhUWdQh9JN

— Steve H.McFly (@OnLeaks) December 27, 2019
So all is well now in the Galaxy S11 world and all that's left is the announcement that will confirm all of these. Samsung has yet to send out invitations but rumor has it that the event will take place on February 11. So far, none of the prominent leak sources have disputed that one yet.