Galaxy S11+ release level leaks shows sides and tiny punch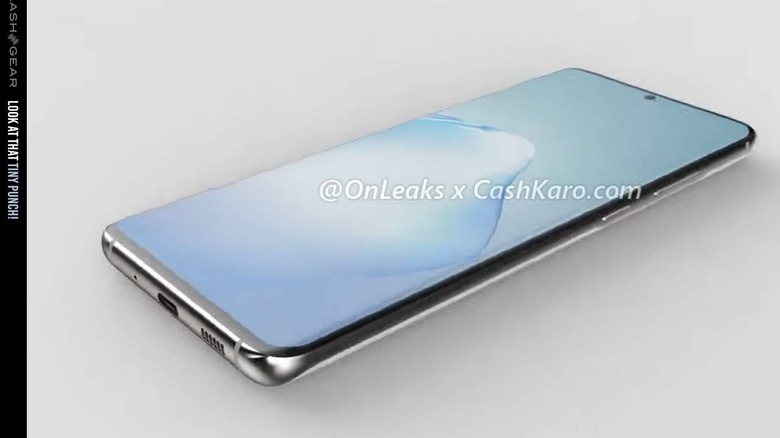 The most major leak of the Samsung Galaxy S11+ appeared today with images of the device from all sides. This device appears in renders created using CAD drawings from the source's company connections with part-makers. This means the final device could be different – but it's not likely. It's more likely, from this source, that we see devices' most basic and important physical attributes – enough to get a sense of what's almost certainly coming from Samsung in February of 2020.
Per this latest leak from OnLeaks with CashKaro, the Samsung Galaxy S11+ (or Galaxy S11 Plus, if you prefer), will be larger than the Galaxy S11 (non-plus) and will feature a sizable array of cameras on its back. These cameras have been discussed at length in previous leaks, thanks largely to the leak of the standard Galaxy S11 from the same source. That makes three leaks – including the Samsung Galaxy S11e, too.
The front of the Samsung Galaxy S11+ will be very similar to that of the Galaxy S11 and S11e, with a single punch-hole in its forehead. This punch makes room for the singe front-facing camera this device sports – but don't let that fool you into thinking this device has no other front-facing sensors.
This Galaxy S11+ has a bunch of front-facing sensors, all under the display – semitransparent see-through action is here! Display technology here is likely Samsung's Dynamic AMOLED, including the ability to roll with an in-display fingerprint sensor.
It's not quite flat, but we're getting back to that point, bit by bit. This panel is approximately 6.9-inches diagonally with a curve on the left and right, but said curve is less extreme than it was with the Galaxy Note 10 or the Galaxy S10+. The front-facing camera has a slightly smaller punch hole than with previous panels, too – smaller and simpler, back to basics!
See the timeline below for additional Galaxy S11+ leaks. We'll likely see this device in full from Samsung in February of 2020 – stay tuned!