Samsung Galaxy S II Review [AT&T]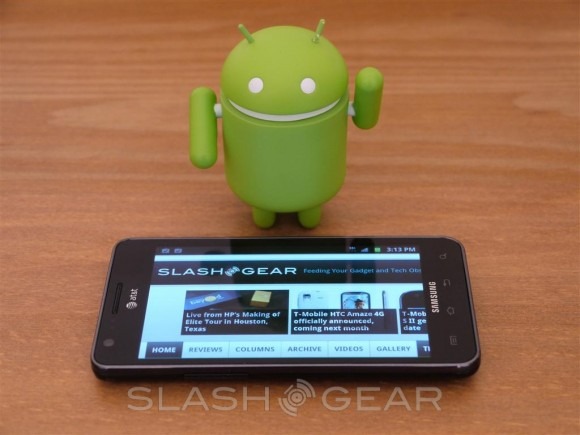 Say hello to the Samsung Galaxy S II for AT&T now that this phone has finally landed in the US. I'm sure everyone was jealous it was first released throughout Europe and Asia, but for those that have patiently been waiting it's finally here and available for AT&T. The first one available, the Epic 4G Touch just launched and you can see it here, but this is all about the AT&T version of the popular Galaxy S II phone. Head on below for all the details and pictures you could ask for.
I'm almost unsure of where to start I'm enjoying this phone so much. The Samsung Galaxy S II really is a pretty awesome smartphone. It has it all from a simple design that is sleek, thin and lightweight — while being extremely powerful and fast at the same time. For all the details you'll need check out my hands-on and unboxing. We'll start with the video hands-on overview below and then get into all the details shortly.
AT&T Samsung Galaxy S II hands-on
[vms 04239c9635426f35c952]
Hardware
The hardware we all know plenty about — plus was laid out in the video above but just in case here are a few more details. We have Android 2.3 Gingerbread, a 1.2 GHz Samsung Exynos processor, 1GB of RAM, and 16GB of internal storage under the hood. Optional micro-SD support for extra storage, 8 megapixel camera around the rear with LED flash and a 2 MP front shooter for video chatting and more. All of that neatly packed into an ultra lightweight and thin design.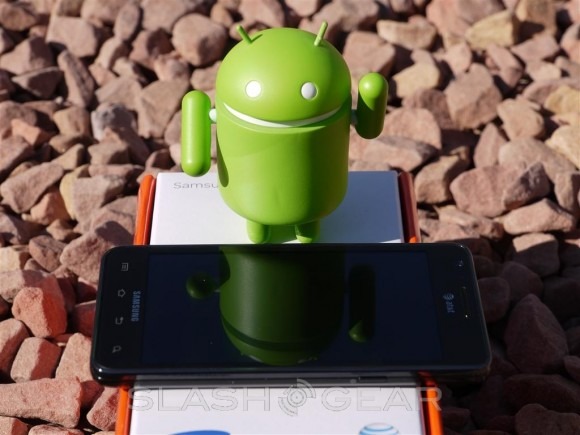 On the front we have a 4.3" Super AMOLED Plus display with a 480 x 800 resolution. The screen is bright, vibrant, and extremely clear and really just looks better than anything else on the market thus far although the qHD displays are looking better and better. Shown in the images below you can see the AT&T branding, 2MP front camera, earpiece, as well as the four dedicated capacitive touch buttons.
Moving along to the left, right, and top of the device we have a very clean and simple design. No bright aluminum buttons or volume rockers, no weird textures on them either, just a plane jane black style. Many might like the aluminum accents some smartphones offer and I do too, but the Galaxy S II just has a simple and clean elegance to it. The only bezels present are the aluminum around the camera and the 3.5mm headphone jack up top.
Software
Here we have Android 2.3.4 Gingerbread and the latest Samsung Touch Wiz 4.0 to keep things pretty. With only a few slight changes to the entire Gingerbread look and feel this is a pretty stock device but features some added benefits. Nothing extremely crazy here like Sense UI, just a few added features and small changes. AT&T chose not to overdue it with bloatware either and for that — we thank you. We have a few dedicated AT&T applications and that is about it. The pre-installed apps other than AT&T specific things are Amazon Kindle, Live TV, Memo Pad, My Files, Qik, Quick Office, Words with Friends, and YP (Yellow Pages). Many additional apps such as another email app, video player, calender, file explorer, and a dairy application have been enhanced by Samsung's Touchwiz to make the most of the 4.3" display.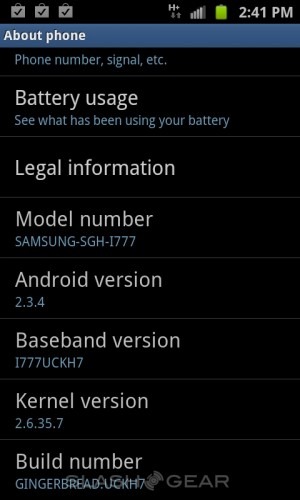 Samsung's Touch Wiz also has a unique new feature with the just announced 4.0 for the Galaxy S II in the US and that is Motion Control. Once enabled, users can move icons on homescreens, zoom on images and webpages and more all by touching the screen and moving or panning the device rather than dragging multiple fingers. It's quite neat and made moving icons from screen to screen extremely easy.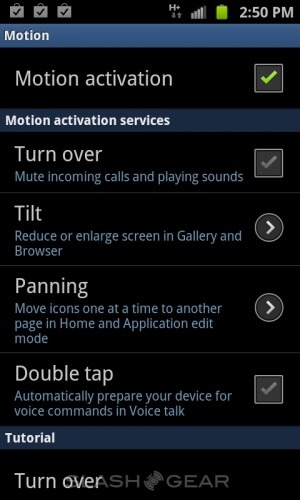 When first unveiled back in August our man Chris Burns was live at the Samsung event for some hands-on time with the SGSII. Below is a quick video of that coverage as well as a more detailed rundown of the changes to the software and user experience.
[VMS aee4aae62035497da138]
Performance
As usual we've ran a wide array of benchmarks and speedtests to see how this SGSII fends in the real world compared to other devices. Many other dual-core smartphones score well under 3000 in quadrant, especially stock devices with no tweaks or adjustments. The Samsung Galaxy S II with the in-house Exynos chip performs extremely well across all benchmarks and especially well in Quadrant. We've tried a few and were pleased to see the AT&T SGSII scored around 3800 in Quad — completely stock! Impressive if I don't say so myself and you can really tell during day to day usage. My Sensation 4G gets around 2400 out of the box, big difference right?
Below are a few pictures showing just how well the SGSII also performs in Vellamo, and CF Bench, as well as a few quick tests on AT&T's 4G HSPA+ network (no 4G LTE here).
I know benchmarks don't tell the entire story, and many users don't care to read about them and would just like to know about real world usage. I'm happy to report the Galaxy S II is really one of the quickest, most fluid and easy to use phones I've had my hands on to date. I've experienced no delays or lag during browsing, gaming, benchmarks, loading multiple images in the gallery or anything. Even downloading about 10 app updates at a time the experience was barely touched and the overall performance was stellar. From adding icons to different pages, to flipping through homescreens and the application tray there is no gitters or choppy moments that I've experienced yet. This is truly a great performing smartphone that will meet any users demand.
Battery life and Camera
The AT&T SGSII comes with a 1650 mAh battery under the hood and while every user is different I've managed to have better than average battery life. From using this smartphone over the past week or so the battery lasts a bit longer than most. My Sensation 4G has a similarly sized battery and it just doesn't manage to stay powered as long. Many reviewers of the original SGSII from Europe mentioned similar results where the SGSII battery life seems to outmatch rivaling handsets. This could be in part to changes made by Samsung, and another thing worth mentioning is the highly efficient AMOLED display, it seems to consume less power and really helps. Stand-by time was not fully tested but I left the device untouched for over 3 days and it remained around 25% when I finally plugged her in. While I've not done any video loop tests I have however played plenty of Angry Birds, Fruit Ninja, used Google+ allll day, and browsed the web off and on throughout daily tasks and the phone holds up extremely well in the battery department. The Galaxy S II battery life is above average and will last most users more than the average work day.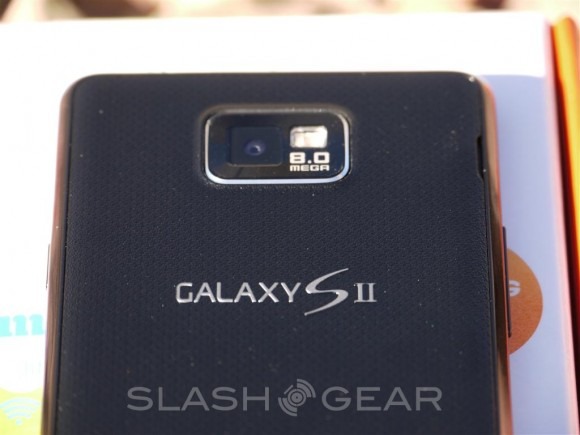 As for the camera we have an 8 megapixel shooter and just like the battery life — the Galaxy S II seems better than the rest in terms of overall camera performance. I've snapped a few shots around the house and outside so you can see low light and standard lighting results. Many phones currently offer an 8 MP camera just like the DROID Bionic, but the slow shutter speed and mediocre performance makes the Samsung shooter just that much better. Here are a few pictured taken with the SGSII.
We've also tested the 1080p video capture and the Galaxy S II does impress here also. Very smooth and decent in regards to video capture although you must remember this is a phone, but they are getting better and better as they come. Below is a short video demo of the kids (my dogs) playing and messing around just for an idea of real world indoor video capture results. (Isn't the puppy cute?)
Quick Comparison and Accessories
I've quickly snapped a few photos of the AT&T Galaxy S II sitting next to the big bad DROID Bionic by Motorola and Verizon Wireless. While both are comparable regarding specs, the SGSII doesn't feature LTE but does however have a faster processor. I'll break down the details later but for now here are a few pictures of the two just for an idea on size and thickness for those that may be wondering.
Also thanks to Chris Burns and our sister site Android Community we have a quick video showing the Galaxy S II accessories that Samsung will be releasing here in the U.S shortly although details on pricing and availability remain unknown. We have a car dock, home dock with additional battery and a desk dock shown in the video below
Galaxy S II accessories hands-on
[vms f871b6d7215b868a875f]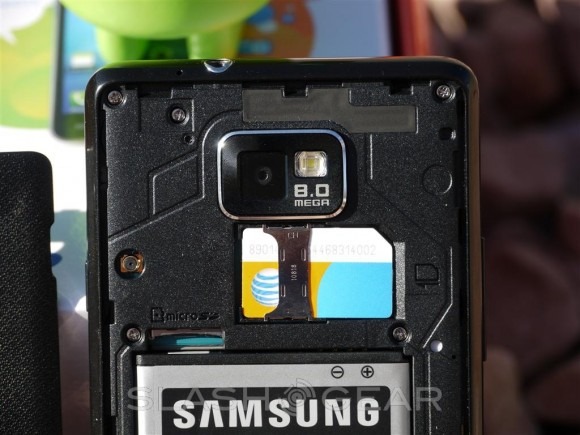 Wrap-Up
The AT&T Galaxy S II is essentially the same exact SGSII we've seen, known, and loved for the past few months. With the same screen size and specs as the international version the only changes are a few to the UI, and the capacitive touch buttons below. Having a winning combination of being thin, light, fast, and affordable the Galaxy S II is a clear winner for the US as well as Europe and outside of the US sales have already passed 10 million globally. With the AT&T version being the closest U.S. Galaxy S II to the original, what more reason do you need to get this amazing smartphone?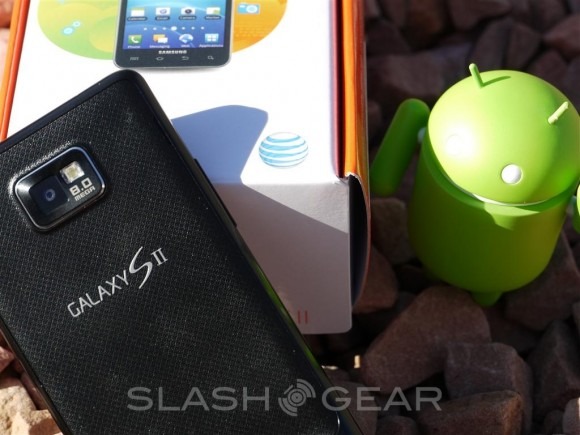 Feel free to ask any questions in the comment section below and I'll be sure to look them over and try to answer them as accurately as possible. More photos of the Galaxy S II can be seen below in the gallery. Look over the pictures, decide if this awesome smartphone is for you, and if so head down to a AT&T store on October 2nd and pick one up for just $199.