Samsung Galaxy Note: Inking, editing, benchmarks, more [Video]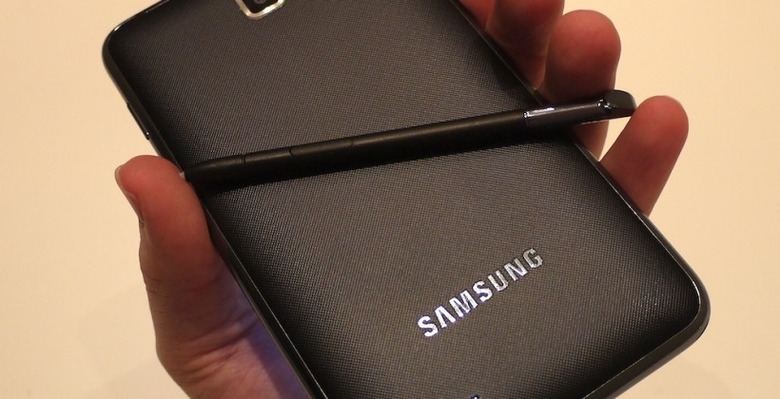 Samsung's Galaxy Note has arguably been the product of the show here at IFA 2011, and so we couldn't resist another stop by to check out some of the details of the smartphone/tablet hybrid. Much of the appeal is Samsung's custom software, including surprisingly powerful video and photo editing apps together with digital notetaking that works hand-in-hand with the accurate stylus. Read on for a video demo and more.
Getting quality digital ink is surprisingly hard; as we found with the HTC Flyer, if the virtual ink-flow isn't smooth, tight or narrow enough, you can't get as much on-screen to justify dumping your physical notepad in favor of a stylus-equipped tablet. It's something Samsung's customized digital S Pen technology looks to have got right, though: you can see the crisp lines and lack of bleed in the video below. Bear in mind we were writing while also holding a camera, since without that handicap we'd have been able to fit even more text on a single line.
Samsung Galaxy Note inking, video editing & more:
[vms 779a9e618e1f23a7b786]
Samsung's video and photo editing apps also warrant some attention. Although we've seen earlier iterations of both on previous devices – the Galaxy S II, for instance – in their latest form they can legitimately take on desktop editing software. The video app allows you to combine clips, music and titles, make crops and cuts using either your finger or, for more accuracy, the pen, and then handwrite or add text, sketches, highlights and more on top before exporting at up to 720p resolution. You could feasibly film, process and export an entire mini-movie on your device, without ever needing to offload footage to your computer.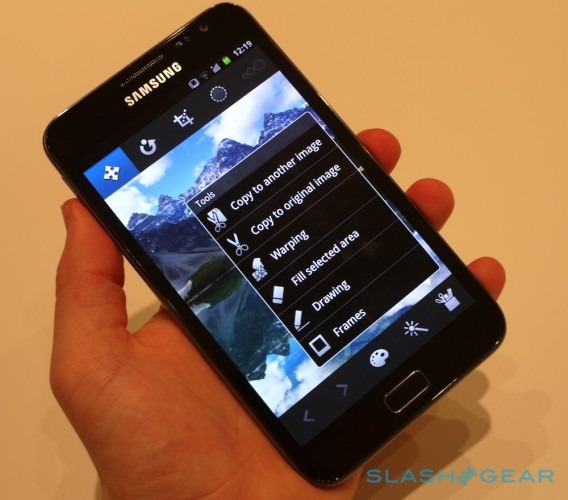 The photo editing software is similarly impressive, supporting an intelligent quick-selection tool of the sort you'd find in Photoshop so as to make selecting aspects of the frame more straightforward. You can then manipulate and morph those selections, as well as do all the usual annotation and tweaking, with little in the way of processing delay as the Galaxy Note does its crunching.
Although you're getting more screen real-estate than on Samsung's smartphone line-up, Samsung has also made plentiful use of pinch-zooming gestures. We've already written about the pinch support in the calendar, which moves between various levels of time: year, to month, to week, to day, and back again. However, pinch the message list in Samsung's customized email app and it collapses to show messages from the past few days, weeks or months, saving you the time of scrolling through pages and pages of old mails. For users looking to condense both their digital and paper lives into a single device, that's a useful advantage.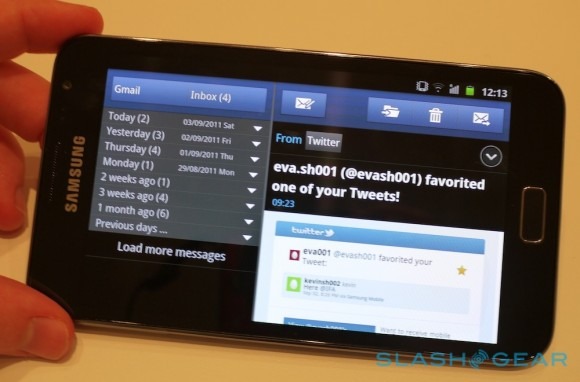 We also took a moment to run SunSpider on the Galaxy Note, the browser test of JavaScript performance. Samsung asked us not to run processor-specific benchmarks like Quadrant, since neither the hardware nor software are finalized, but SunSpider put in a solid showing, completing the test in 2894.4ms. In comparison, the (similarly non-finalized) Galaxy Tab 7.7 managed it in 1440.4ms in Carrypad's testing, while the Galaxy S II came in at 3584.3ms. We expect the Note to do better after Samsung has worked on the software, and at that point the company should have some battery estimates for us, too. Right now there's no official word on exactly how long the Galaxy Note will last, but "at least a full day" from the 2,500 mAh battery is the promise.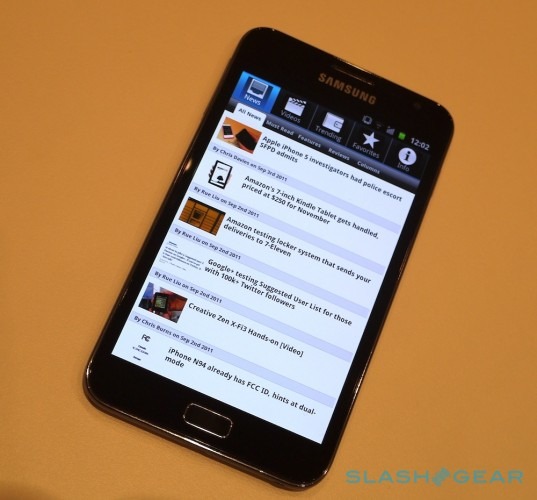 We also took the opportunity to run a few third-party apps – like the SlashGear for Android app shown above – on the Note to see how its higher-than-average resolution display handled them. Generally we saw no problems, with apps simply stretching out to suit the 1280 x 800 panel.
More Samsung Galaxy Note hands-on video and photos here.