Samsung Galaxy Note III prototype leaks with shot of internals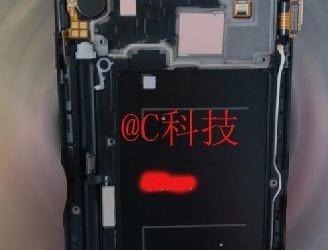 The Samsung Galaxy Note III, which will be launching in September according to some rumors, has surfaced in various leaks and sketches, but most of what has been revealed about the device concerns its specifications, with images being slight, and those that are published being fairly low in quality. Now a couple shots said to be of the prototype device have surfaced, and one shows the handset's internals.
The shots were posted by a user over on Chinese website Weibo, and are said to be of a prototype of the Galaxy Note III, which we saw once before in somewhat distant, vague photographs. While one just shows a front shot of the handset, complete with a screen protector and a couple sections censored out, the second – which you can see above – reveals what it looks like under the hood.
Thus far, information that has surfaced indicates that the Galaxy Note III will be surfacing with different processing architectures, with one anticipated to be a Qualcomm Snapdragon 800 processor as an LTE-Advanced edition, and another with the Samsung Exynos Octa core processor. Either is said to accompany 2GB of RAM.
As far as display goes, rumors have it pegged as a large 5.7-inch Super AMOLED with full HD 1080p resolution. The camera is said to be a 13-megapixel offering using the same sensor found in the GALAXY S 4, although that is yet to be seen either way. Obviously, the device will also be coming with the latest iteration of the S-Pen, as well.
On July 10, several machine codes surfaced suggesting different carrier editions of the Galaxy Note III, among them being a few for the four big carriers we have stateside: Verizon (SM-N900V), AT&T (SM-N900A), Spring (SM-N900S), and T-Mobile (SM-N900T). Reportedly, the Exynos models of the handset will be the international edition, while the Snapdragon 800 offering will be available stateside.
SOURCE: BGR