Galaxy Note III display size solidified in carrier version spill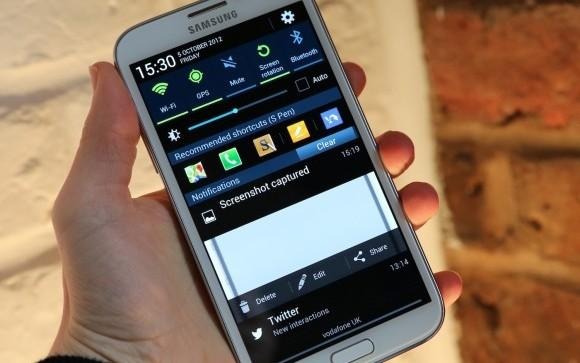 You'll be seeing a lot of Samsung Galaxy Note III tips and rumors over the next few weeks, (if this past week is any indicator), so in preparation, today's relative solidification of at least one model should provide a good basis for your exploratory readings. What you're going to see in the Samsung Galaxy Note III according to two sources speaking from across the pond this morning is a 5.7-inch panel with a lovely 1080 x 1920 pixel resolution – that's the same amount of pixels as the Samsung Galaxy S 4 spread out across a bit more screen real estate.
Over at Samsung Updates, editor Adam Lange reveals the first appearance of the Samsung N900, aka the device code for the Galaxy Note III as found at UAPROF. This appearance is joined by a host of carrier editions similar to what we'd seen earlier this month. This same source confirms the display resolution as well as the CPU – likely pointing toward the Exynos 5 Octa upgrade Samsung spoke of earlier this week.
This code reals, on the other hand, that the Galaxy Note III will be appearing with more than one iteration in its processing architecture, likely appearing also with a Qualcomm Snapdragon 800 in an LTE-Advanced edition. Based on our chat with Qualcomm yesterday, we're to understand that the Snapdragon 800 will be working with multi-region LTE support as an up-front solution, this quite possibly providing Samsung with a way to reach multiple international markets with a single SKU.
On another hand still is the fact that we're also seeing different codes for AT&T, T-Mobile, Verizon, and Sprint for the USA, along with at least two more carrier variants beyond the first two international models, one for Exynos, the other for Snapdragon 800. It should also be obvious by now that the Galaxy Note III will be coming with a next-generation S-Pen as each of the previous machines have arrive with, as well as Android 4.2.2 Jelly Bean.
Over at MK News, they say that the Samsung Galaxy Mega lent some insight for Samsung into the possibilities of bringing another two sizes of displays – 6.3 and 5.8 – to the market for the Galaxy Note. Also having tested a 5.99-inch iteration of the Galaxy Note III, this tip says Samsung stuck with the 5.7 in the end as the ideal state of the machine.
Have a peek at the Samsung Galaxy Note III timeline below to gain further insight into the rumors and tips that run this machine into reality sooner than later, likely right before IFA 2013!