Samsung Galaxy Note 9 event contents leaked early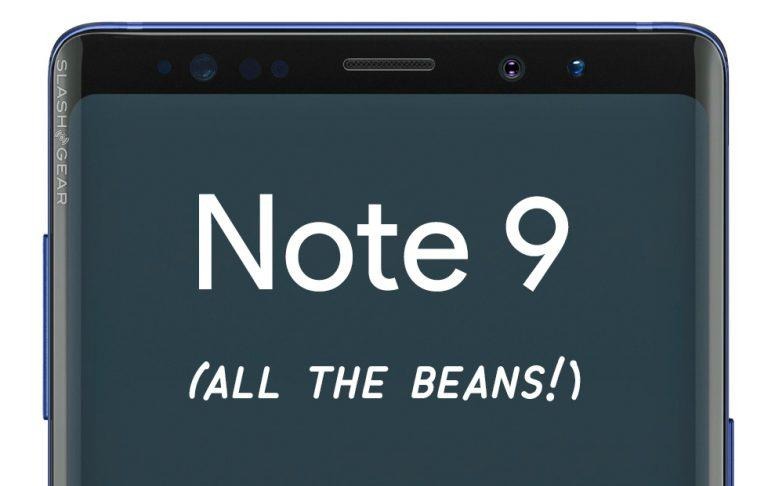 Inside a set of leaks this morning it would appear that Samsung's next big event was all but spoiled. It's entirely possible Samsung has some other devices, details, and/or software to bring to the table, but with these leaks, it seems like they've kind of spilled the beans. This is like that time Kevin came in to The Office with his big container of chili and dropped it. Oh god, so much of a bummer.
The Samsung Galaxy Note 9 seems to have been leaked in three color combinations with three different devices in tow. The Galaxy Note 9 was shown in images harvested by Android Headlines in Black, Blue, and Brown. The Brown is likely the "Teddy Bear Brown" we heard about earlier this year.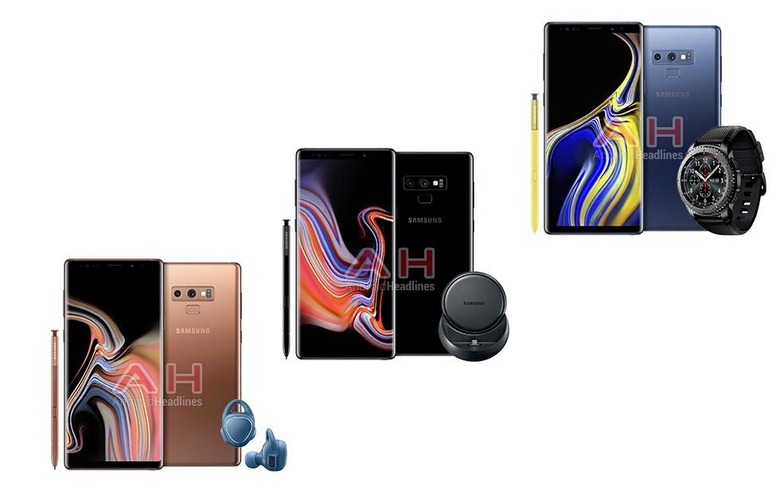 The black is basically black, made for those users who have no love for any sort of color beyond what they're required to work with – no light! Nothing shall escape the surface of this black hole of a device casing. Then there's the blue, which comes with a yellow S Pen. It's like an awesome fashion experiment come to life – so joyous, so fun!
Alongside this leak you'll see the latest in Samsung wireless earbud tech (Gear Icon X), a Samsung Wireless Charging disk, AKA the Wireless Charger Duo, and the Samsung Galaxy Watch. The Watch seems to have gone through with the naming conventions we heard about earlier this year – and stuck with the smart way to name their devices. Gone is the "Gear", back is the Galaxy.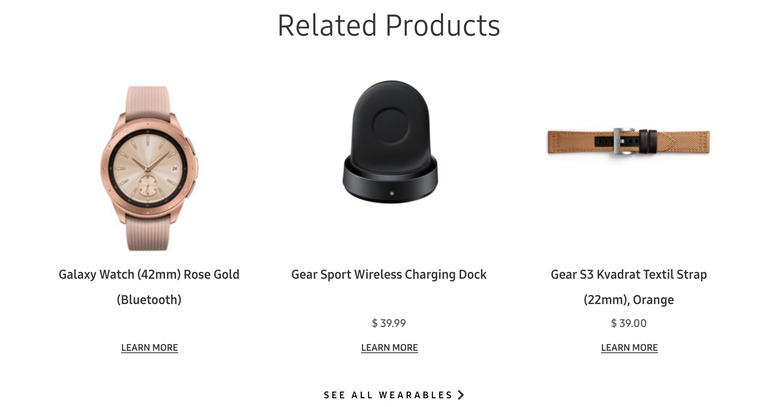 The Samsung Galaxy Watch was also leaked separately in a Samsung official site... situation. There, thanks to keen-eyed observers working with Droid Life, we're able to see the device in Rose Gold. This new Galaxy Watch appears to have at least two physical buttons, if not three – what'll it do?!
Also strange – previous leaks of the Galaxy Watch showed the device working with no buttons at all. Earlier leaks suggested this smartwatch would have 3 pogo-pin connectors, but otherwise no physical buttons of any sort. Maybe the buttons are there just for looks?
We'll see these devices and more details on August 9th. Cross your fingers we'll get some more shockers when the full spec sheets are revealed!