Samsung Wireless Charger Duo for Note 9 leaks, confirming Galaxy Watch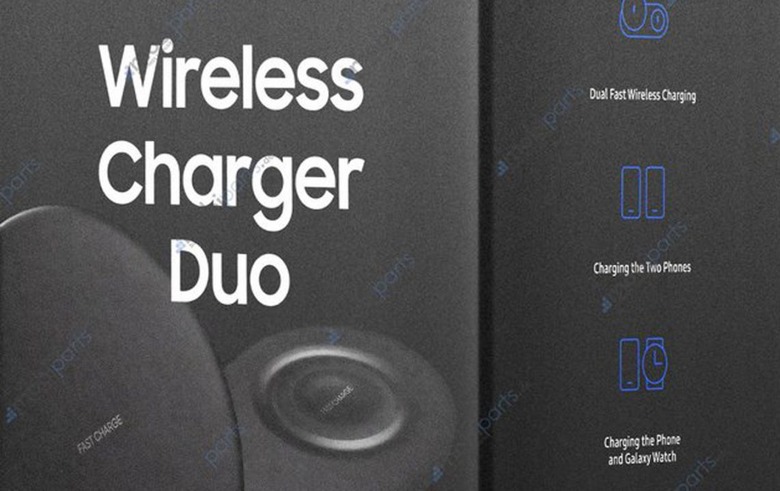 We're just a couple of weeks away from the expected debut of Samsung's Galaxy Note 9, but it seems we're already getting an early look at some accessories for the smartphone. The latest is a charging station called the Wireless Charger Duo, a device that appears to give Samsung owners their own version of Apple's long-awaited AirPower charger. Even better, a photo of the packing basically confirms the much-rumored Galaxy Watch wearable.
A FCC listing for the Wireless Charger Duo was first discovered last month, but this new image reveals a small look at the device itself, as well as details on its features. The side of the box specifically highlights charging both a phone and the upcoming Galaxy Watch at the same time, with the smartwatch being placed on the right side of the charger. Also useful is the option to charge two phones at once, like if it's used in a home with multiple Note 9 owners, for example.
This is the Samsung Wireless Charger Duo (EP-N6100) for the Galaxy Note 9. Charges the Galaxy Watch alongside the phone. pic.twitter.com/VnP10xAhvb

— rquandt@mastodon.social (@rquandt) July 21, 2018
We still don't know much about the Galaxy Watch itself, however, other than it's expected to be the successor to the Gear S3 smartwatch. The latest rumors point to Samsung going with Wear OS for the new wearable over Tizen OS, which was used in all the previous Gear S wearables. It's also a safe bet the Galaxy Watch will include some form of Bixby, Samsung's less than popular AI voice assistant.
Samsung currently has an event scheduled for August 9th, which will no doubt be our first look at the Note 9 phone. The timing of this leak makes it more than likely that we'll see the Galaxy Watch and Wireless Charger Duo on that day as well.
SOURCE Roland Quandt/Twitter