Samsung Gear IconX (2018) Review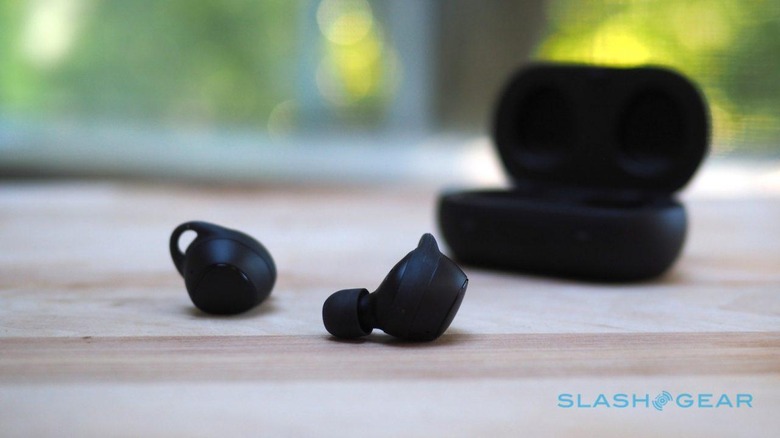 EDITORS' RATING: 8/10
Calling Bluetooth earbuds "cordless" when they still have a cord connecting them always seemed like a cheat to me, so I had high hopes for the Samsung Gear IconX 2018 edition. Revamping the original wire-free earbuds of last year with more battery life and faster charging, they're a second chance for the company to take on Apple's widely-esteemed AirPods. And, given they'll play nicely with iOS devices just as they will Android, even iPhone owners are invited to the party.
Each Gear IconX 2018 earbud is a chunky little pod, studded with sensors and tipping the scales at 0.28 ounces apiece. They live in a carrying case which has a 340 mAh battery of its own. At 2.89 x 1.75 x 1.24 inches and 1.92 ounces it's certainly compact – it's also available in black, gray, or pink, matching the earbuds themselves – though it's noticeably larger than Apple's AirPods case, not to mention a little larger than the original IconX's case. A Bluetooth pairing button on the back gets it hooked up to your Android or iOS device.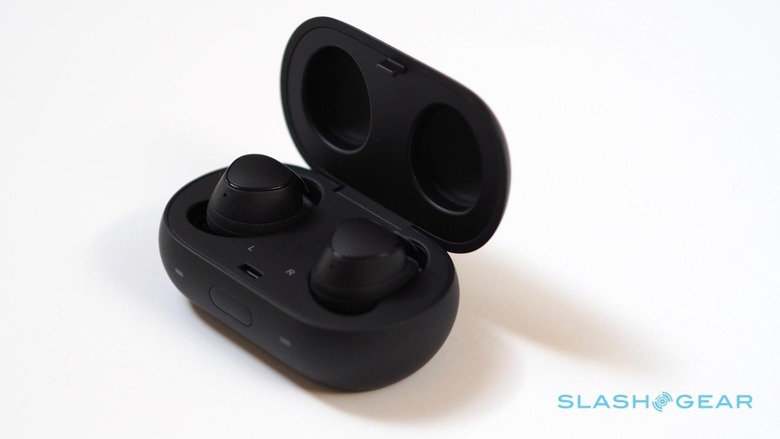 I have, frankly, uncooperative ears when it comes to earbuds: off-the-shelf sets often just don't want to stay in place, especially if I'm walking or otherwise moving. Given the size and shape of the Gear IconX 2018, I confess I expected them to drop out in seconds. Instead, though, I was surprised.
Samsung includes three different sizes of rubber ear-tip, but it's actually the top of each earbud which makes the most difference. There, a small nub of rubber protrudes, designed to slot into the upper whorls of your ear. Sure enough, it's just enough to hold the new IconX in place, even if I shook my head or jogged. It's a design finesse I wish Apple would borrow for the AirPods.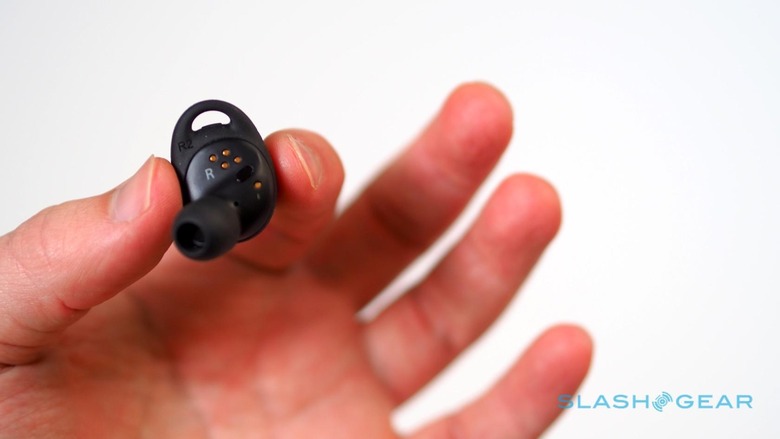 The original Gear IconX had one big problem: battery life. Samsung had packed the wireless earbuds with technology, but that hadn't left much room for the batteries that would run it. Indeed, with a total streaming time of around 1.6 hours, or up to 3.8 hours of standalone music playback, even with the convenience of a top-up in the charging case they just ran out too quickly.
Samsung has addressed that this time around. The IconX 2018 extends the all-important streaming figure to 5 hours, while standalone playback increases to 7 hours. There's sufficient power in the charging case for a full additional charge, and it now supports quick-charging too: two minutes in their little nooks, and the earbuds will have sufficient juice for a further hour of playback.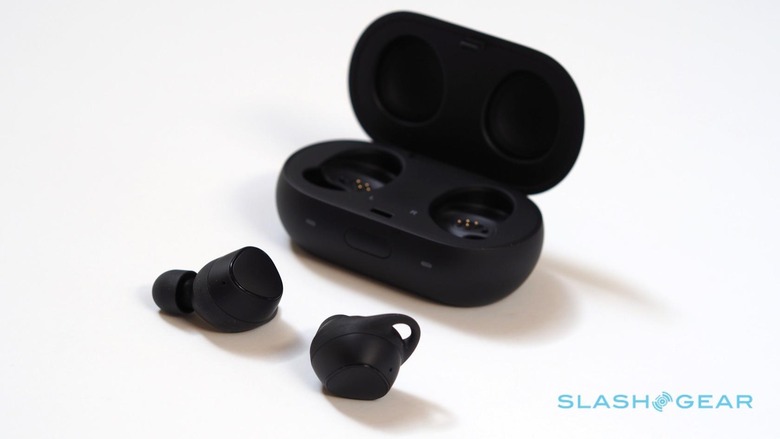 In my testing, Samsung's estimates seemed pretty accurate. With a combination of streaming music and a couple of short calls, I got around 4 hours. That puts the Gear IconX 2018 pretty much on a par with AirPods.
As you might expect, Samsung had to make a sacrifice in order to achieve all that. Gone is the original IconX's heart-rate sensor, left out in the 2018 version in favor of leaving more space for batteries. There's the very basics of fitness tracking, with the earbuds able to spot if you're walking or running and then measure the distance you travel, but if you want anything more complex you'll want a more exercise-centric wearable like the new Samsung Gear Sport.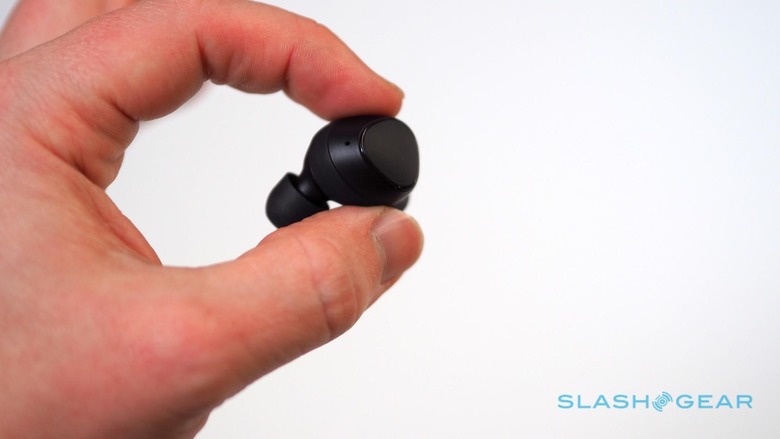 Still, there's at least personal run coaching, which you can set up through the Gear Manager app. That has preset options, or you can configure your own custom workout through the S Health app. Once done, it's all accessed via the headphones themselves, and you can leave your phone at home.
You'll get the longest runtime if you load music directly to the Gear IconX 2018's onboard 4GB of storage. You can do that wirelessly, transferring MP3s from your phone, but it's a tedious affair since you can only do so one track at a time over Bluetooth. It's much faster to plug in your PC or Mac via the supplied USB-C cable and use Samsung's app to transfer files over in bulk.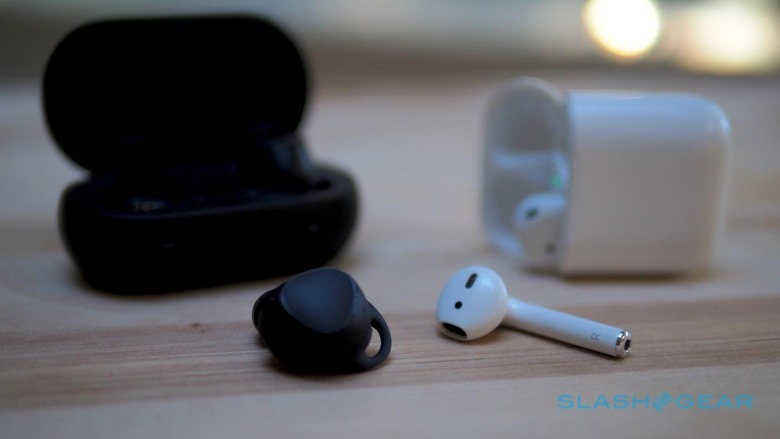 Using either that desktop app or the mobile app, you can arrange music into one of three playlist folders. You can also rearrange the order of tracks in your playlists. Tapping or swiping the sides of the earbuds controls playback and volume, as well as answering and ending calls.
It all works, but frankly I suspect it's outdated for how most people consume music these days. It's been years since I've downloaded an MP3: now, I just listen to Spotify. Sadly there's no offline Spotify support, though it unsurprisingly works just fine streaming from your smartphone.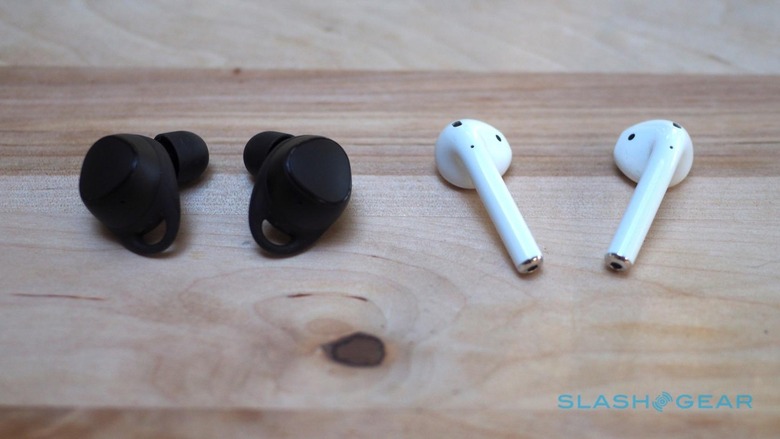 While they're connected, you can use the Gear IconX to access whatever virtual assistant your phone offers. Samsung would obviously rather that was Bixby on a recent Galaxy, but you can query S Voice on the company's older devices too, along with Siri on an iPhone.
Wrap-up
The original Gear IconX earbuds were clever, but their dreary battery life cut them off at the knees. Happily, Samsung has addressed that for the Gear IconX 2018 edition, and suddenly they're a lot easier to recommend. While some might miss the heart rate monitor, the ability to go longer periods without having to worry about charge makes it a worthy sacrifice in my eyes.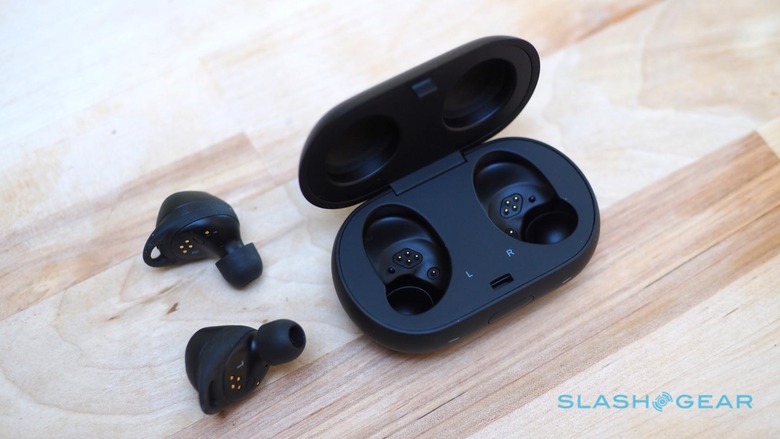 Personally, the onboard music playback is wasted on me, but the decent audio quality and excellent fit are reason enough to recommend them. The nature of Bluetooth means you'll inevitably get better audio from a wired set, but then you miss out on the convenience and flexibility of cutting all the cords. At $199.99 they're more expensive than AirPods but the addition of standalone fitness tracking, albeit fairly basic, could well make that premium worth it.