Apple AirPods Review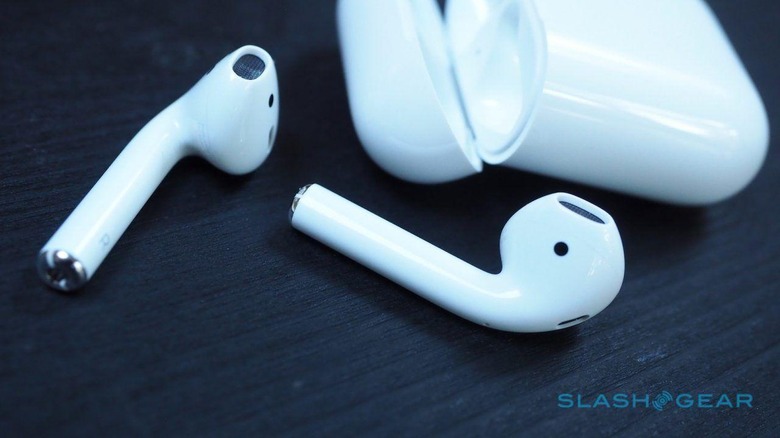 Wireless headphones have been ripe for a reboot for years now, but no contenders for the crown have divided opinion quite like Apple's AirPods. Revealed alongside the iPhone 7, the fully-wireless earbuds were intended to salve the pain of losing the headphone jack. Unforeseen delays meant that didn't quite go to plan, but now the AirPods are finally here, do they really deliver the best wire-free experience on the market?
Honestly, I've never had success with Apple's headphones. The original round earbuds, that were supplied up until the iPhone 4S, pretty much fell out of my ears right after I put them in. The EarPods, which promised a more ergonomic design from the iPhone 5 onward, are okay as long as I don't want to move my head, or walk, or generally do anything but sit motionless while I listen to music.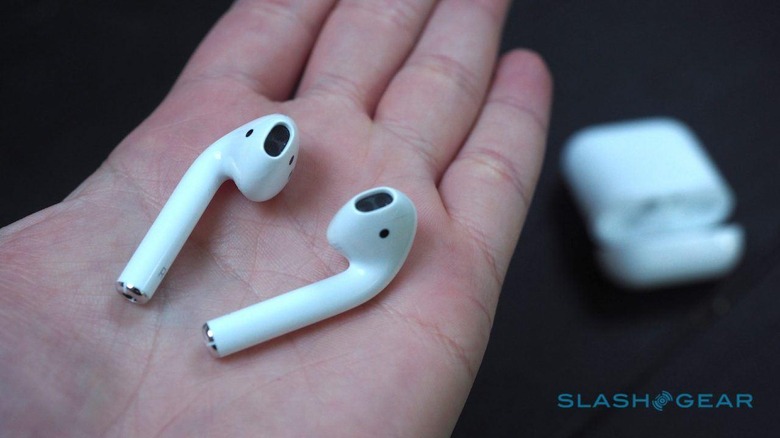 I'm not placing all the blame at Apple's collective feet, mind: I have issues with most generic earbuds. My solution has been either custom-molds, which are expensive and usually not wireless, or over-the-ear headphones. There, my current go-to set has been Plantronics' BackBeat Pro 2.
All of that is to say, I wasn't especially hopeful when I tried the AirPods. Happily, I've actually had better luck with them than expected. I suspect it's a combination of the lack of a cord weighing them down, and the overall light weight: each AirPod is 4 grams. They've stayed in place while I've power-walked through airports, and though more aggressive head-shaking was enough to send one flying, I don't think that's any worse than what another wireless in-ear bud would suffer.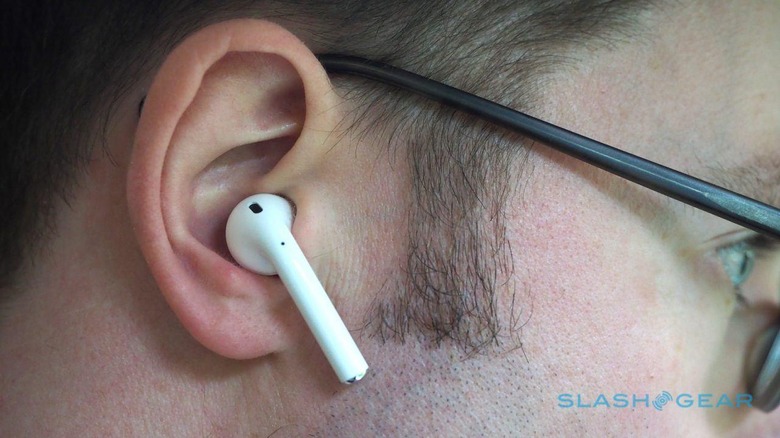 Apple's aesthetics are love-it-or-hate-it. The AirPods really do look like EarPods with the cords snipped off, and the result is a strange little L-shape of glossy white plastic that protrudes down an inch or so. Combined with the shiny metal tip – actually the charging contacts for when each AirPod is tucked safely in their case – and they're fairly noticeable unless you have long hair or a hat to cover them up; one person thought I was wearing earrings at first glance, because of the way they catch the light.
Personally, I'd be mighty surprised if Apple wasn't already thinking about a Jet Black set for 2017. As well as fitting with the iPhone 7's color-du-jour, that would be a lot more discrete, too. Either way, expect the charging case – which is similar in size to a floss dispenser – to become a go-to tchotchke when your hands need something to fiddle with, since the snap-open lid is deeply tactile.
One of the absolute strengths of Apple's system – and its custom Apple W1 chip – is the ease of pairing and generally using the AirPods. To connect them to an iPhone, you open the case while it's nearby: a dialog showing battery status pops up, with a button to connect. From that point on, every device logged into the same Apple ID, barring the Apple TV, should automatically have the AirPods paired too.
They reconnect automatically when you open the case and pop one or both AirPods in your ears. A pop-up on iOS shows battery status of each earbud individually, plus that of the battery in the case itself. If you have an Apple Watch, they'll also connect to that simultaneously, and audio switches between the two automatically.
On macOS, meanwhile, you can reconnect to the AirPods from the Bluetooth menu. If you're an Apple TV user, you'll have to pair them manually, as with any other non-Apple, Bluetooth-enabled device. That involves pressing the nondescript button on the back of the AirPods case until the LED inside glows white, then searching on whatever device you're trying to use them with.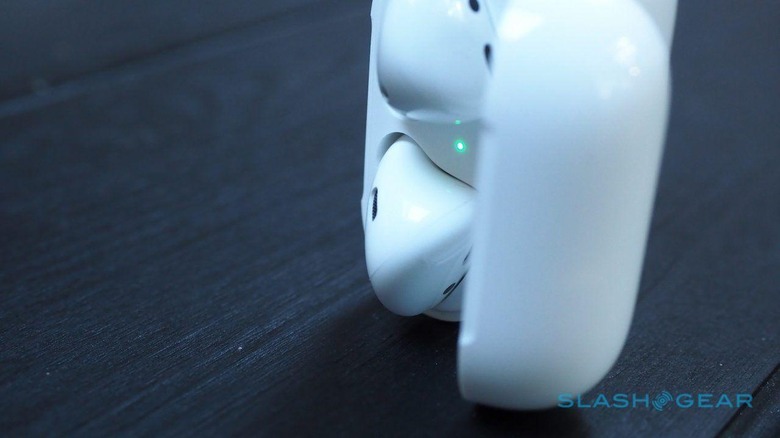 I like how Apple manages playback and connections, at least on iOS or watchOS. If you have one AirPod in, you get music in mono; add the second, and it switches to stereo. Take an AirPod out, and it'll pause your music; put it back in, and it'll resume. For calls, you can just use one AirPod; if the battery runs out, I was able to swap the earbuds over without dropping the call or even interrupting my conversation. It's worth noting that, currently, macOS doesn't do the same auto-pausing if you're listening to music from your MacBook.
Anything more complex relies on Siri, and here I started to have a few issues. There are no physical controls; no buttons for volume or play/pause, for instance. Instead, you double-tap either of the AirPods and make your request to Apple's virtual assistant.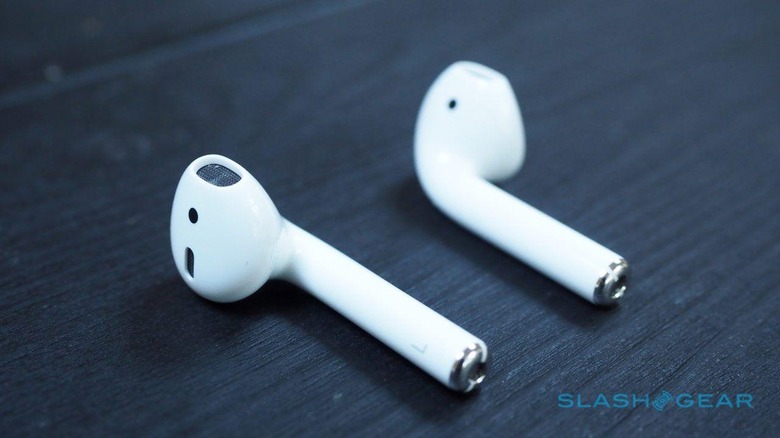 Asking to change volume, or skip back and forth through tracks, left me feeling somewhat self-conscious. Yes, it means you don't need to remember different sequences of taps or swipes as other headsets demand, but without support for a "Hey Siri" trigger phrase it's not like you can interact entirely hands-free. In the settings there's the option to switch the double-tap trigger to play/pause and bypass Siri altogether, but then you have to do everything else from your iPhone, Mac, or Apple Watch.
On the plus side, Siri did better picking up my instructions than when speaking to my iPhone 7, though functionally it has the same limitations as to what it can do. That means Apple Music has better integration than, say, Spotify. With Apple's own service, you can ask for a specific artist or track, but third-party apps don't get the same capabilities. It's also not especially set up for audio-only use: most of the time, if you ask a question more complex than a simple sum or the time in another country, you'll be directed to the phone's screen for the answer. I'd have preferred something more akin to Alexa in my ear.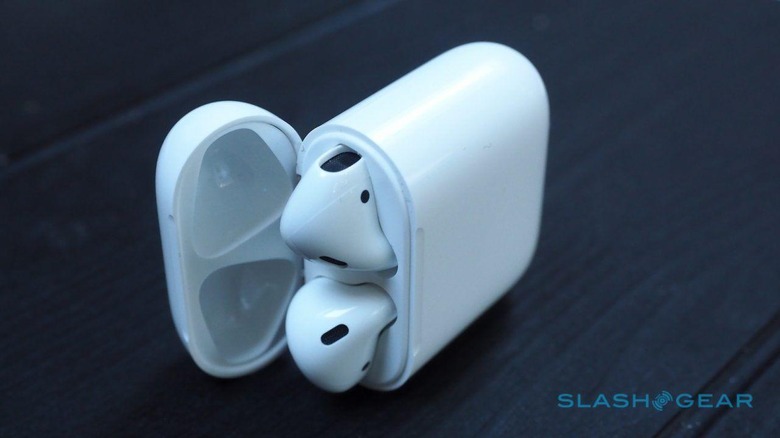 My biggest problem came when I was in airplane mode, though. I usually have my earphones on while flying, but Siri is entirely reliant on a data connection; without that, you get no control over music, volume, or anything else. Apple really needs a pared-back offline mode to handle the basics with local processing.
Another software feature I'd like to see added is a "Find my AirPods" alarm. You're likely to drop them or misplace them at least once; they're small enough that you could put one down on a coffee shop table and walk away from it without realizing. The ability to trigger a loud noise to relocate them, or get a warning on your iPhone if you're walking away from them, would seem an obvious improvement. Apple will sell you a replacement for $69.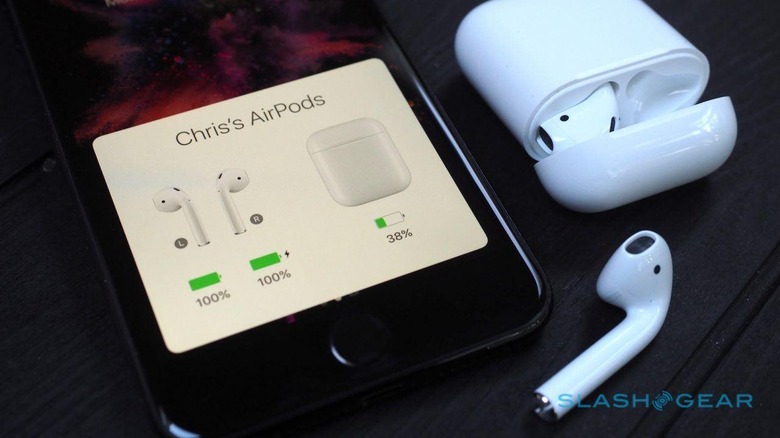 As for audio quality, you shouldn't expect a noticeable improvement over the regular EarPods that came free with your iPhone. I switched between EarPods and AirPods with a variety of music and found no real difference in sound; bass in particular can be a little lacking, given the absence of a tight seal between ear and bud, though a judicious prod once in a while can improve matters before they gradually shift again over time. In short, the AirPods are not bad, certainly, but if you're spending $159 in the hope of a boost in how good your music sounds, you'll probably be better off putting that toward a set of high-end wired headphones instead.
Apple quotes more than 24 hours of battery life when listening to music in stereo, or up to 11 hours of talktime. That will require periodic recharging of the individual AirPods in the charging case, mind: each AirPod is rated for up to five hours of listening or up to two hours of talktime. Fifteen minutes back in the case should give them enough juice for a further three hours of music or more than an hour of talking.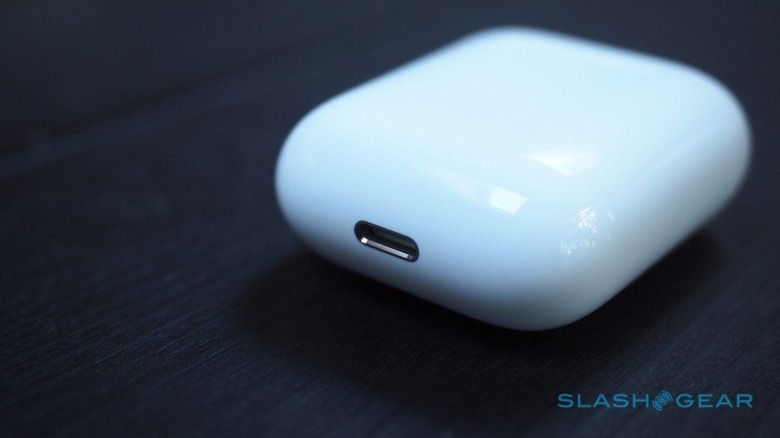 In practice, I found I could go around 4 hours 20 minutes before I needed to recharge the AirPods. That's mighty impressive given the size, even if it didn't quite reach Apple's own estimate. Going from flat to 100-percent in the case took about half an hour. Unsurprisingly you can't change the battery yourself; Apple will charge you $49 for each AirPod or the charging case to do that.
Range turned out to be solid: I was able to leave my iPhone on the desk and walk into the adjacent room without dropping a call. Though the microphones are positioned right up near the top of your jawline I had no issues with callers being able to hear me; the fancy things Apple is doing with beam-forming work well, and even over the sound of a car engine or in a crowded shopping center, I was audible and clear.
Apple's vision of a wireless ecosystem hasn't exactly had the smooth roll-out it might have hoped for. After the furore around the iPhone 7 losing a headphone jack, combined with the later-than-expected release of the AirPods, what was always going to be a challenging transition has proved a little more fraught. Even with the AirPods arriving before then end of the year, limited supplies mean many people won't be unwrapping them this holiday season.
Still, I find myself surprised with how much I like them. The fit still isn't perfect, though your experience there will undoubtedly differ to mine, since no ear is the same. A silicone rubber sleeve on the end would make a huge difference there, as well as to the sound-seal. And even with the frustrations of Siri being so central to the control experience, the fundamentals of Apple's straightforward pairing, audio management, battery life, and charging clearly show the refinement and attention to detail which the company is notorious for.
NOW READ: iPhone 7 Review
For the moment, AirPods offer the cleanest and most polished integration with your iPhone of any headphones out there. Whether that will change with the arrival of Bluetooth 5.0 next year remains to be seen. Nonetheless, assuming you can find them in stock, and that you don't mind talking to Siri rather than tapping buttons, the AirPods deliver on Apple's promise of effortless use day-to-day.
Vincent Nguyen contributed to this review