Samsung Galaxy Note 7 hands-on: S Pen meets S7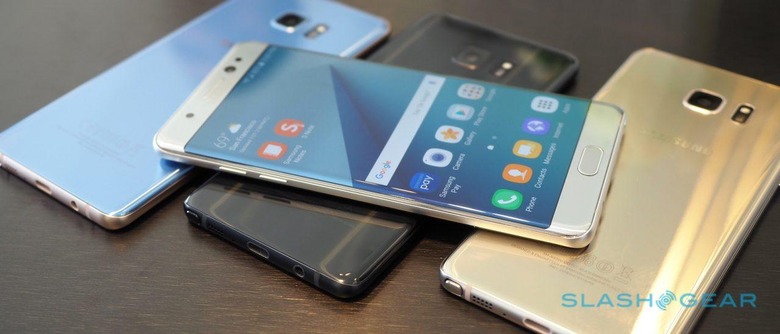 Samsung invented the phablet and it's not wiling to let go of the reins, with the Galaxy Note 7 the latest in its pen-enabled series of super-sized Android smartphones. Debuting in New York City today, the Note 7 builds on it's predecessor with a sleeker, more hand-friendly design, refining the software in the process, and borrowing heavily from the best-selling Galaxy S7. I spent some time with the new flagship ahead of today's launch, and discovered that there's more to the Note 7 than first meets the eye.
First things first: that name. Numerically speaking, this is actually the Galaxy Note 6: the sixth phone in the Note line-up. Samsung, however, has decided to brand it the Note 7, part of what the company says is recognition of similarities with its flagship Galaxy S7 smartphone. Still, the fact that it'll maintain number parity with the upcoming iPhone 7 – as it's widely expected to be called – doesn't hurt, either.
As you might expect, then, the overlaps between the Note 7 and the Galaxy S7 are considerable. The 12-megapixel camera, with optical image stabilization and an f/1.7 lens is carried over, as is the 5-megapixel front-facing camera (also with f/1.7 optics). Both have 2560 x 1440 resolution Super AMOLED screens, though the Note 7's is 5.7-inches.
It's dubbed a Dual-Curved panel, too, courtesy of the tapering edges on both the left and right sides. Not quite as dramatic as on the Galaxy S7 edge, but still noticeable. Samsung says it's HDR video-streaming ready, too, which isn't so big a deal today but should be increasingly so in the latter half of the year when suitable content becomes available.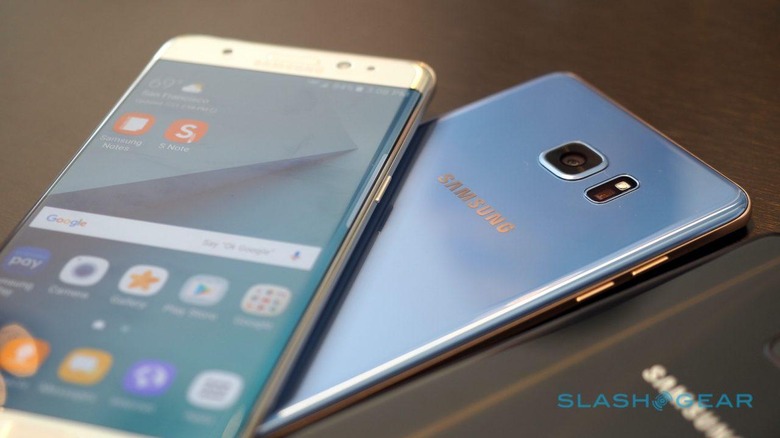 Inside, there's a 64-bit octacore processor (four 2.3 GHz cores and four 1.6 GHz) which, for the US at least, will be Qualcomm's Snapdragon 820. It's paired with 4GB of LPDDR4 RAM and 64GB of storage. Connectivity includes WiFi a/b/g/n/ac (2.4/5 GHz) with MIMO 2x2 for maximum downlinks of 620 Mbps, network depending, along with Bluetooth 4.2 LE, ANT+, NFC, and GPS/Glonass/Beidou.
There's fast wired and wireless charging for the 3,500 mAh battery, which Samsung says should charge in the same amount of time as that of the Galaxy S7 too. A microSD slot takes cards up to 2TB in capacity (in theory, anyway, since 512GB is about the biggest you can currently find), though isn't the hybrid UFS/microSD many anticipated.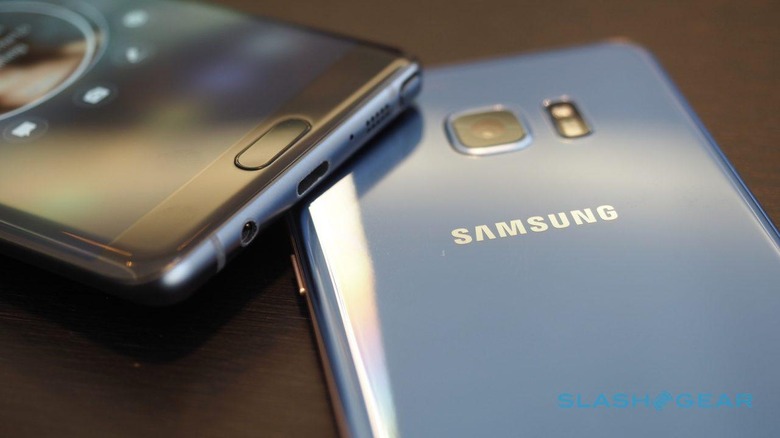 Don't assume this is just a larger S7, mind. Samsung has always used the Note range to push the tech envelope – the company's use of the USB 3.0 interface, for instance, debuted on a previous model in the range – and the Note 7 is no different.
Most obvious is the USB-C port on the bottom of the phone, with Samsung bundling an adapter in the box. However, the S Pen has come in for an upgrade too, which is likely to give existing Note owners the biggest impetus to trade up.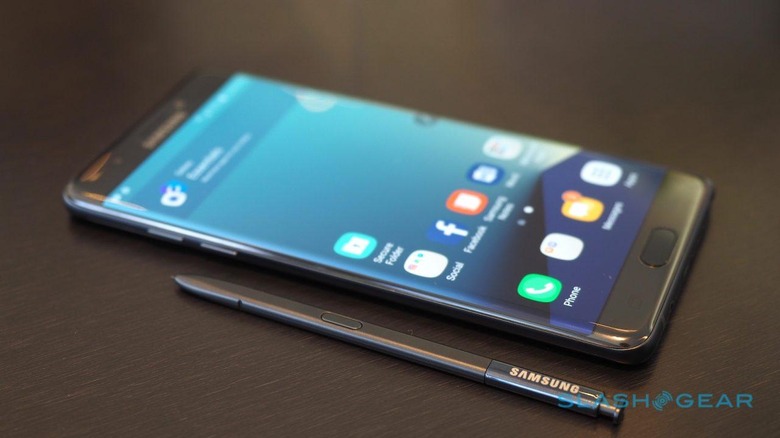 Wacom still provides the technology, but now the pen supports up to 4,096 pressure levels, twice what the Note 5 could track. Both phablet and stylus are IP68 water and dust resistant – you can even write underwater, should you be so inclined – while the S Pen has been redesigned for more comfortable use, most notably with a 0.7 mm tip intended to mimic the feel of a standard ballpoint nib.
The change is subtle but there's no denying that writing on the Note 7's screen feels more natural than ever. Samsung has nailed the level of friction, the S Pen neither skidding across the glass nor dragging and catching unnaturally. My only concern is the curved edges, which are fairly easy to slip off with the nib, though they do mean that Samsung can bring the Edge UX – with its contact and app shortcuts – to the phone.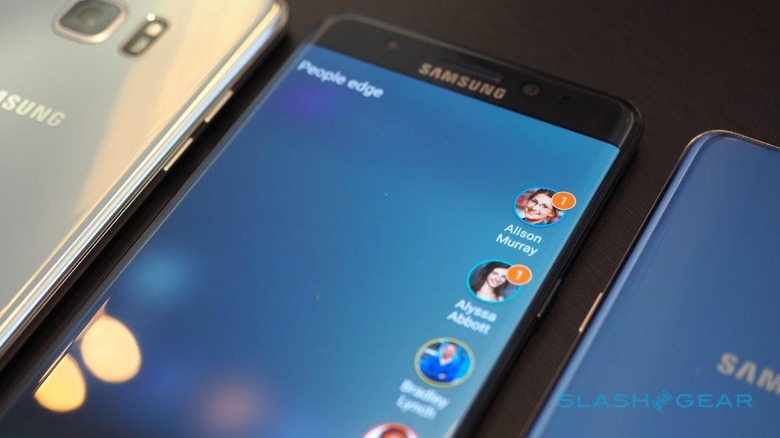 Curving the screen's big advantage is in leaving the Note 7 feeling considerably thinner than its predecessor in the hand, mind, even if the actual dimensions suggest it's only 2.2 mm slimmer. That's down to Samsung making it symmetrical front-to-back – in addition to side-to-side and top-to-bottom – and taking extra care to smooth the transition from Gorilla Glass 5 to metal and back again. The research, Samsung tells me, suggests that people still want phablet functionality but can't abide phones that overly dominate the hand, prompting a gush of physical prototypes and clay models to gage whether the Note 7 fit the bill.
It feels a more mature, stylish device as a result, and a little more casual than the business-first feel of the Note 5. Lots of glass and metal, of course, and fine tolerances in the detailing. At 153.5 x 73.9 x 7.9 mm and 169 grams it's obviously not a small device, but neither does it feel unwieldy; when I compared the old Note with this newest model, the Note 7 felt much more like an S7 sibling.
Fear not, though: Samsung hasn't forgotten just why Note buyers keep coming back.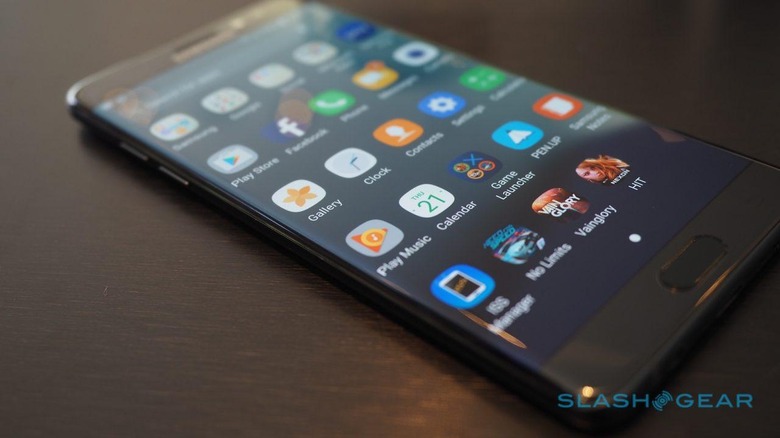 The Galaxy Note 7 will launch with Android 6.0.1, along with Samsung's latest iteration of TouchWiz. We're a long way from the saccharine-sweet colors and cutesy graphics of the early versions of the interface, and the Note 7 refines it all the more, simplifying colors and shapes in a most welcome way.
As ever there's a plethora of added, Note-specific features, with several new for this incarnation. Screen-Off Memo, introduced on the Note 5, gets an update on the Note 7: now you can whip the pen out and immediately start writing straight onto the display. Jottings are saved to the new Notes app – which sensibly combines the previously separate Action Memo, Memo, Scrapbook, and S Note apps into one, and supports handwriting, drawing, color-blending, and image snapshots – by default, but can also be pinned to the lock screen so that, for instance, your shopping list is instantly visible.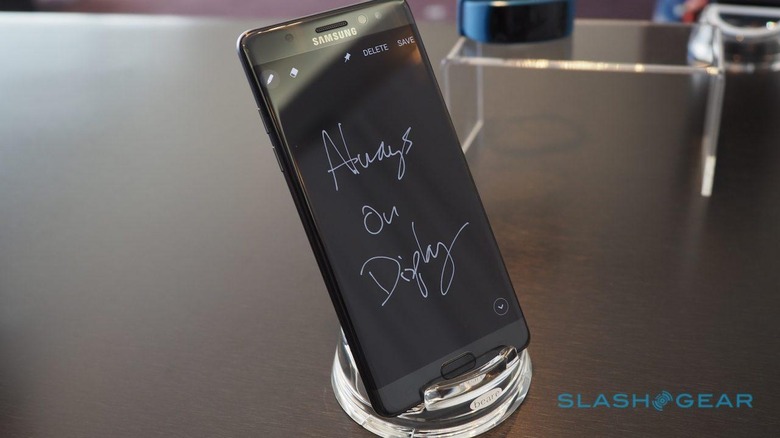 Air Command, accessed from the pop-up palette of shortcuts the Note 7 fans out when you remove the pen, now gets translate and magnify features. They're fairly self-explanatory: translate allows you to do text-to-speech of foreign languages, much in the way that Google Translate does; magnify, meanwhile, turns the S Pen into a loupe for enlarging portions of documents and webpages.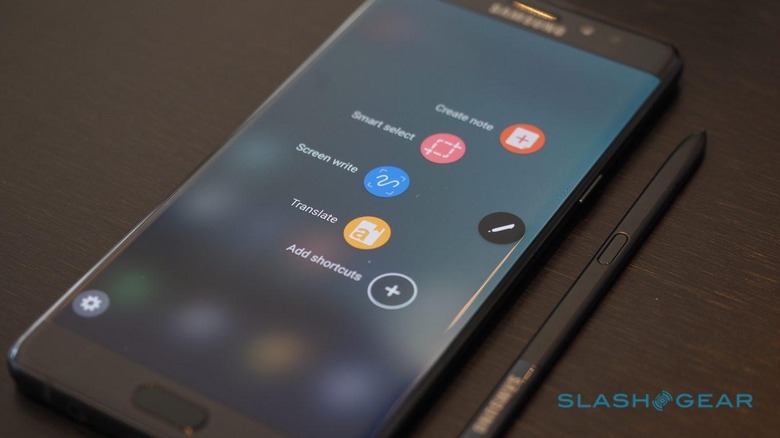 Ideal for the Twitter and tumblr crowds, meanwhile, is Smart Select. As on earlier Note phones, you can take screenshots – including stitching together a long webpage's worth of images – and draw freeform lines around objects to snap, but the Note 7 brings a native GIF-maker.
It's astonishingly straightforward to use, too. Any non-DRM video – whether something you've filmed in 4K yourself, or streaming videos, such as from YouTube – can be used; once you've dragged a rectangle over the portion of the screen you want to capture, hitting record automatically renders it as a GIF.
You can edit them, too, including applying filters, adding text and stickers, changing the speed and direction at which they play, making them loop, or cutting out certain frames. Samsung has made it fast and simple, far from what can often be a frustrating and time-consuming process on the desktop.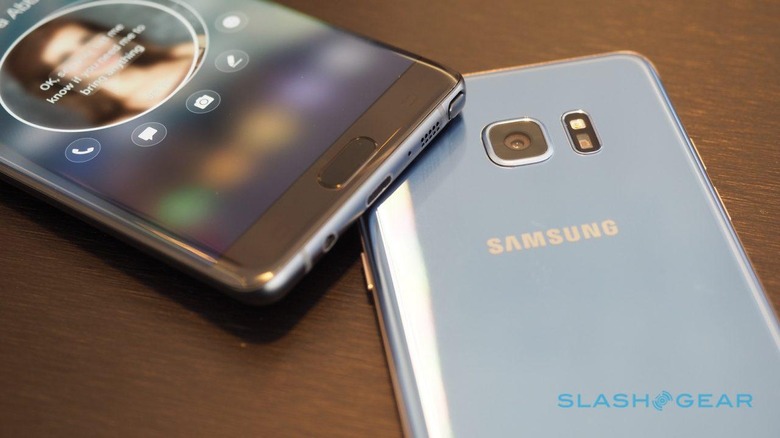 Admittedly, most business users probably aren't going to want to create animated pictures, and so the Note 7 ramps up on security, too. There's KNOX of course, Samsung's encryption system, and a fingerprint scanner built into the home button that can save up to five different fingers.
As the rumors teased, though, the Note 7 introduces an iris scanner. Built in above the display, along with an infrared LED to illuminate the eye, once trained – by default it looks at both eyes, but it'll work with just one as well, and if you're wearing glasses – it can unlock in a split-second just by having you glance at the phone.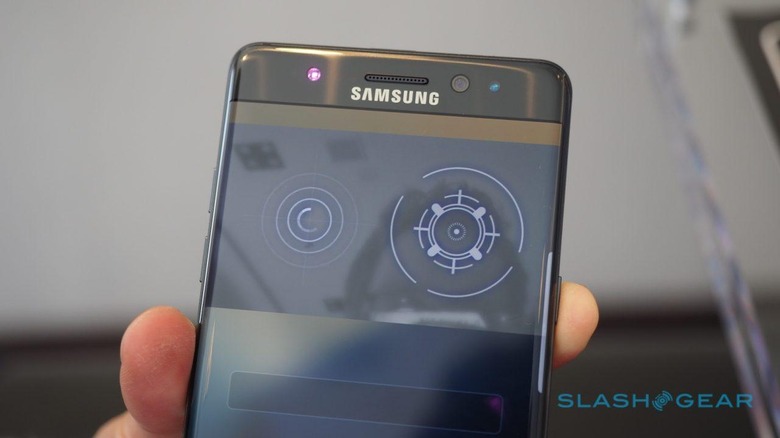 Samsung tells me it can't be fooled by a photo or even a video of the owner's eyeball – neither would be sufficiently high-resolution for a start – and, though reflections off prescription eyewear could in a worse-case scenario affect it, my brief demo suggested that would be a rare occurrence.
Iris scanning works particularly well with the new Secure Folder, basically a separate, encrypted store of not only documents, photos, and videos, but whole apps, too. Say, for instance, you have a work Facebook account and a personal one: you can create a second instance of the Facebook app in the Secure Folder, logged into the second account, and the Note 7 (as well as Facebook) will treat them completely independently.
Samsung doesn't envisage iris scanning as so much an alternative to fingerprint biometrics as an addition, depending on the degree of security you desire. For instance, you could elect to use fingerprints to unlock the Note 7, but reserve iris alone for the Secure Folder. That way, perhaps, you could allow your kids basic access to the phone to play games, but still keep them locked out of your most important apps and data.
Later, both of the biometric locks will gain support for Samsung Pass on the Note 7, the system whereby banks, apps, and other organizations can rely on fingerprints or iris scans for their own security.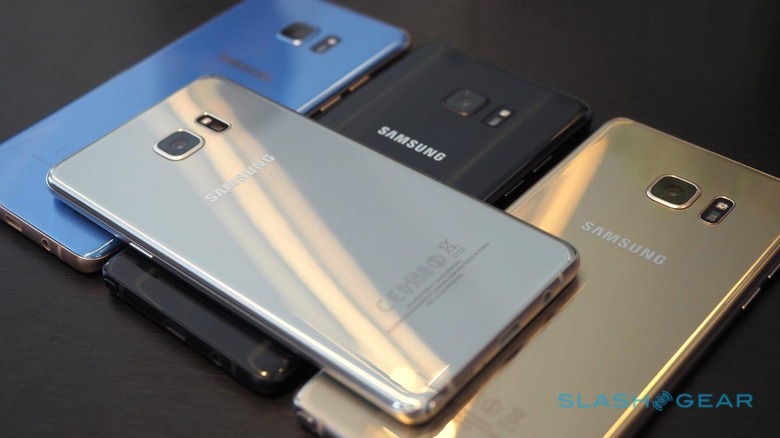 Elsewhere, the software tweaks have been more minor, though no less useful for it. The camera app, for instance, is cleaner and easier to use: a swipe to the left opens the menu, a swipe to the right opens the filters, and swiping up or down flips between the front and rear cameras.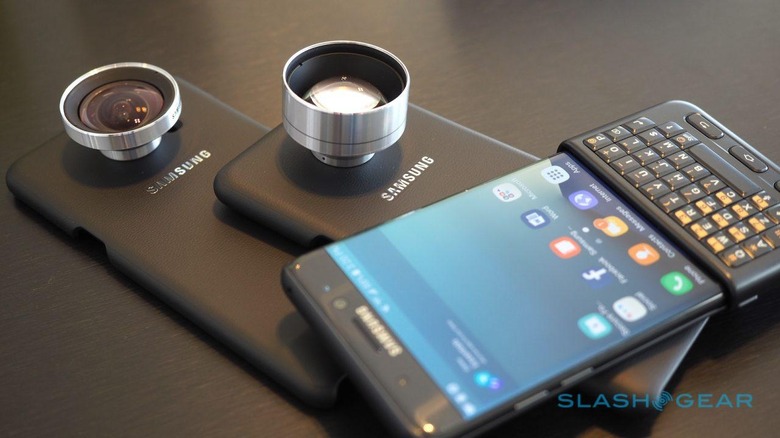 There'll be a portfolio of new accessories to go with the Note 7, too. A redesigned folio case can now flip into a stand to prop the phone up, while the grip has been reworked so as to make it less likely to slip out of your hand.
Mophie-style battery cases are available too – now waterproof – along with Note 7 specific versions of the lens cases Samsung first offered with the Galaxy S7, adding wide-angle and other effects to the phablet's camera.
There's a new keyboard case, too, which clips around the lower portion of the phone and gives a physical, BlackBerry-esque keyboard for those who prefer actual buttons.
A new version of the Samsung Gear VR will launch alongside the Note 7, too, which I've covered in depth here.
Really, though, at its core the Note 7 is about supercharged penmanship. Samsung continues to ruthlessly pare away anything that distracts from the immediacy of pulling out the stylus and jotting something down. Though there have been plenty of changes and tweaks, that essential focus on consolidating phone, notebook, sketchbook, and day-planner into a single device perseveres.
That it's now more stylish, easier to hold, swifter, and blessed with more capable hardware is icing on the cake.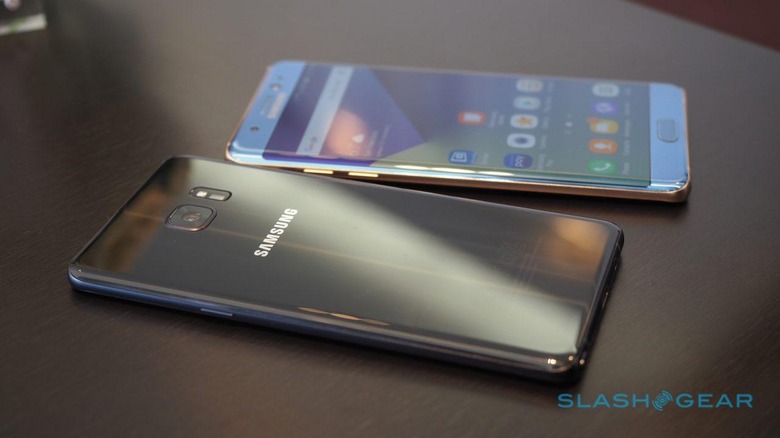 If there's a lingering question the Note 7 faces, it's whether it has sacrificed prosumer appeal for consumer affection. Many existing Note owners were hoping for 6GB of RAM, for instance – whether or not they actually needed it – and may well be disappointed by Samsung's decision to stick with 4GB. The usability of the Dual-Curved display may take some getting used to.
If Samsung can win over a more mainstream crowd then greater demand there may well offset the impact of any disappointed Note-addicts. Still, there's no denying that this feels like a refinement – albeit a polished one – more than a revolution.
Samsung will have four color variants of the Galaxy Note 7: Silver Titanium, Black Onyx, Gold Platinum, and Blue Coral. Unfortunately, while all the major US carriers are set to offer the phablet, not every color will be offered in this country.
Preorders kick off tomorrow, August 3, with AT&T, Verizon, T-Mobile, Sprint, and U.S. Cellular all offering the Note 7 in blue, silver, and black. Early adopters can choose between a free Gear Fit2 or a 256 GB memory card too. The Galaxy Note 7 will ship – and show up in stores – from August 19.