What's in Galaxy Note 10 (plus the fold of 11)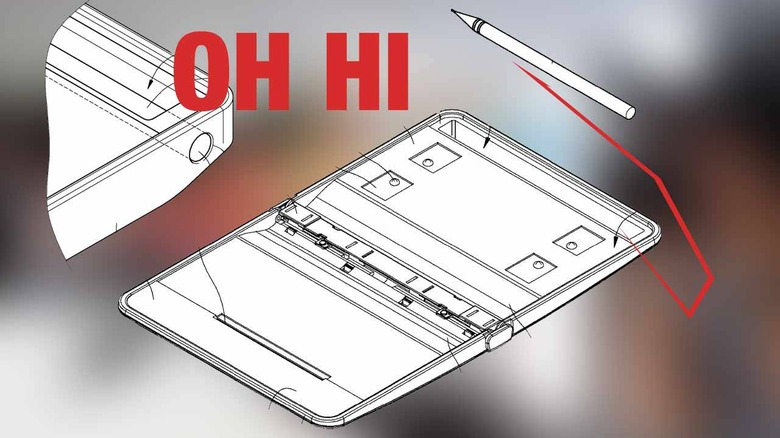 Today we're looking at the latest leaked set of Galaxy Note 10 specs with a dash of detail on what's coming up in 2020. There's a distinct possibility that the Galaxy Note 11 might open like a book, with a stylus inside for writing on a tablet. It would seem that details from a patent we've been investigating recently match up with the plans Samsung's got in store with the Samsung Galaxy Fold, and the future of the Galaxy Note in its current iteration may fork.
Remember that time the Galaxy S split into two device lines, then three, now four? It's time to make a tiny book! Imagine a Moleskine-sized planner, but make it with a stylus that can dock inside its body, and make sure that when it's opened up, it's also just one big flat piece of writing space. That's what we're talking about right now. That's what this patent is basically suggesting.
The patent we're looking at today doesn't have a fancy name. It's just called "Foldable Device", and it was published in the USPTO in mid-December, 2018, so it was easy to miss. Everyone was out in the world shopping for presents, right, and the Galaxy Note 9 was still fresh in everyone's minds, so there was no reason to think that we'd already see a Galaxy Note 10, or 11, for that matter.
But check it out – a couple of drawings in this patent listing point directly toward a next-generation concept for the Galaxy Note line. We've seen Samsung bring the "Note" name beyond the smartphone. Back around 2013, Samsung was going kinda nuts with Galaxy Note devices galore, with little regard for future product names and search engine confusion.
But now we're here, and a foldable display is more than possible, and it's time for a new sort of Galaxy Note. One that's not just one slab. It's not a smartphone, it's not a tablet, it's something in-between. This is the device that'll change the smart device world the way the original Galaxy Note changed the way we see "big" smartphones.
Until then, there's this
The Galaxy Note 10 will almost certainly have a reveal date of August 8th, 2019, with a release date somewhere around August 23rd, 2019. That's what we've got on the calendar, anyway. Dates may change between now and then.
This device was tipped to have a 6.66-inch display with details quite similar to that of the Galaxy S10 5G. This device would have a Super AMOLED display, 1440 x 3040 pixels across its face, and a set of four lenses on its back. Two 12MP, one 16MP, and one ToF 3D scanner.
We've also heard details leading us to believe that a Qualcomm Snapdragon 855 SoC is in order, and that an S Pen with a design similar to that of the 2018 Galaxy Note is probably the place they've settled. Chances are it won't have an embedded camera, but you never know!