If this is the Galaxy Note 10, consider me sold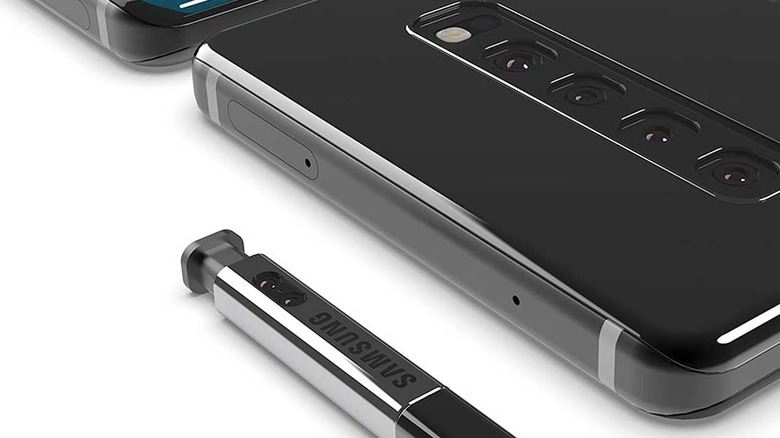 This morning we're analyzing a set of images created to depict the Samsung Galaxy Note 10. This device won't be out until later this year, but it's never too early to start hypothesizing and planning for the next big handset – especially when there are leaks over which we can pour. The Samsung Galaxy Note 10 is the next-in-line smartphone after the Galaxy S10 Plus and Galaxy Note 9, owing open-door design cues and features to both devices.
The Samsung Galaxy Note 10 was reported last week to roll with a 6.66-inch display and a bonkers 89% screen-to-body ratio. That tip and the rest of the details of which we speak today came from an anonymous source speaking with SlashGear as well as a few other rumors that popped up earlier this year. Samsung is likely set to re-use a few pieces of hardware in the Galaxy Note 10, what with the unprecedented release of the Galaxy S10 5G coming in-between the Galaxy S10 and the Galaxy Note 10.
One of the pieces of hardware they'll likely share is the 6.7-inch (very possibly mis-quoted as 6.66 for devilish purposes) panel with 1440 x 3040 pixels across its face. That'd be a Super AMOLED display, of course, meaning it's both super bright and super colorful at 16M colors to its name. Another likely shared quality is the inclusion of 5G connectivity with the same or similar processing technology under the hood.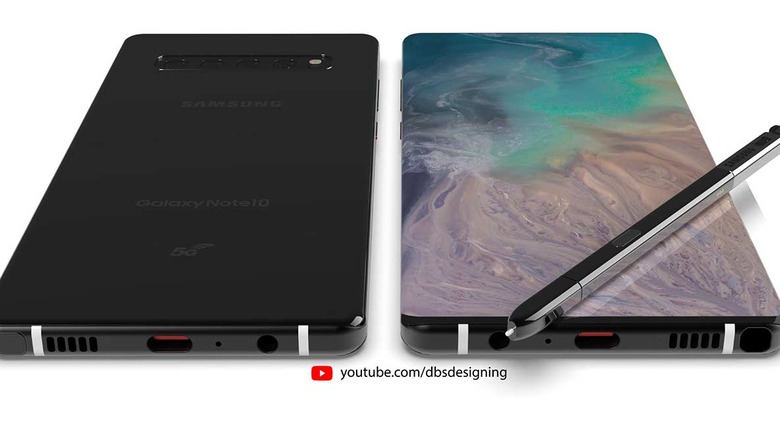 The Galaxy S10 uses a Qualcomm SDM855 Snapdragon 855 SoC with an Adreno 640 GPU and a separate Snapdragon modem. We're expecting that if the Galaxy Note 10 continues to use this SoC, it'll use either the Snapdragon X50 or X55 modem for 5G connectivity right out the gate.
Galaxy Note 10's rumored Wide, Telephoto, Ultrawide, 3D cameras:
• 12 MP, f/1.5, 26mm, 1/2.55″, OIS, Dual Pixel PDAF
• 12 MP, f/2.4, 52mm, 1/3.6″, OIS, 1.0µm pixel size, AF, 2x optical zoom
• 16 MP, f/2.2, 12mm
• TOF 3D scanner camera
We've not yet been fully convinced of the need for a stylus-based camera on the Galaxy Note 10 – but it's possible. The concept images we're looking at today come from DBS Designing, and include a conceptual look at the S Pen with a camera embedded near its clicker side. That's not unlike Samsung's own patent for the technology of which we speak.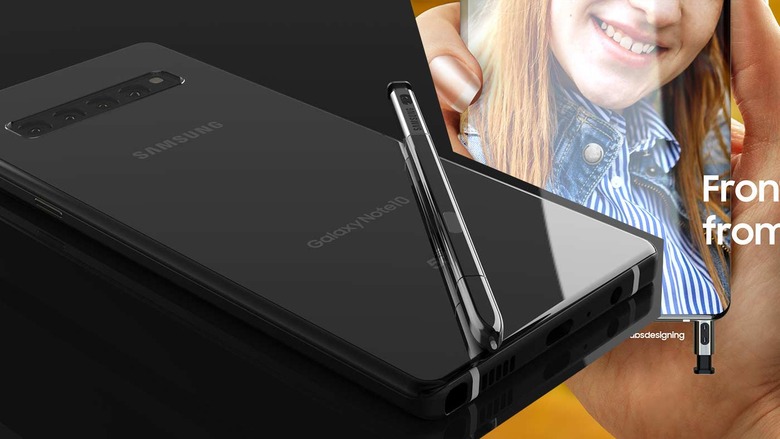 The designers of this concept also included a red color flourish on the USB-C port and the Bixby button – that'd be very welcome on a smartphone with an otherwise monotone color scheme for casing. That and a set of white antenna lines would be really, truly boss.
If the Galaxy Note 10 follows along with past releases, it'd not be shocking to find a reveal date on or about the 8th of August, 2019. If that's the reveal date, the release date is likely August 23rd, 2019, in all the usual first-wave countries and continents. The Galaxy Note 10 will likely cost at least $1k at its smallest and most modest – but we shall see!