Samsung Galaxy Note 10+ Review: The difference a Plus makes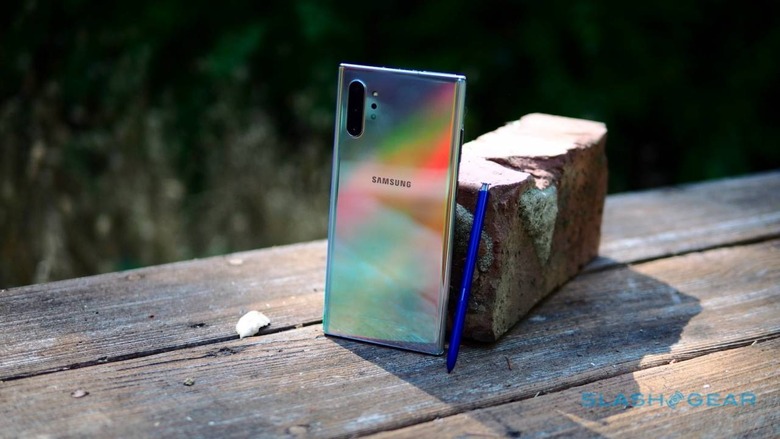 The Samsung Galaxy Note 10+ should be a tougher sell than it actually is. A $1,100 Android phone, scaled so vast that many will struggle to comfortably hold it, the defining feature of which is a pop-out stylus... and yet here we are, in 2019, with a flagship that boasts such user goodwill that even a history of immolation cannot derail it. As always, Samsung has thrown the kitchen sink at its newest Note, but now more than ever the results are mixed.
Galaxy Note 10+ Design and Display
You probably don't need me to tell you that the Galaxy Note 10+ is a big phone. The biggest of the Note series so-far, in fact, at 6.39 x 3.04 x 0.31 inches and 6.91 ounces. Unlike the sober finishes of earlier iterations, 2019 phablet is unrepentant in its glitz, with an eye-catching iridescent finish. The Aura Glow of my review unit catches the light in ways you'd swear were photoshopped; it also gathers fingerprints like an over-zealous CSI tech.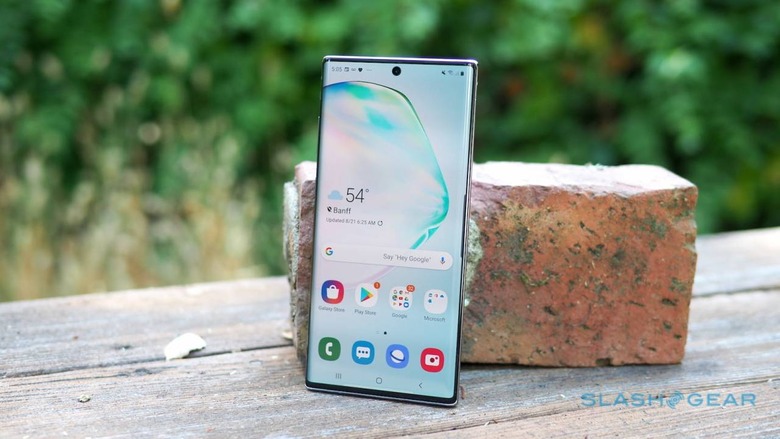 You'll probably want a case, then, not least because the Note 10+ is both large and slippery. I've not dropped it yet, but only because I've been obsessively over-protective. The glass front and back, along with the thin frame of metal they sandwich, feel sturdy and premium, and they're IP68 waterproof too, but unless cracking $1,100 of smartphone is small fries to your bank account it seems wise to wrap the Note 10+ up.
Sadly there's no case in the box, and nor is there a headphone adapter. That's notable because Samsung – blithely ignoring the fact that it has roundly lambasted rivals (and, specifically, Apple) for ditching the 3.5mm jack over the past two or three years – has followed the crowd and done away with the dedicated headphone port. You do, at least, get a decent set of AKG USB-C headphones in the box, which sound better than the average bundled pair.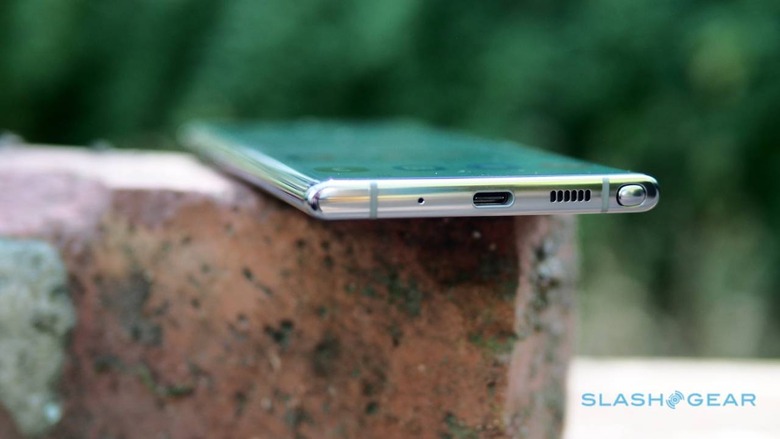 Gone is a dedicated Bixby button, a decision likely to be mourned by maybe two or possibly three people, with the Note 10+ shifting its power button to the left side, under the volume rocker. You can, if you really want to, have the power button double as a Bixby trigger.
It's worth noting that, for the first time in Note history, there are two sizes of the device for 2019. Right now, we're focusing on the Galaxy Note 10+. The regular Note 10, with its 6.3-inch display and S10-scale body, will have to wait a little longer for our review: Samsung tells us its more conservatively sized phablet isn't ready for reviewers quite yet. While it may be easier to hold (not to mention a little cheaper), the Note 10 does lack a microSD card slot.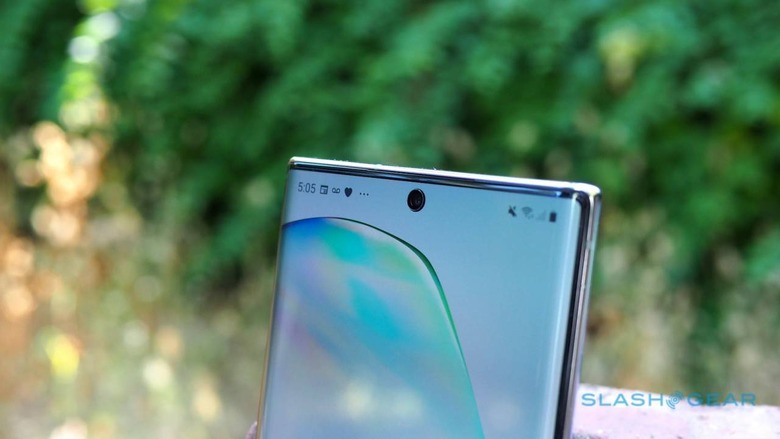 Both versions use what Samsung calls an Infinity-O display: an OLED panel with a hole punch-like cutout at the top through which the front-facing camera peers. By slimming the bezels top and bottom, and moving to an S10-style in-display ultrasonic fingerprint sensor – which isn't as quick and easy as Face ID on a recent iPhone, but I still prefer to having a fingerprint sensor on the back of the Note – Samsung has actually made the Note 10+ roughly the same size as the old Note 9, despite it using a bigger panel.
It's not a 90Hz display, but it's tough to imagine people being too disappointed with the new Note's flavor of Dynamic AMOLED. It really is just stunning, particularly if you switch the resolution up to the maximum 3040 x 1440. Rich colors, fulsome blacks – with HDR10+ certification, no less – and wide viewing angles... Samsung has been trouncing the competition when it comes to high-end phone screens over the past couple of years, and the Note 10+ is really no exception.
Galaxy S10+ S Pen
The defining feature of a Galaxy Note is its stylus, and 2019's version is sleeker and smarter. Much of the S Pen's new functionality feels like Samsung wants to make the Note less insular. Being able to export handwritten notes as Word text files, for example, may not have always quite worked accurately with my awkward penmanship, but it's a huge improvement on sending non-Note users images of your scrawl. It also makes searching more useful, since Samsung Notes can now look through your jottings for text it recognizes.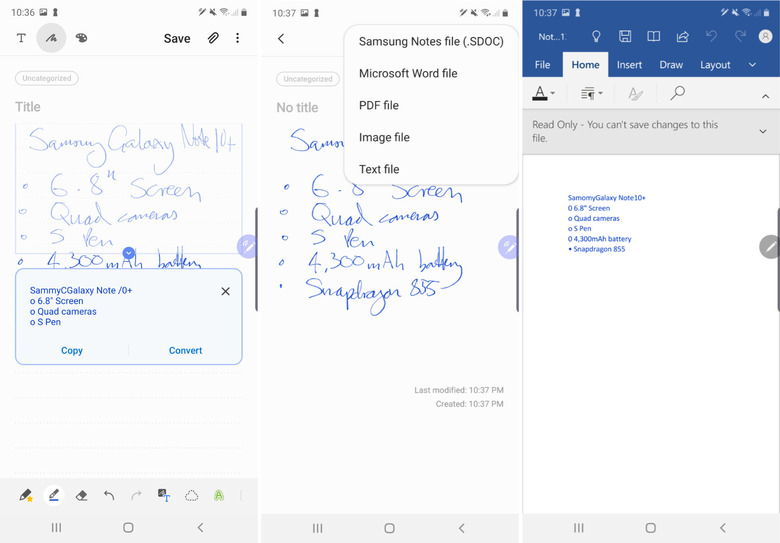 I wish Samsung Notes could better differentiate between handwriting and sketches, mind. If you're working with a note that has both, converting it or exporting it to Word sees the Note 10+ either try to make text out of your drawing, or skip it altogether. Far more useful would've been intelligently spotting the difference between a picture and handwriting, and structuring the exported document accordingly.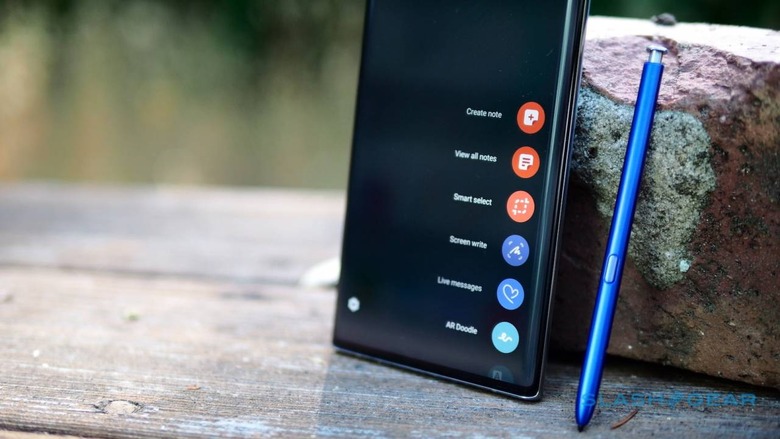 The new AirGestures, too, feel like they're designed to expand the S Pen's appeal beyond just note-takers. A more comprehensive remote for the phone now, you can not only press the side button to take a photo in the camera, but hold it down and wave the stylus around like a magic wand to control other things.
In the camera app, for example, a circular motion clockwise or anti-clockwise controls the zoom, while a swipe up or down switches between the front and rear cameras. Other apps have AirGestures support too, like moving through the gallery by waving the S Pen around, and Samsung has an SDK it's hoping will lure in third-party developers to integrate it with their own apps, too.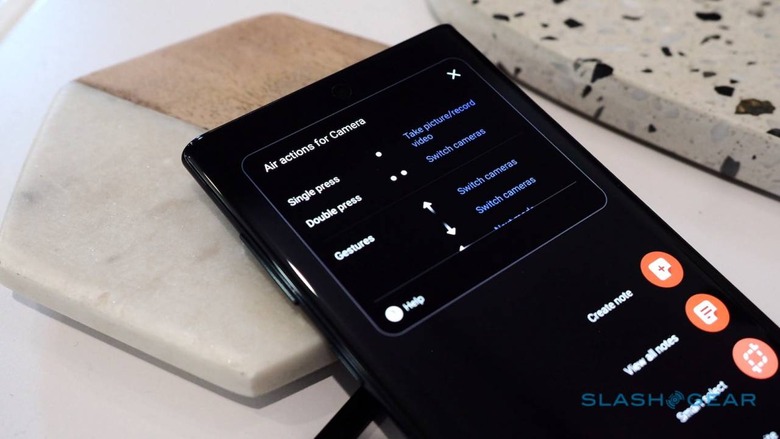 It works, but I'm not totally convinced. The camera seems the most obvious place for AirGestures, but trying to get the zoom just right saw me waving the stylus around a whole lot and getting frustrated. Then there's the fact that you're only really likely to do that if you're taking selfies, since if you're using the rear cameras you wouldn't be able to see what was happening on the screen. The same goes for switching modes: you really need to see the Note 10+'s display in order to understand what it is you're actually doing with all your S Pen waggling.
It may sound like I'm being unduly critical, but I suspect Samsung is a victim of its prior successes here. The S Pen worked just fine on the Note 8, and on the Note 9, and it does what it's meant to – be precise, accurate, and easy to write with – on the Note 10+ too. Everything else feels like Samsung being, well, Samsung and overcomplicating matters for the sake of doing something new.
Galaxy Note 10+ Cameras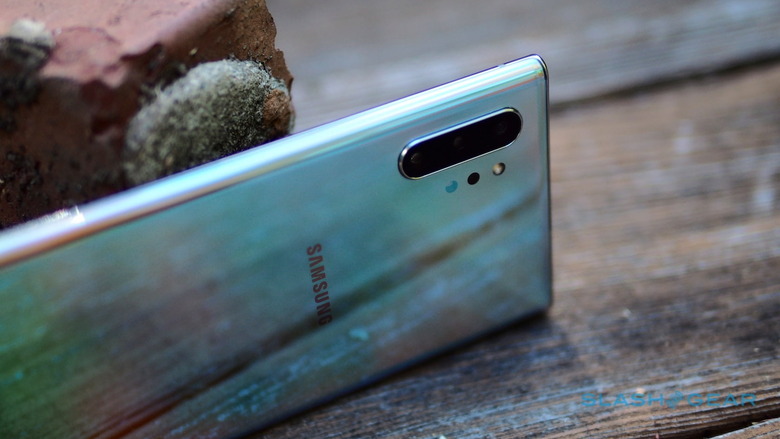 The Note 10+ wisely avoids the same mistake when it comes to its rear cameras, which stick closely to what we saw on the Galaxy S10+ earlier in the year. That means regular, wide-angle, and telephoto, along with a DepthVision sensor used for, you guessed it, sensing depth. From top to bottom on the phone's camera bulge you have:
- 16-megapixel ultra-wide (f/2.2 and a 123-degree lens)
- 12-megapixel wide-angle (f/1.5 and f/2.4, with OIS and a 77-degree lens
- 12-megapixel 3x telephoto (f/2.4, with OIS and a 45-degree lens)
On the front, meanwhile, there's a single 10-megapixel camera, with an 80-degree lens. No dual-camera array as on the S10+, but Samsung still gives you regular and wider-angle framing options, along with a portrait mode that uses software to blur the background.
You'll join me in being deeply unsurprised to hear that for the most part the Note 10+ shares the same talents – and shortcomings – of the S10's camera. Colors are bold and, though Samsung's tendencies to over-sharpen are still present, the level of detail is great. Brightness which blew out areas in iPhone XS Max photos were often far more accurate in the Note's images. Pull back to the widest camera, meanwhile, and there's only a little of the barrel distortion that can sometimes plague such lenses. Samsung's camera app even helpfully analyzes the scene and recommends settings you might want to switch to, like suggesting I use the ultra-wide camera for a particularly dramatic and expansive landscape.

Some of the trickery works well. Super Steady digital stabilization, for example, does a witchcraft-level job of smoothing out jerks and wobbles, and it can be switched on in Hyperlapse mode now too. Yes, a dedicated gimbal will be better, but then that's something extra to carry. The native video editor is another useful one, supporting not only basic trimming but titles and transitions, sketches and stickers, background music, speed adjustments, and filters. Being able to dig into that with the precision of the S Pen makes a sizable difference.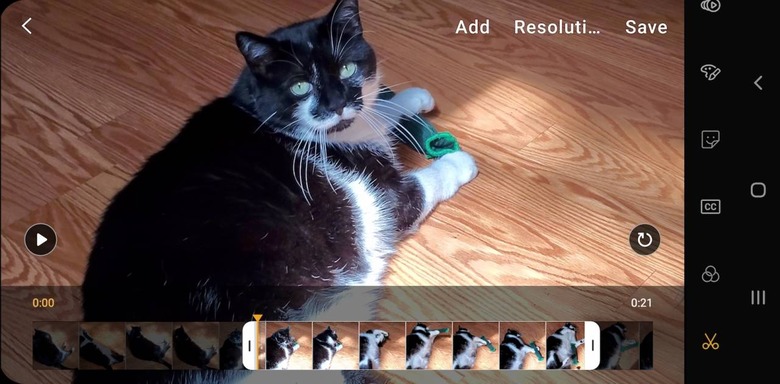 On the gimmicky end of the scale, though, are the augmented reality features. AR Doodle allows you to sketch atop the scene and either pin those additions in 3D space – so that you can move around them – or to a person and have them move with them.
Problem is, AR Doodle only recognizes human faces, not animals, so my dream of giving our cat a fake mustache, horns, and a sparkly tail and watching her run around adorably will have to wait for an upgrade in the augmented reality world. Everyone with a human face quickly started to get bored of waiting for me to doodle atop them.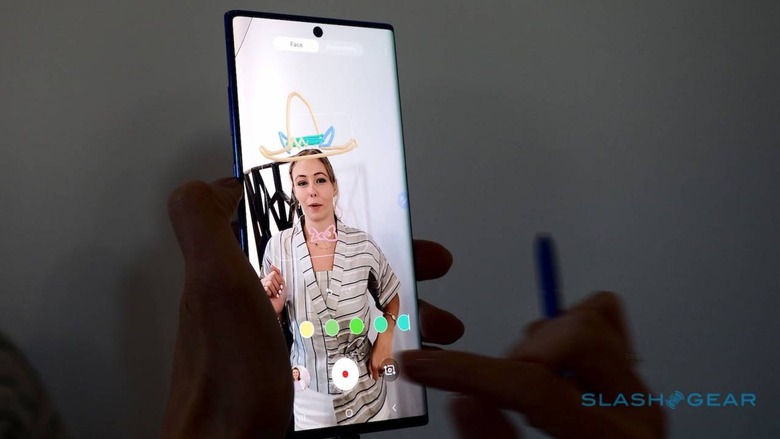 The biggest disappointment, though, is when you get to low-light shots. The Note 10+'s regular camera does okay, but compared to what the computationally-heavy Night Modes on rivals like the Pixel 3 and Huawei P30 Pro can deliver, it's an ominous sign that Samsung is really falling behind here. The Note's low-light mode is really a long-exposure setting, with the unsurprising side-effect that any hand shake over its several-second capture makes for a blurry shot. Even if you do stay perfectly still, the boosted end-result is grainy and underwhelming: brighter, yes, but without the extra detail that, say, a Pixel 3 can deliver.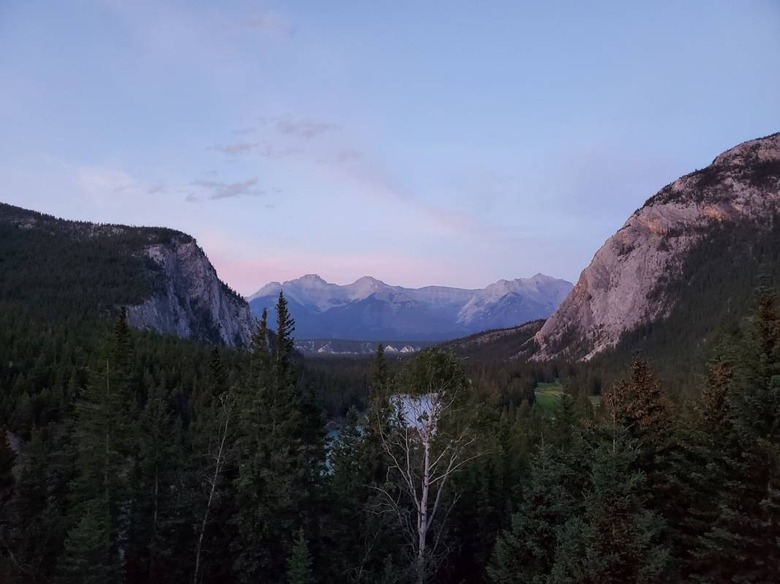 Samsung DeX
With more memory and storage than many laptops, it's no surprise that Samsung is pushing the Note 10+ as an alternative form of portable computer. Samsung DeX has evolved yet again, now allowing you to connect the phone to a Windows or Mac machine and have it open up in a window side-by-side.
Unfortunately one of the use-cases I had in mind for DeX just isn't going to work. I'd hoped to be able to carry the Note 10+ as a laptop alternative, plugging it into public computers – whether at someone else's office, in a library or internet cafe, or the business center of a hotel – and using full-sized peripherals but without data from my accounts leaving the phone. After all, anything that means I don't have to log into my email and other accounts on a computer that isn't mine has to be a good thing.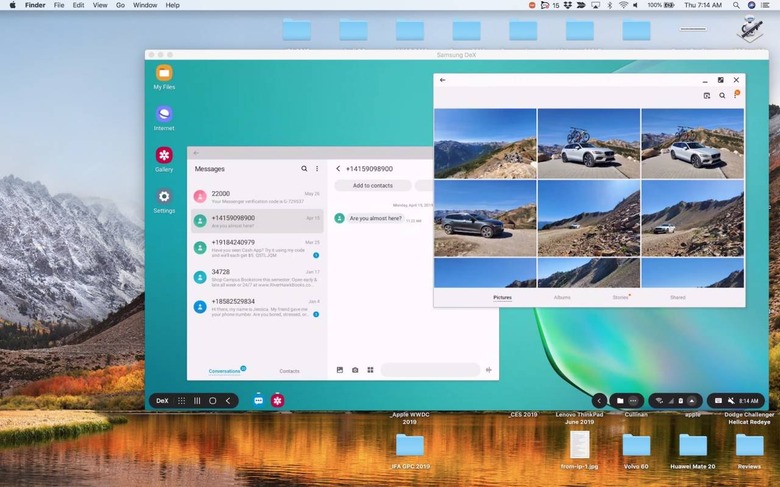 Sadly DeX is unlikely to fit the bill for that, because you need to install software on the host PC or Mac first. That's something most public computers are – sensibly – locked down to prevent happening. Once you get past that hurdle, plugging in the Note 10 via a USB cable brings up a second desktop in a window, in which you can open your Android apps. It also supports dragging and dropping files between the phone and your computer, as well as copying & pasting text.
Galaxy Note 10+ Performance and Power
With a $1,100 price tag you'd be seriously peeved, to say the least, if Samsung skimped on the specs. In the US you get a Qualcomm Snapdragon 855, 12 GB of memory, and either 256 or 512 GB of storage. Then there's LTE Cat.20, WiFi 6, and Bluetooth 5.0. Really, the only thing missing is 5G, and Samsung has that covered with the Note 10+ 5G, albeit initially only as a Verizon exclusive.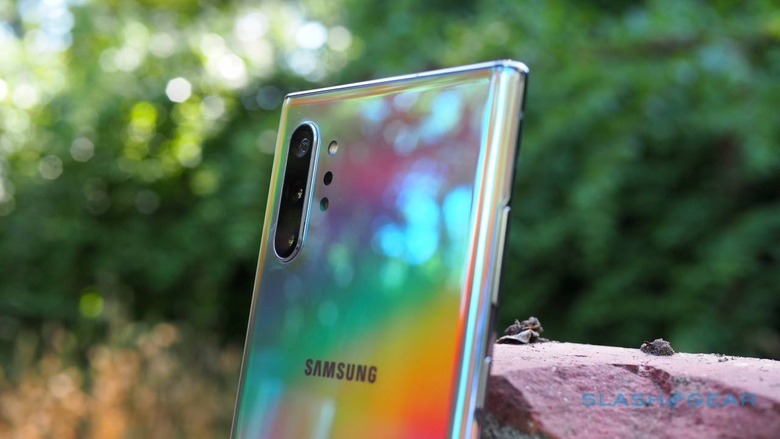 The result is a phone that's just plain fast. No app lag, no ponderous task-switching, no waiting for filters to apply or games to render. Samsung's software engineers couldn't bring themselves to leave Android 9 Pie alone, but even there the modifications show more restraint than we've seen before. The preloaded apps, which often attempt to duplicate core Android features, can be relatively easily ignored. I'm guessing Android 10 will run just as smoothly, though who knows when Samsung will get around to releasing it.
On the power side, the Note 10+ gets a 4,300 mAh battery. If you manage to drain it in under a day of regular use, I strongly believe that Samsung should be legally required to give you a cookie. Even hammered with all my email, browsing, messaging, music and video playback, and running Android Auto in the car, I had no problems getting from morning to night without needing a top-up.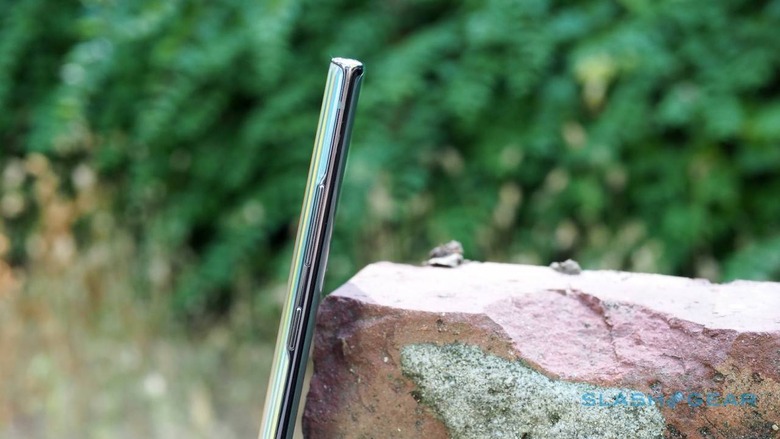 When you do need to recharge, though, it's fast. Samsung bundles a 25W charger in the box, which took me just over an hour to go from dead to fully charged; if you're in more of a hurry, there's a 45W optional charger that, for $50, cuts that down even more.
In theory you shouldn't need Samsung's own 45W adapter, but because the Note 10+'s most rapid charging relies on the still-rare USB-C PPS standard it can be tough to find a third-party model that delivers all the juice the phone could take. I plugged in a USB-C MacBook Pro charger, for example, but because that uses USB-C PD rather than PPS it didn't match what Samsung says I could expect from the 45W charger.
Wireless charging has sped up, too, with up to 15W Qi pad support. You can also turn the Note 10+ into a wireless charger itself, donating power to accessories or even other phones. Not something I use too often, but nice to know it's there in a pinch.
Galaxy Note 10+ Verdict
Smartphone life has settled into a fairly predictable trajectory, and little underscores that more clearly than this new Samsung phablet. The Note 10+ is bigger, faster, shinier, more feature-packed, and longer-lasting than its predecessor, as well as being more expensive. It is, as we probably could've predicted even before Samsung announced it, the best Note so far. It's also chock-full of gimmicks.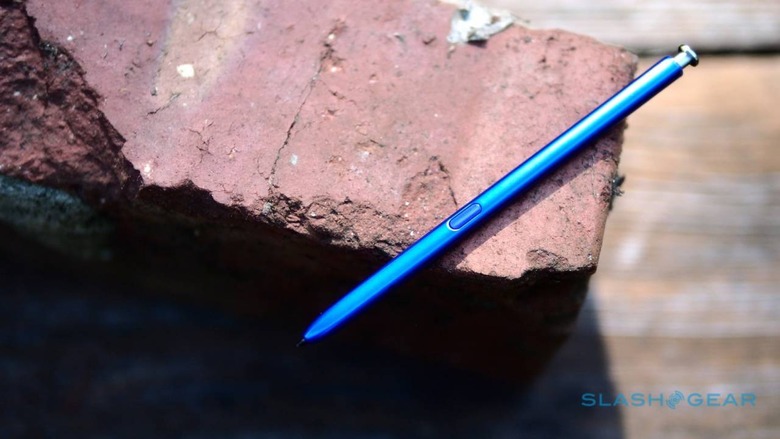 When Samsung announced the new Note at the start of the month, I wondered whether the advent of foldable phones would mark the end of the phablet as we currently know it. For all the Note 10+ has shrunk bezels and body to make it reasonably hand-friendly, the fact of the matter is that this is a big phone, and a slippery one. The smaller Note 10 is going to be popular among some simply for the fact that it's easier to grip, a compromise in screen size that you could well argue undermines the whole point of Samsung's note-taking device.
It's fair to say Samsung's track record with foldables is as shaky as it is short. The Galaxy Fold, set in September to make a second attempt at even just launching, still feels far from the mainstream. Then again, once upon a time that's what we said about the Galaxy Note. I doubt I'm alone in finding the concept of a foldable with an S Pen – compact enough for the pocket, but opening up to be as expansive as a small tablet – alluring.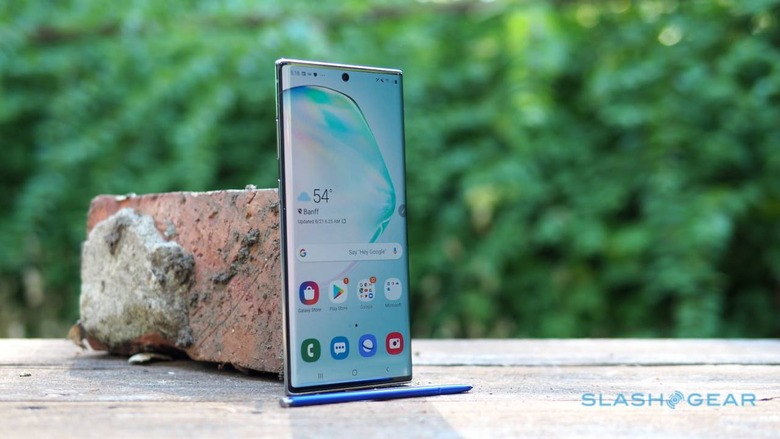 We're not quite there yet, and if the Note 10+ is to be among the final generations of its form-factor, at least it does so with aplomb and excess. A Galaxy S10+ does ninetysomething-percent of what this new Note can deliver, but if your hand, and your wallet, are each large enough, and your need for a stylus unrelenting, you won't be disappointed. I'm curious to see just how much easier the Note 10 will be to tote in day to day life, but if bigger is best then it's hard to argue with Samsung's recipe for the Galaxy Note 10+.